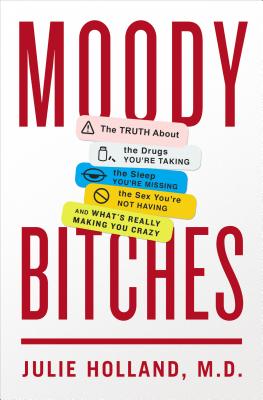 Moody Bitches
The Truth about the Drugs You're Taking, the Sleep You're Missing, the Sex You're Not Having, and What's Really Making
Hardcover

* Individual store prices may vary.
Other Editions of This Title:
Digital Audiobook (3/2/2015)
Paperback (2/9/2016)
Compact Disc (3/3/2015)
Description
A groundbreaking guide for women of all ages that shows women's inherent moodiness is a strength, not a weakness
As women, we learn from an early age that our moods are a problem. Bitches are moody. To succeed in life, we are told, we must have it all under control. We have to tamp down our inherent shifts in favor of a more static way of being. But our bodies are wiser than we imagine. Moods are not an annoyance to be stuffed away. They are a finely-tuned feedback system that, if heeded, can tell us how best to manage our lives. Our changing moods let us know when our bodies are primed to tackle different challenges and when we should be alert to developing problems. They help us select the right tool for each of our many jobs. If we deny our emotionality, we deny the breadth of our talents. With the right care of our inherently dynamic bodies, we can master our moods to avail ourselves of this great natural strength.
Yet millions of American women are medicating away their emotions because our culture says that moodiness is a problem to be fixed. One in four of us takes a psychiatric drug. If you add sleeping pills to the mix, the statistics become considerably higher. Over-prescribed medications can have devastating consequences for women in many areas of our lives: sex, relationships, sleep, eating, focus, balance, and aging. And even if we don't pop a pill, women everywhere are numbing their emotions with food, alcohol, and a host of addictive behaviors that deny the wisdom of our bodies and keep us from addressing the real issues that we face.
Dr. Julie Holland knows there is a better way. She's been sharing her frank and funny wisdom with her patients for years, and in Moody Bitches Dr. Holland offers readers a guide to our bodies and our moodiness that includes insider information about the pros and cons of the drugs we're being offered, the direct link between food and mood, an honest discussion about sex, practical exercise and sleep strategies, as well as some surprising and highly effective natural therapies that can help us press the reset button on our own bodies and minds.
In the tradition of Our Bodies, Our Selves, this groundbreaking guide for women of all ages will forge a much needed new path in women's health--and offer women invaluable information on how to live better, and be more balanced, at every stage of life.
Penguin Press, 9781594205804, 432pp.
Publication Date: March 3, 2015
About the Author
DR. JULIE HOLLAND has run her private psychiatric practice in Manhattan for twenty years. Her nationally-best-selling memoir, Weekends at Bellevue, was based on her nine years running the psychiatric ER of America's oldest public hospital. Dr. Holland is an expert on drugs and the brain and appears regularly on the Today show and CNN. She lives in New York's Harlem Valley with her husband and two children.
or
Not Currently Available for Direct Purchase