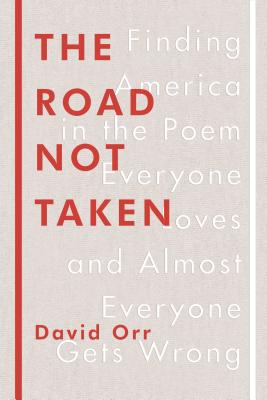 The Road Not Taken
Finding America in the Poem Everyone Loves and Almost Everyone Gets Wrong
Hardcover

* Individual store prices may vary.
Other Editions of This Title:
Digital Audiobook (8/24/2020)
Paperback (8/16/2016)
Description
A cultural "biography" of Robert Frost's beloved poem, arguably the most popular piece of literature written by an American
"Two roads diverged in a yellow wood . . ."
One hundred years after its first publication in August 1915, Robert Frost's poem "The Road Not Taken" is so ubiquitous that it's easy to forget that it is, in fact, a poem. Yet poetry it is, and Frost's immortal lines remain unbelievably popular. And yet in spite of this devotion, almost everyone gets the poem hopelessly wrong. 
David Orr's The Road Not Taken dives directly into the controversy, illuminating the poem's enduring greatness while revealing its mystifying contradictions. Widely admired as the poetry columnist for The New York Times Book Review, Orr is the perfect guide for lay readers and experts alike. Orr offers a lively look at the poem's cultural influence, its artistic complexity, and its historical journey from the margins of the First World War all the way to its canonical place today as a true masterpiece of American literature.
 
"The Road Not Taken" seems straightforward: a nameless traveler is faced with a choice: two paths forward, with only one to walk. And everyone remembers the traveler taking "the one less traveled by, / And that has made all the difference." But for a century readers and critics have fought bitterly over what the poem really says. Is it a paean to triumphant self-assertion, where an individual boldly chooses to live outside conformity? Or a biting commentary on human self-deception, where a person chooses between identical roads and yet later romanticizes the decision as life altering?
What Orr artfully reveals is that the poem speaks to both of these impulses, and all the possibilities that lie between them. The poem gives us a portrait of choice without making a decision itself. And in this, "The Road Not Taken" is distinctively American, for the United States is the country of choice in all its ambiguous splendor.

Published for the poem's centennial—along with a new Penguin Classics Deluxe Edition of Frost's poems, edited and introduced by Orr himself—The Road Not Taken is a treasure for all readers, a triumph of artistic exploration and cultural investigation that sings with its own unforgettably poetic voice.
Praise For The Road Not Taken: Finding America in the Poem Everyone Loves and Almost Everyone Gets Wrong…
Publishers Weekly: 
"Orr blends theory, biography, psychology, science, and a healthy dose of pop culture into a frothy mix so fun, readers may forget they're learning something." 

Kirkus Reviews: 
"Orr presents a fresh, perceptive reading of the verse; places it in the context of Frost's life, other works, and public persona; and considers the meaning of choice in American culture. An illuminating voyage into the heart of Frost's poem and the American spirit." 
 
Library Journal: 
"This entertaining book will appeal to poetry and American literature lovers, as well as to readers interested in the interweaving of art and culture." 

New York Times Book Review
"David Orr has written the best popular explanation to date of the most popular poem in American history."

Wall Street Journal 
 "[David Orr's] achievement in this shrewd and patient book lies in connecting Frost's deceptively folksy manner with the very things that make him matter."

Christian Science Monitor
"Orr is fascinated by why so many have read this poem so positively for so long, and what this fact reveals about the American soul."

The Boston Globe
"The most satisfying part of Orr's fresh appraisal of "The Road Not Taken" is the reappraisal it can inspire in longtime Frost readers whose readings have frozen solid. The crossroads between the poet and the man is where Frost leaves his poems for us to discover, turning what seems like a fork in the road into a site of limitless potential, 'in which all decisions are equally likely.'"
Penguin Press, 9781594205835, 192pp.
Publication Date: August 18, 2015
About the Author
David Orr is the poetry columnist for The New York Times Book Review. He is the winner of the Nona Balakian Prize from the National Book Critics Circle, and his writing has appeared in The New Yorker, Poetry, Slate, and The Yale Review. He holds a BA from Princeton and a JD from Yale Law School, and is a visiting professor at Cornell University.
or
Not Currently Available for Direct Purchase