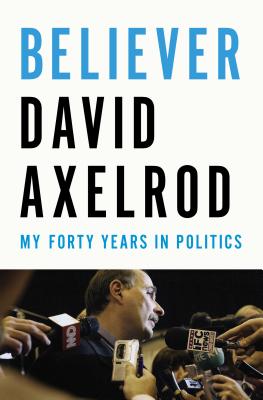 Believer
My Forty Years in Politics
Hardcover

* Individual store prices may vary.
Other Editions of This Title:
Digital Audiobook (2/9/2015)
Paperback (2/2/2016)
Compact Disc (2/10/2015)
Description
New York Times Book Review
"A stout defense--indeed, the best I have read--of the Obama years."

A New York Times Bestseller

David Axelrod has always been a believer. Whether as a young journalist investigating city corruption, a campaign consultant guiding underdog candidates against entrenched orthodoxy, or as senior adviser to the president during one of the worst crises in American history, Axelrod held fast to his faith in the power of stories to unite diverse communities and ignite transformative political change. Now this legendary strategist, the mastermind behind Barack Obama's historic election campaigns, shares a wealth of stories from his forty-year journey through the inner workings of American democracy. Believer is the tale of a political life well lived, of a man who never gave up on the deepest promises our country has to offer.

Believer reveals the roots of Axelrod's devotion to politics and his faith in democratic change. As a child of the '60s in New York City, Axelrod worked his first campaigns during a tumultuous decade that began with soaring optimism and ended in violence and chaos. As a young newspaperman in Chicago during the 1970s and '80s, Axelrod witnessed another world transformed when he reported on the dissolution of the last of the big city political machines—Richard Daley, Dan Rostenkowski, and Harold Washington—along with the emergence of a dynamic black independent movement that ultimately made Obama's ascent possible.

After cutting his teeth in the rollicking world of Chicago journalism, Axelrod switched careers to become a political strategist. His unorthodox tactics during his first campaign helped him get Paul Simon unexpectedly elected to the Senate, and soon Axelrod's counsel was sought by the greatest lights of the Democratic Party. Working for path breakers like Hillary Clinton, Deval Patrick, and Rahm Emanuel—and morally conflicted characters like Rod Blagojevich and John Edwards—Axelrod, for better and worse, redefined the techniques by which modern political campaigns are run.

The heart of Believer is Axelrod's twenty-year friendship with Barack Obama, a warm partnership that inspired both men even as it propelled each to great heights. Taking a chance on an unlikely candidate for the U.S. Senate, Axelrod ultimately collaborated closely with Obama on his political campaigns, and served as the invaluable strategist who contributed to the tremendous victories of 2008 and 2012. Switching careers again, Axelrod served as senior adviser to the president during one of the most challenging periods in national history: working at Obama's side as he battled an economic disaster; navigated America through two wars; and fought to reform health care, the financial sector, and our gridlocked political institutions. In Believer, Axelrod offers a deeper and richer profile of this extraordinary figure—who in just four years vaulted from the Illinois State Senate to the Oval Office—from the perspective of one who was at his side every step of the way.

Spanning forty years that include corruption and transformation, turmoil and progress, Believer takes readers behind the closed doors of politics even as it offers a thrilling call to democratic action. Axelrod's Believer is a powerful and inspiring memoir enlivened by the charm and candor of one of the greatest political strategists in recent American history.
DORIS KEARNS GOODWIN, author of The Bully Pulpit and Team of Rivals
"Beautifully written with warmth, humor, and remarkable self-awareness, Believer is one of the finest political memoirs I have ever read."
Praise For Believer: My Forty Years in Politics…
New York Times Book Review (David Gergen):  
"Would Barack Obama have been elected president without David Axelrod? That question is less far-fetched than it may seem... what emerges is important: a portrait of political campaigning that is more like what we hope than what we fear, that rises above the machinations and muck... a stout defense--indeed, the best I have read--of the Obama years... Judging from his first book, Obama has the talent to write the best presidential memoir in modern tunes. It is worth waiting for. But for now, David Axelrod has written a highly readable, uplifting account of the candidate he loves--and, reassuringly, has shown politics can still be a calling, not a business."

The Los Angeles Times: 
"Axelrod, liberated from the constraints of messaging, is warm and wry, loyal to Obama without being uncritical, and occasionally acid in his appraisals of others — now-Secretary of State John Kerry, political consultant Mark Penn and former Sen. John Edwards will not be among this book's biggest fans. It helps that Axelrod can write. A journalist before he was a political consultant, his book is revealing... but best of all, it is well told — the work of a capable, professional storyteller."

The Economist
"Mr Axelrod has uncommon insights to offer."

New York Times
"The three dominant characters in this political memoir by David Axelrod, one of the Democratic Party's best-known strategists, are Mr. Axelrod, his once-in-a-lifetime client Barack Obama and belief... Believer is a well-written and often moving account of how a committed liberal measures his principles against the bruising imperatives of high-stakes politics. And, it should be noted, there is ample juice in Mr. Axelrod's literary steak."

Chicago Tribune: 
"For sure, political junkies will have trouble putting the book down. And much of Washington will be yanking "Believer" off the shelf and turning to the index to see how they were treated…if you're interested in how the sausage is made, you'll want to read this book."

DORIS KEARNS GOODWIN, author of The Bully Pulpit and Team of Rivals
"Beautifully written with warmth, humor, and remarkable self-awareness, Believer is one of the finest political memoirs I have ever read. Through one memorable anecdote after another, Axelrod tells a revealing and moving story of his long and honorable career in public life. This is a thoroughly terrific book."

DEVAL PATRICK, governor of Massachusetts
"In telling the vivid tales of his own forty years behind the curtain of modern politics, Axelrod reminds us that elections matter to those who don't engage as well as those who do, effectively challenging us all to get involved."

MIKE MURPHY, Republican strategist
"David Axelrod has written a remarkable book, a deeply honest and unflinching memoir of his journey from cub journalist to political adviser to the President of the United States. From the boisterous wards of Chicago politics to the Oval Office, Believer takes you inside the political warrior's life, with its larger-than-life personalities, exhilarating victories, and gut-wrenching defeats. For Axelrod, the goal is victory, but the enemy is cynicism. Anybody, Democrat or Republican, who loves politics should read this book."

GEORGE STEPHANOPOULOS, chief anchor of ABC News
"David Axelrod was present at the creation of President Obama's political career. He reflects on their improbable journey with the faithfulness of a reporter, the ferocity of a political operative, and the passion of a true believer. A riveting read."
Penguin Press, 9781594205873, 528pp.
Publication Date: February 10, 2015
About the Author
DAVID AXELROD spent eight years as a reporter and columnist for the Chicago Tribune. As a political consultant, Axelrod has managed strategy for more than 150 local, state, and national campaigns. Axelrod most recently served as senior strategist to President Obama's successful reelection campaign. He served in that same role in then-Senator Obama's 2008 presidential campaign, before going on to serve in the White House as senior adviser to the president. After the 2012 campaign, Axelrod founded the Institute of Politics at the University of Chicago.
Coverage from NPR
or
Not Currently Available for Direct Purchase