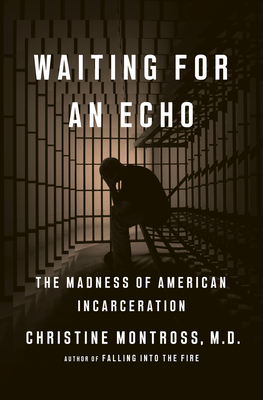 Waiting for an Echo
The Madness of American Incarceration
Hardcover

* Individual store prices may vary.
Other Editions of This Title:
Digital Audiobook (7/20/2020)
Paperback (7/20/2021)
Description
*L.A. Times Book Prize Finalist* 
*New York Times Book Review Paperback Row*
*New York Times Books to Watch for in July*
*Time Best New Books July 2020*

Galvanized by her work in our nation's jails, psychiatrist Christine Montross illuminates the human cost of mass incarceration and mental illness

Dr. Christine Montross has spent her career treating the most severely ill psychiatric patients. Several years ago, she set out to investigate why so many of her patients got caught up in the legal system when discharged from her care--and what happened to them therein.

Waiting for an Echo is a riveting, rarely seen glimpse into American incarceration. It is also a damning account of policies that have criminalized mental illness, shifting large numbers of people who belong in therapeutic settings into punitive ones.

The stark world of American prisons is shocking for all who enter it. But Dr. Montross's expertise--the mind in crisis--allowed her to reckon with the human stories behind the bars. A father attempting to weigh the impossible calculus of a plea bargain. A bright young woman whose life is derailed by addiction. Boys in a juvenile detention facility who, desperate for human connection, invent a way to communicate with one another from cell to cell. Overextended doctors and correctional officers who strive to provide care and security in environments riddled with danger. In these encounters, Montross finds that while our system of correction routinely makes people with mental illness worse, just as routinely it renders mentally stable people psychiatrically unwell. The system is quite literally maddening.

Our methods of incarceration take away not only freedom but also selfhood and soundness of mind. In a nation where 95 percent of all inmates are released from prison and return to our communities, this is a practice that punishes us all.
Praise For Waiting for an Echo: The Madness of American Incarceration…
"A haunting and harrowing indictment of the deep psychological damage inflicted by the nation's punitive structures… Montross is a gifted, often compelling storyteller… [a] significant achievement. I hope that she successfully pricks the nation's conscience about our shameful punishment of mental illness. It is impossible to read her captivating account without concluding that our various departments of corrections are themselves in intense need of correcting."—Justin Driver, New York Times Book Review 

"Revelatory…[An] eye-opening, powerful demonstration of the profound structural problems with mass incarceration in the U.S." – Kirkus (starred review)
 
" Impeccably researched….Offers practical solutions, including changes to the probation and parole systems that would give the formerly incarcerated better resources for getting their lives back on track, and mandatory periodic mental health evaluations for all inmates. This eye-opening call for reform exposes an overlooked crisis in America's prisons."—Publishers Weekly

"'What the eye does not see the heart cannot feel,' the saying goes. In this vivid account, Dr. Montross takes us to see close-up her encounters with a tiny percent of the 350,000 mentally ill people in U.S. prisons and jails. What are these anguished souls doing there? They need healing help and a place of safety, not a punishing environment, quick to maintain order with tear gas, beatings, solitary confinement...or with unconscionable neglect. In my 30 plus years of prison work, I've met all too many of these trapped, suffering souls. Let us trust in the goodness of our citizens, that moved by Dr. Montross's vivid witness, eyes will see and hearts will feel to shoulder the urgent reform of a system long in need of radical change."—Sister Helen Prejean, author of Dead Man Walking

"An uncommonly beautiful writer, Dr. Christine Montross brings a scientist's rigor and a clinician's compassion to her examination of the profoundly broken U.S. incarceration system. Waiting For an Echo lays bare the appalling human suffering that occurs every day in our prisons and jails—and points us toward a better way."—David C. Fathi, Director of the American Civil Liberties Union National Prison Project

"Waiting for an Echo  is a towering indictment, a shocking expose, and somehow also an elegiac ode to those that society has left behind. Christine Montross, a psychiatrist, writes from inside the ranks of our broken mental health system, but she does so with a poet's eye, bringing to life the human toll behind the horrifying statistics. The result is a rallying cry that is both personal and universal—and, hopefully, one that we will not be able to ignore."—Susannah Cahalan, author of The Great Pretender and Brain on Fire

"Waiting for an Echo is an amazing and accurate account of what our criminal legal system has evolved into. Capturing both problems and solutions, Dr. Montross takes us all around the globe to give examples of what works, what doesn't work, and why. This book should be should be required reading for all judges, district attorneys and correctional officers."—Susan Burton, Founder and Executive Director of A New Way of Life Reentry Project and author of Becoming Ms. Burton
 
"This is a tremendously important, transformative book. Dr. Montross poignantly captures the unnecessarily brutal experience of individuals incarcerated in America. As a Nation, we should heed her call for meaningful change to restore basic humanity."—Ellen Gallagher, Department of Homeland Security Attorney and whistleblower
 
"In Waiting for an Echo, Christine Montross writes with intelligence, insight, compassion and plain good sense about the state of incarceration in the early 21st century. With a keen eye and a sense of decency she correctly assesses the shortcomings of our present system and takes us on her very personal journey of inquiry into the of the way we do prison and jail in the United States.  She observes that 'When the treating facility is a prison safety, security and punishment necessarily take precedence over recovery and care.' This is the essence of the issue we need to confront, the mentally ill do not belong in prison or jail and Dr. Montross eloquently tells us why."—Martin Horn, Distinguished Lecturer in Corrections at the John Jay College, City University of New York

"Waiting for an Echo is a literary masterpiece that exposes the dark side of our criminal justice system and then provides a kind and wise vision for a better way to do it. Too often we, the public, ignore what goes on in prison, we say 'lock 'em up and throw away the key,' and then abuses proliferate in the darkness.  When evidence of torture surfaces — the beatings, the rapes (too often by staff), the innocents who spend decades behind bars, the prisoners driven stark raving mad by prolonged solitary confinement — we turn away, 'it's too dark.'  Dr. Montross exposes the underside and the folly of our criminal justice system, but with poignant stories and explanations of how human psychology works inside the carceral system just as in the lives of all of us, making the narrative accessible and compelling.  She shares the understanding needed for us to see the humanity of those we have locked away, and the courage to seek a better way.  She provides a much-needed path forward, a vision of how much better we could do criminal justice and help those who have lost their way regain their humanity."—Terry A. Kupers, M.D., M.S.P. professor at The Wright Institute and author of Solitary: The Inside Story of Supermax Isolation
Penguin Press, 9781594205972, 352pp.
Publication Date: July 21, 2020
About the Author
Dr. Christine Montross, a 2015 Guggenheim Fellow in General  Nonfiction, is an associate professor of psychiatry and human behavior at the Warren Alpert Medical School of Brown University and a practicing inpatient psychiatrist. She is an award-winning poet and the author of Body of Work and Falling into the Fire.