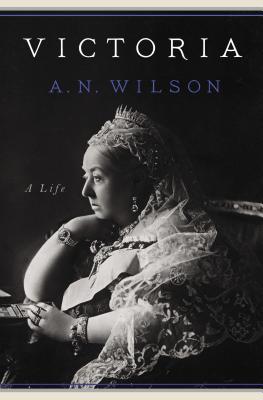 Victoria
A Life
Hardcover

* Individual store prices may vary.
Other Editions of This Title:
Paperback (2/17/2004)
Paperback (11/24/2015)
Compact Disc (11/13/2014)
MP3 CD (11/13/2014)
Compact Disc (11/13/2014)
Description

PEN/Jacqueline Bograd Weld Award for Biography (2015 LONGLIST)
- A] shimmering and rather wonderful biography.---The Guardian (UK)
When Queen Victoria died in 1901, she had ruled for nearly sixty-four years. She was a mother of nine and grandmother of forty-two and the matriarch of royal Europe through her children's marriages. To many, Queen Victoria is a ruler shrouded in myth and mystique, an aging, stiff widow paraded as the figurehead to an all-male imperial enterprise. But in truth, Britain's longest-reigning monarch was one of the most passionate, expressive, humorous and unconventional women who ever lived, and the story of her life continues to fascinate.
A. N. Wilson's exhaustively researched and definitive biography includes a wealth of new material from previously unseen sources to show us Queen Victoria as she's never been seen before. Wilson explores the curious set of circumstances that led to Victoria's coronation, her strange and isolated childhood, her passionate marriage to Prince Albert and his pivotal influence even after death and her widowhood and subsequent intimate friendship with her Highland servant John Brown, all set against the backdrop of this momentous epoch in Britain's history--and the world's.
Born at the very moment of the expansion of British political and commercial power across the globe, Victoria went on to chart a unique course for her country even as she became the matriarch of nearly every great dynasty of Europe. Her destiny was thus interwoven with those of millions of people--not just in Europe but in the ever-expanding empire that Britain was becoming throughout the nineteenth century. The famed queen had a face that adorned postage stamps, banners, statues and busts all over the known world.
Wilson's Victoria is a towering achievement, a masterpiece of biography by a writer at the height of his powers.
*VICTORIA, an eight part miniseries about Queen Victoria is coming to PBS in the Downton Abbey slot, premieringJanuary 8th (trailer). The series stars Jenna Coleman (DR. WHO) as Queen Victoria, Rufus Sewell (PILLARS OF THE EARTH), and Tom Hughes (ABOUT TIME).*
Financial Times
-What to call A. N. Wilson] now? -Eminent Victorianist- seems appropriate. Lytton Strachey, the acerbic author of Eminent Victorians as well as a biography of Victoria far less good than this, is never far away when Wilson writes about a period that, in several books, he has made very much his own... Wilson is an excellent history teacher. He orders and narrates the hugely complex socio-political events and party infighting of the 19th century with a rare clarity... Wilson sums up his feelings about Victoria in a single word: -Awe-. His own achievement, sustained by a lifetime's scholarly fascination with the Victorian era, is also, in its way, awesome.-
The Spectator (UK):
-Superb...The book that Wilson] was born to write...Wilson clearly loves and admires his subject, but this is a critical biography--funny, insightful, original, and authoritative. At last Victoria has been rescued from her widow's weeds.-
Kirkus Reviews (starred):
-A shimmering portrait of a tempestuous monarch... Wilson] lends a lively expertise to his portrayal of the forthright, formidable, still-enigmatic sovereign...During her long reign, Victoria had come to embody the experience of an entire age, overseeing great reform and the strengthening of ties between India and the British Empire. A robust, immensely entertaining portrait from a master biographer.-
Penguin Press, 9781594205996, 656pp.
Publication Date: October 23, 2014
About the Author
A. N. WILSON is the author of biographies on Jesus, Milton, Tolstoy, C. S. Lewis and Dante. His acclaimed histories, The Victorians and God's Funeral, have made him an authority on Victorian-era Great Britain. A former columnist for the London Evening Standard, he now contributes to the Times Literary Supplement, New Statesman, the Spectator, the Observer and the Daily Mail.
Book Videos
or
Not Currently Available for Direct Purchase