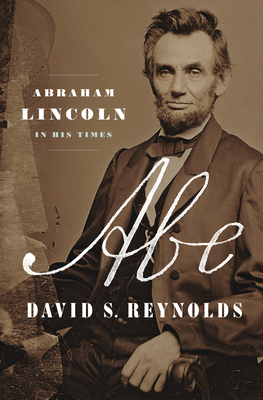 Abe
Abraham Lincoln in His Times
Hardcover

* Individual store prices may vary.
Other Editions of This Title:
Digital Audiobook (9/28/2020)
Paperback (9/28/2021)
Description
One of the Wall Street Journal's Ten Best Books of the Year | A Washington Post Notable Book | A Christian Science Monitor and Kirkus Reviews Best Book of 2020

Winner of the Gilder Lehrman Abraham Lincoln Prize and the Abraham Lincoln Institute Book Award

"A marvelous cultural biography that captures Lincoln in all his historical fullness. . . . using popular culture in this way, to fill out the context surrounding Lincoln, is what makes Mr. Reynolds's biography so different and so compelling . . . Where did the sympathy and compassion expressed in [Lincoln's] Second Inaugural—'With malice toward none; with charity for all'—come from? This big, wonderful book provides the richest cultural context to explain that, and everything else, about Lincoln." —Gordon Wood, Wall Street Journal

From one of the great historians of nineteenth-century America, a revelatory and enthralling new biography of Lincoln, many years in the making, that brings him to life within his turbulent age

David S. Reynolds, author of the Bancroft Prize-winning cultural biography of Walt Whitman and many other iconic works of nineteenth century American history, understands the currents in which Abraham Lincoln swam as well as anyone alive. His magisterial biography Abe is the product of full-body immersion into the riotous tumult of American life in the decades before the Civil War.

It was a country growing up and being pulled apart at the same time, with a democratic popular culture that reflected the country's contradictions. Lincoln's lineage was considered auspicious by Emerson, Whitman, and others who prophesied that a new man from the West would emerge to balance North and South. From New England Puritan stock on his father's side and Virginia Cavalier gentry on his mother's, Lincoln was linked by blood to the central conflict of the age. And an enduring theme of his life, Reynolds shows, was his genius for striking a balance between opposing forces. Lacking formal schooling but with an unquenchable thirst for self-improvement, Lincoln had a talent for wrestling and bawdy jokes that made him popular with his peers, even as his appetite for poetry and prodigious gifts for memorization set him apart from them through his childhood, his years as a lawyer, and his entrance into politics.

No one can transcend the limitations of their time, and Lincoln was no exception. But what emerges from Reynolds's masterful reckoning is a man who at each stage in his life managed to arrive at a broader view of things than all but his most enlightened peers. As a politician, he moved too slowly for some and too swiftly for many, but he always pushed toward justice while keeping the whole nation in mind. Abe culminates, of course, in the Civil War, the defining test of Lincoln and his beloved country. Reynolds shows us the extraordinary range of cultural knowledge Lincoln drew from as he shaped a vision of true union, transforming, in Martin Luther King Jr.'s words, "the jangling discords of our nation into a beautiful symphony of brotherhood."

Abraham Lincoln did not come out of nowhere. But if he was shaped by his times, he also managed at his life's fateful hour to shape them to an extent few could have foreseen. Ultimately, this is the great drama that astonishes us still, and that Abe brings to fresh and vivid life. The measure of that life will always be part of our American education.
Praise For Abe: Abraham Lincoln in His Times…
"A work of immense erudition and vast scope . . . Abe offers a cornucopia of information about the cultural milieu in which Lincoln lived . . . The strength of this approach is evident in this book's brilliant treatment of Lincoln and race, the most controversial aspect of the rail-splitter's life . . . David Reynolds's Abe is an invaluable addition to the Lincoln literature, ably supplementing traditional biographies." —Michael Burlingame, Claremont Review of Books

"A marvelous cultural biography that captures Lincoln in all his historical fullness. . . . using popular culture in this way, to fill out the context surrounding Lincoln, is what makes Mr. Reynolds's biography so different and so compelling . . . Where did the sympathy and compassion expressed in [Lincoln's] Second Inaugural—'With malice toward none; with charity for all'—come from? This big, wonderful book provides the richest cultural context to explain that, and everything else, about Lincoln." —Gordon Wood, Wall Street Journal

"A prodigious and lucidly rendered exposition of the character and thought of the 16th president as gleaned through the prism of the cultural and social forces swirling through America during his lifetime." —The New York Times Book Review

 "As David Reynolds's brilliant cultural history reminds us, destroying slavery and saving American democracy had grown from Lincoln's strategy. . . . Drawing on a distinguished scholarly career spent immersed in the popular culture of pre–Civil War America, Reynolds, a professor at the CUNY Graduate Center, illuminates aspects of Lincoln's significance that elude more conventional biographers. . . . Reynolds's Lincoln does not simply reflect his times; he creates them as well . . . Writing a comprehensive cultural biography of Lincoln is a large task on its own, but by shifting at times out of culture and into politics, Reynolds has accomplished a good deal more. . . . Most of Reynolds's excavations enrich our understanding of major events." —Sean Wilentz, New York Review of Books

"David S. Reynolds's Lincoln is very much an Honest Abe . . . he is an updated Abe, fully woke and finely radical. Indeed, Reynolds, the author of first-rate biographies of Walt Whitman and John Brown, makes much of Lincoln's wonderfully named and often forgotten Wide Awakes—legions of young pro-Lincoln 'b'hoys,' whose resolve and aggression far exceeded that of Bernie Sanders's army. Though Reynolds rightly recycles the metaphor of the President as a tightrope walker, we're assured that, even as the walker might list left and right, his rope stretched forth in a radically progressive direction, aligned with the hot temper of our moment . . . Reynolds's cultural history illuminates Lincoln—and particularly his transformation from self-made lawyer into American Abe. Even readers long marinated in the Lincoln literature will find revelation." —Adam Gopnik, The New Yorker
 
"Against all odds, Reynolds, who teaches at the City University of New York, manages to say new and important things about Lincoln in his elegantly written book." —Eric Foner, London Review of Books

"Impressive . . . monumental . . . excellent . . . Abe presents a fascinating primer on everyday life in Lincoln's time . . . Reynolds compellingly argues that the president drew upon and assimilated these varied cultural strands in order to foster national unity." —Christian Science Monitor

"In the realms of the frontier, education, religion, law, marriage or politics, Reynolds deepens our understanding of Lincoln's life. . . In 1909, Leo Tolstoy observed that Lincoln's 'genius is still too strong and too powerful for the common understanding.' Abe, consistently learned and illuminating, goes a long way toward helping us fathom his transcendence." —Washington Post

"Excellent."  —Chicago Tribune

"Do we need another book about Abraham Lincoln when there have been about 16,000 so far? Yes, we need to read Reynolds' Abe. Neither hagiography nor take-down, Abe refutes the traditional view of Lincoln as the 'quintessential self-made man.' Reynolds eloquently describes how Lincoln's character was shaped by the culture of antebellum America and recovers bits of popular cultural history that combined to allow him to operate in different registers." —The National Book Review

"This luminous biography reimagines the life and times of our greatest president through the prism of his cultural influences and teems with insights about Lincoln's views on abolition, equality, and these disunited states." —O, The Oprah Magazine, The Twenty Best Books of the Fall – So Far

"Abraham Lincoln is the central figure of the American story, a flawed but noble man who insisted against all odds that the national experiment in liberty must go on in spite of all. In this wonderful new biography, David Reynolds brings the giant to life once more, reminding us of the limitations and the possibilities of politics in a fallen world." —Jon Meacham, author of The Soul of America

"David Reynolds' splendid biography is chock full of fresh information and insights about Lincoln that disprove the adage that nothing new can be said about this iconic American. Focusing on the cultural forces that shaped Lincoln and his contemporaries, Reynolds portrays the gathering storm of sectional conflict that erupted into a war over slavery and disunion in which Lincoln's commitment to freedom and racial justice was grounded in moral commitment as well as political and military exigencies. A work of literary distinction as well as sound scholarship, this biography will take its place as a classic in Lincoln studies." —James M. McPherson, author of Tried by War: Abraham Lincoln as Commander in Chief

"Before Lincoln became a man for all time, he was a man of his time. In this compelling, thought-provoking life of the Great Emancipator, David Reynolds reminds us that a prerequisite for leadership in a democracy is an ability to tap the zeitgeist and turn it to decisive effect, as Lincoln preeminently did." —H. W. Brands, University of Texas at Austin

"Abraham Lincoln's America unfolds in all the nation's hope, despair, and deliverance in this monumental book. Drawing on Reynolds's unequaled knowledge and humane understanding, Abe is a brilliant portrait of the man and of the country he saved." —Edward L. Ayers, winner of the Lincoln Prize

"David Reynolds has a deeper knowledge and keener understanding of American popular culture than any other historian of the Civil War era. After illuminating studies of Walt Whitman, John Brown, and Harriet Beecher Stowe, Reynolds now brings his vast erudition to bear on our sixteenth president. This is an Abraham Lincoln at once familiar and entirely new, a man who was very much the product of his own cultural moment. No one but Reynolds could have written a book this good." —James Oakes, author of Freedom National: The Destruction of Slavery in the United States and The Radical and the Republican: Frederick Douglass, Abraham Lincoln, and the Triumph of Anislavery Politics

"Reynolds' magisterial biography focuses on the dozens of different influences and experiences that fortuitously coalesced to turn Lincoln into the icon he's become. . . Even readers who think they know Lincoln's life deeply will find new insights here." —Booklist, starred review

"Reynolds is one of our most significant historians, and he is up to the enormous task of creating a cultural biography of the man who would become America's most recognizable president. A fine cultural history and biography that is accessible to all readers . . . consistently fun to read." —Kirkus, starred review
 
"Magisterial and authoritative . . . Reynolds provides a portrait rich in texture and context, not only of Lincoln but of the America he inhabited and helped redefine. The result is a must-read addition to the canon of Lincoln biographies." —Publishers Weekly, starred review
Penguin Press, 9781594206047, 1088pp.
Publication Date: September 29, 2020
About the Author
David S. Reynolds is a Distinguished Professor at the Graduate Center of the City University of New York. He is the author of Walt Whitman's America: A Cultural Biography, winner of the Bancroft Prize and the Ambassador Book Award. His other books include Beneath the American Renaissance, winner of the Christian Gauss Award; John Brown, Abolitionist; Waking Giant: America in the Age of Jackson; Mightier than the Sword: Uncle Tom's Cabin and the Battle for America; and Lincoln's Selected Writings.