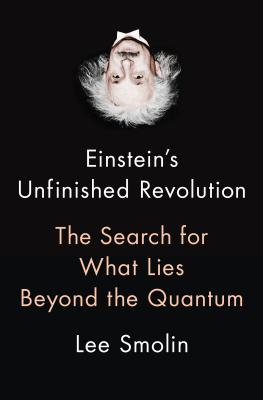 Einstein's Unfinished Revolution
The Search for What Lies Beyond the Quantum
Hardcover

* Individual store prices may vary.
Other Editions of This Title:
Digital Audiobook (4/8/2019)
Paperback (4/7/2020)
Description
A daring new vision of quantum theory from one of the leading minds of contemporary physics

Quantum physics is the golden child of modern science. It is the basis of our understanding of atoms, radiation, and so much else, from elementary particles and basic forces to the behavior of materials. But for a century it has also been the problem child of science: it has been plagued by intense disagreements between its inventors, strange paradoxes, and implications that seem like the stuff of fantasy. Whether it's Schrödinger's cat--a creature that is simultaneously dead and alive--or a belief that the world does not exist independently of our observations of it, quantum theory challenges our fundamental assumptions about reality.

In Einstein's Unfinished Revolution, theoretical physicist Lee Smolin provocatively argues that the problems which have bedeviled quantum physics since its inception are unsolved and unsolvable, for the simple reason that the theory is incomplete. There is more to quantum physics, waiting to be discovered. Our task--if we are to have simple answers to our simple questions about the universe we live in--must be to go beyond quantum mechanics to a description of the world on an atomic scale that makes sense.

In this vibrant and accessible book, Smolin takes us on a journey through the basics of quantum physics, introducing the stories of the experiments and figures that have transformed our understanding of the universe, before wrestling with the puzzles and conundrums that the quantum world presents. Along the way, he illuminates the existing theories that might solve these problems, guiding us towards a vision of the quantum that embraces common sense realism.

If we are to have any hope of completing the revolution that Einstein began nearly a century ago, we must go beyond quantum mechanics to find a theory that will give us a complete description of nature. In Einstein's Unfinished Revolution, Lee Smolin brings us a step closer to resolving one of the greatest scientific controversies of our age.
Praise For Einstein's Unfinished Revolution: The Search for What Lies Beyond the Quantum…
"[A] compelling narrative about the development of different strands of quantum physics." — Financial Times

"Smolin is an extremely creative thinker who has been a leader in theoretical physics for many years. He is also a gifted writer who manages to translate his own insights about how science works into engaging language and compelling stories . . . Smolin's description of how quantum mechanics works is both elegant and accessible." —NPR

"[A]mbitious . . .upbeat and, finally, optimistic . . .  Smolin is a lucid expositor."— Nature

"As the latest entry into the conversation, Smolin's book feels the most immediate and personal. Here is no detached narrator, but an active participant in the fray who perceives the debate over the nature of reality in personal terms. . . While the way forward remains elusive, Smolin and others who seek to illuminate how physics got to where it is today are at least making the quest for answers a bit less costly." —The Globe and Mail (Toronto)
 
"Well-written and engaging." —Sabine Hossenfelder, Backreaction

"Smolin offers a masterful exposition on the state of quantum physics, smoothly blending a history of the field with clear explanations, philosophical context and an accessible introduction to fresh ideas. His narrative on how two competing perspectives on quantum behaviour hardened into Bohr's counter-intuitive orthodoxy, is spellbinding." —Financial Times (UK)

"Smolin is never less than an inventive and provocative thinker, as well as an engaging writer....his explanations are especially lucid." —Philip Ball, Physics World

"A tantalizing glimpse of the theoretical possibilities beyond Einstein's grasp." —Booklist, starred review

"The best explanation yet of what has yet to be explained." —George Dyson, author of Turing's Cathedral

"Lee Smolin has written a superb and sweeping book. He takes us to Bohr, Bohm, Everett and far beyond in a masterful assessment, then on to the struggle to go beyond quantum mechanics towards quantum gravity. Einstein's Unfinished Revolution is truly a fine work." —Stuart Kauffman, author of At Home in the Universe

"Smolin elucidates complex science without equations . . . [and] demonstrates there isn't a thing in nature whose 'contemplation cannot be a route to a wordless sense of wonder and gratitude just to be a part of it all.'" —Publishers Weekly 
Penguin Press, 9781594206191, 352pp.
Publication Date: April 9, 2019
About the Author
Lee Smolin has made influential contributions to the search for a unification of physics. He is a founding faculty member of the Perimeter Institute for Theoretical Physics. His previous books include Time Reborn, The Trouble with Physics, and Three Roads to Quantum Gravity.