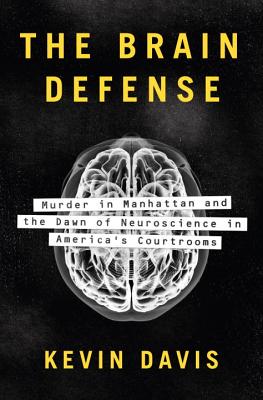 The Brain Defense
Murder in Manhattan and the Dawn of Neuroscience in America's Courtrooms
Hardcover

* Individual store prices may vary.
Other Editions of This Title:
Digital Audiobook (2/27/2017)
Description
Called "the best kind of nonfiction" by Michael Connelly, this riveting new book combines true crime, brain science, and courtroom drama.

In 1991, the police were called to East 72nd St. in Manhattan, where a woman's body had fallen from a twelfth-story window. The woman's husband, Herbert Weinstein, soon confessed to having hit and strangled his wife after an argument, then dropping her body out of their apartment window to make it look like a suicide. The 65-year-old Weinstein, a quiet, unassuming retired advertising executive, had no criminal record, no history of violent behavior—not even a short temper. How, then, to explain this horrific act?
 
Journalist Kevin Davis uses the perplexing story of the Weinstein murder to present a riveting, deeply researched exploration of the intersection of neuroscience and criminal justice. Shortly after Weinstein was arrested, an MRI revealed a cyst the size of an orange on his brain's frontal lobe, the part of the brain that governs judgment and impulse control. Weinstein's lawyer seized on that discovery, arguing that the cyst had impaired Weinstein's judgment and that he should not be held criminally responsible for the murder. It was the first case in the United States in which a judge allowed a scan showing a defendant's brain activity to be admitted as evidence to support a claim of innocence.
 
The Weinstein case marked the dawn of a new era in America's courtrooms, raising complex and often troubling questions about how we define responsibility and free will, how we view the purpose of punishment, and how strongly we are willing to bring scientific evidence to bear on moral questions. Davis brings to light not only the intricacies of the Weinstein case but also the broader history linking brain injuries and aberrant behavior, from the bizarre stories of Phineas Gage and Charles Whitman, perpetrator of the 1966 Texas Tower massacre, to the role that brain damage may play in violence carried out by football players and troubled veterans of America's twenty-first century wars. The Weinstein case opened the door for a novel defense that continues to transform the legal system: Criminal lawyers are increasingly turning to neuroscience and introducing the effects of brain injuries—whether caused by trauma or by tumors, cancer, or drug or alcohol abuse—and arguing that such damage should be considered in determining guilt or innocence, the death penalty or years behind bars. As he takes stock of the past, present and future of neuroscience in the courts, Davis offers a powerful account of its potential and its hazards.
 
Thought-provoking and brilliantly crafted, The Brain Defense marries a murder mystery complete with colorful characters and courtroom drama with a sophisticated discussion of how our legal system has changed—and must continue to change—as we broaden our understanding of the human mind.
Praise For The Brain Defense: Murder in Manhattan and the Dawn of Neuroscience in America's Courtrooms…
"Davis is doing much more than giving Herbert Weinstein back his name and telling his complex story with compassion: He is reporting on a revolution taking place at the awkward intersection of brain science, technology and the law. . . . Davis's book is sensitive to the moral and philosophical questions that hang over the legal battles he explores. . . . The time when guilt and innocence will cease to matter is a long way off; meanwhile, the more judges, lawyers, and juries understand the complex issues they will be facing, the better off we will all be. Reading The Brain Defense will be an excellent way to begin."—The Wall Street Journal

"The Brain Defense is a uniquely important addition to the existing literature on the relationship between neuroscience and criminal justice. This is probably the best book on the role neuroscience has played in criminal justice system. Davis has explained the complex concepts of neuroscience and criminal justice in such a way that even laypeople would enjoy reading it. Both students and experts of neuroscience and criminal justice would benefit from this."—The Washington BookReview

"An excellent and balanced account of. . . a fascinating and important issue."—DiscoverMagazine.com

"Fascinating. . . . Perfect for fans of Antonio Damasio's Descartes' Error."—Library Journal

"Davis engagingly explores how sophisticated brain studies might help explain the causes of violent crimes. . . . A thoroughly researched, clearly presented book."—Kirkus (starred review)

"The Brain Defense is the best kind of nonfiction: It tells you what you need to know, not merely what you want to know. Kevin Davis delivers a riveting journey down an important new corridor in the American courthouse. An important book."—Michael Connelly
 
"A brave and thoughtful exploration of an intractable problem: What role, if any, should neuroscience play in the courtroom? Kevin Davis's informative book will contribute significantly to the national dialogue on this controversial issue."—Antonio Damasio
 
"The Brain Defense is a stirring ride into a fascinating new field. Can a tumor or traumatic brain injury explain rape or murder? Can they diminish culpability? If your instinct screams no, read page one. The first staggering case will challenge your assumptions; the book that follows may alter them permanently. The vividness and urgency of Kevin Davis's storytelling, along with his artful touch, draw you in from the first line and never let you go."—Dave Cullen
Penguin Press, 9781594206337, 336pp.
Publication Date: February 28, 2017
About the Author
Kevin Davis is a Chicago-based journalist and author of Defending the Damned and The Wrong Man. His award-winning writing has appeared in USA Today, The Chicago Tribune, The Utne Reader, Chicago Magazine, The Rumpus, Writer's Digest, and other publications; he is a former staff reporter for the Sun-Sentinel in South Florida and is an editor at the ABA Journal.
or
Not Currently Available for Direct Purchase