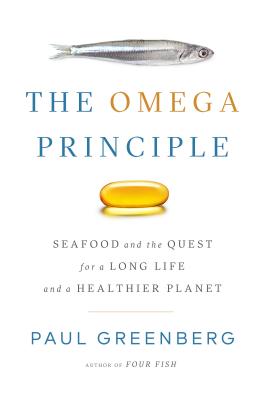 The Omega Principle
Seafood and the Quest for a Long Life and a Healthier Planet
Hardcover

* Individual store prices may vary.
Other Editions of This Title:
Digital Audiobook (7/9/2018)
Paperback (7/9/2019)
Description
By the bestselling author of Four Fish and American Catch, an eye-opening investigation of the history, science, and business behind omega-3 fatty acids, the "miracle compound" whose story is intertwined with human health and the future of our planet

Omega-3 fatty acids have long been celebrated by doctors and dieticians as key to a healthy heart and a sharper brain. In the last few decades, that promise has been encapsulated in one of America's most popular dietary supplements. Omega-3s are today a multi-billion dollar business, and sales are still growing apace--even as recent medical studies caution that the promise of omega-3s may not be what it first appeared. 

But a closer look at the omega-3 sensation reveals something much deeper and more troubling. The miracle pill is only the latest product of the reduction industry, a vast, global endeavor that over the last century has boiled down trillions of pounds of marine life into animal feed, fertilizer, margarine, and dietary supplements. The creatures that are the victims of that industry seem insignificant to the untrained eye, but turn out to be essential to the survival of whales, penguins, and fish of all kinds, including many that we love to eat.

Behind these tiny molecules is a big story: of the push-and-pull of science and business; of the fate of our oceans in a human-dominated age; of the explosion of land food at the expense of healthier and more sustainable seafood; of the human quest for health and long life at all costs. James Beard Award-winning author Paul Greenberg probes the rich and surprising history of omega-3s--from the dawn of complex life, when these compounds were first formed; to human prehistory, when the discovery of seafood may have produced major cognitive leaps for our species; and on to the modern era, when omega-3s may point the way to a bold new direction for our food system. With wit and boundless curiosity, Greenberg brings us along on his travels--from Peru to Antarctica, from the Canary Islands to the Amalfi Coast--to reveal firsthand the practice and repercussions of our unbalanced way of eating.

Rigorously reported and winningly told, The Omega Principle is a powerful argument for a more deliberate and forward-thinking relationship to the food we eat and the oceans that sustain us.
Praise For The Omega Principle: Seafood and the Quest for a Long Life and a Healthier Planet…
"Greenberg elucidates the mechanisms behind the incredibly popular dietary supplement, examines its impact on the ocean, and embarks on a personal experiment to get to the bottom of an array of health claims. The result is informative and fun (and yes, surprisingly perfect for the beach!)"—Civil Eats
 
"Greenberg's narrative maneuvers the world of omega-3 fatty acids with a healthy dose of skepticism and a mission to uncover truth that lies under the waves. . . . Greenberg gives us science writing with heart."—Sierra magazine


"Popular writers often extol the benefits of omega-3s. Greenberg reviews the shaky evidence and delivers a penetrating analysis of its science, business, and future. . . . Greenberg also includes specifics of a healthy, life-extending diet; it requires omega-3s—but not in pill form. . . . An expert review of the human exploitation of marine life."—Kirkus

"The angles for looking at omega-3s are many. The Omega Principle is a welcome one-stop shop, evaluating the science underlying its status as nutritional darling, the massive supplement industry behind it, and the fragile ecosystems propping that industry up. If you take fish oil, eat fish, or follow the arrow of conventional nutritional science, this is a topic you owe it to yourself to research. . . . Greenberg's conversational writing style makes his books anything but an academic exercise."—Medium

"Paul Greenberg's book ranges widely and with great gusto—from fisheries halfway across the globe to academic conferences on metabolism and longevity—to tell the story of supplements, dietary fads, quackery, and the future of human health. This is an important, entertaining, and wonderfully crafted work."—Siddhartha Mukherjee

"It takes no small measure of writing skill to make a book about fatty acids gripping. To be honest, I have never been drawn to the subject and tend to avoid people who use the phrase "omega 3." And yet Paul Greenberg has written a book on the subject that is engaging and important, a book that is a pleasure and should be read."—Mark Kurlansky
 
"The Omega Principle encapsulates all the complexity and intricacies of our broken food system with the story of one (seemingly) simple supplement. Paul Greenberg takes us on another brilliant deep dive with an entirely new lens. This book demands our attention."—Dan Barber 

"Paul Greenberg goes searching for the secret to longevity, and what he learns is, in many ways, more interesting. The Omega Principle should be read by anyone who cares about human health or the health of the planet, which is to say everyone."—Elizabeth Kolbert
Penguin Press, 9781594206344, 304pp.
Publication Date: July 10, 2018
About the Author
Paul Greenberg is the author of the James Beard Award-winning
Four Fish
and
American Catch
and a regular contributor to
The New York Times
. His writing has also appeared in
The New Yorker
,
National Geographic
, and
GQ
, among other publications, and he has lectured widely on ocean issues at institutions ranging from Google to Yale to the U.S. Senate. He lives in New York.
Twitter: @4fishgreenberg
Facebook: facebook.com/fourfish 
Web: paulgreenberg.org
Coverage from NPR
or
Not Currently Available for Direct Purchase