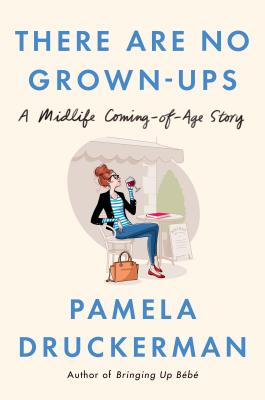 There Are No Grown-ups
A Midlife Coming-of-Age Story
Hardcover

* Individual store prices may vary.
Other Editions of This Title:
Digital Audiobook (5/28/2018)
Paperback (4/30/2019)
Description
The best-selling author of BRINGING UP BÉBÉ investigates life in her forties, and wonders whether her mind will ever catch up with her face.

When Pamela Druckerman turns 40, waiters start calling her "Madame," and she detects a disturbing new message in mens' gazes: I would sleep with her, but only if doing so required no effort whatsoever.
 
Yet forty isn't even technically middle-aged anymore. And after a lifetime of being clueless, Druckerman can finally grasp the subtext of conversations, maintain (somewhat) healthy relationships and spot narcissists before they ruin her life.

What are the modern forties, and what do we know once we reach them? What makes someone a "grown-up" anyway? And why didn't anyone warn us that we'd get cellulite on our arms? Part frank memoir, part hilarious investigation of daily life, There Are No Grown-Ups diagnoses the in-between decade when... 

   • Everyone you meet looks a little bit familiar. 
   • You're matter-of-fact about chin hair. 
   • You can no longer wear anything ironically. 
   • There's at least one sport your doctor forbids you to play. 
   • You become impatient while scrolling down to your year of birth. 
   • Your parents have stopped trying to change you. 
   • You don't want to be with the cool people anymore; you want to be with your people. 
   • You realize that everyone is winging it, some just do it more confidently. 
   • You know that it's ok if you don't like jazz.

Internationally best-selling author and New York Times contributor Pamela Druckerman leads us on a quest for wisdom, self-knowledge and the right pair of pants. A witty dispatch from the front lines of the forties, There Are No Grown-ups is a (midlife) coming-of-age story, and a book for anyone trying to find their place in the world.
Praise For There Are No Grown-ups: A Midlife Coming-of-Age Story…
"There has been remarkably little good writing about this thorny topic but here, with excellent timing, comes Pamela Druckerman's pitch-perfect and brutally frankThere Are No Grown-Ups. . . . She has a reckless candor that can make you laugh and gasp at the same time. . . . As Nora Ephron said, "Everything is copy." For those of us who regard "I Feel Bad About My Neck" as a bible for the midlife woman, Ephron is simply irreplaceable, but Druckerman is the heir to her impish, unembarrassable spirit and adorable storytelling." —The New York Times Book Review

"Essayist Druckerman is both droll and wise on facing the inevitability(and occasional upsides!) of aging." –People

"The decline of being middle –aged is probed with humor (chapter 7: How to Plan a Ménage à Trois), honesty (chapter 10: How to Have a Midlife Crisis) and heart (chapter 8: How to be Mortal)." — Family Circle Magazine

"Pamela Druckerman brings her irresistible combination of wit, humility, curiosity and insight to topics as grown-up as facing mortality and planning a threesome in her new book, which is sure to delight anyone undergoing, contemplating, or recovering from middle age. There Are No Grown-ups is a sparkling meditation on what it means to come of age as a modern human being." —Ariel Levy, author of The Rules Do Not Apply

"Anyone in their forties will read this book and recognize so many of Druckerman's brilliant observations and honest feelings. If 'forty is the old age of youth and fifty is the youth of old age,' this book hilariously meanders the purgatory of what's in between."—Jill Kargman, author of Momzilla and creator, writer, producer and star of Odd Mom Out.  

"This is no journalistic tome, though. Druckerman's voice—self-deprecating but also keenly observant—will remind readers of the late Nora Ephron… Peppered with "You know you're in your 40s when" lists, this is a delightfully funny, thoughtful coming-of-middle-age story." — Susan Maguire, Booklist
 
"Half memoir and half ironic how-to guide, Druckerman's book is not only a humorous meditation on the gains and pains of a time in life 'when you become who you are'; it is also a thought-provoking meditation on 'what it means to be a grown-up.' A trenchant and witty book on maturity and 'middle-age shock.'" —Kirkus

"Pamela Druckerman explores the challenges of being forty-something by sharing her own experiences with a deep, hilarious honesty. From her real-life struggles, she finds wise lessons that can help guide us all through this stage of life. There Are No Grown-Ups will make you laugh out loud. It's funny because it's true." —Gretchen Rubin, author of The Four Tendencies and The Happiness Project
 
"Pamela Druckerman is a Nora Ephron for a new generation. Need I say more?" —Susan Taylor from Book House of Stuyvesant Plaza

"What makes Druckerman's writing…so entertaining and addictive is her insatiable curiosity about humans and culture, her incessant research, and her extraordinary, comical honesty. Few people could write a book that tackles a threesome as a fortieth birthday present, different cultural attitudes towards ageing, and sudden, life-threatening illness with such a consistent spirit of enquiry, humor, and humility."—Elke Power, Readings

"This well-researched book will keep you laughing and pondering what it really means to grow older."—Woman's Day

"[A] bracing primer…about life since turning 40…consistently entertaining and endearingly self-doubting."—Editor's Choice, The Bookseller
 
"If you really must turn 40, this is the book to do it with.  The overall effect of having Pamela Druckerman in your life is you remember not to take it all so damn seriously." —Kelly Corrigan, author of Tell Me More 
Penguin Press, 9781594206375, 288pp.
Publication Date: May 29, 2018
About the Author
Pamela Druckerman is a journalist and the author of four books including Bringing Up Bébé: One American Mother Discovers the Wisdom of French Parenting, which has been translated into twenty-eight languages. She's also a contributing opinion writer at the New York Times.
Coverage from NPR
or
Not Currently Available for Direct Purchase