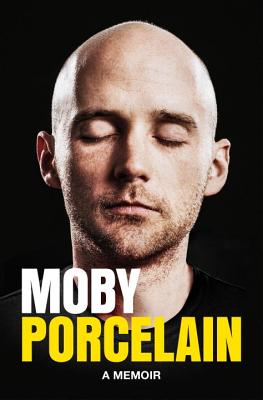 Porcelain
A Memoir
Hardcover

* Individual store prices may vary.
Other Editions of This Title:
Digital Audiobook (5/16/2016)
Paperback (5/16/2017)
Description
From one of the most interesting and iconic musicians of our time, a piercingly tender, funny, and harrowing account of the path from suburban poverty and alienation to a life of beauty, squalor and unlikely success out of the NYC club scene of the late '80s and '90s.

There were many reasons Moby was never going to make it as a DJ and musician in the New York club scene. This was the New York of Palladium; of Mars, Limelight, and Twilo; of unchecked, drug-fueled hedonism in pumping clubs where dance music was still largely underground, popular chiefly among working-class African Americans and Latinos. And then there was Moby—not just a poor, skinny white kid from Connecticut, but a devout Christian, a vegan, and a teetotaler. He would learn what it was to be spat on, to live on almost nothing. But it was perhaps the last good time for an artist to live on nothing in New York City: the age of AIDS and crack but also of a defiantly festive cultural underworld. Not without drama, he found his way. But success was not uncomplicated; it led to wretched, if in hindsight sometimes hilarious, excess and proved all too fleeting. And so by the end of the decade, Moby contemplated an end in his career and elsewhere in his life, and put that emotion into what he assumed would be his swan song, his good-bye to all that, the album that would in fact be the beginning of an astonishing new phase: the multimillion-selling Play.
 
At once bighearted and remorseless in its excavation of a lost world, Porcelain is both a chronicle of a city and a time and a deeply intimate exploration of finding one's place during the most gloriously anxious period in life, when you're on your own, betting on yourself, but have no idea how the story ends, and so you live with the honest dread that you're one false step from being thrown out on your face. Moby's voice resonates with honesty, wit, and, above all, an unshakable passion for his music that steered him through some very rough seas.
 
Porcelain is about making it, losing it, loving it, and hating it. It's about finding your people, your place, thinking you've lost them both, and then, somehow, when you think it's over, from a place of well-earned despair, creating a masterpiece. As a portrait of the young artist, Porcelain is a masterpiece in its own right, fit for the short shelf of musicians' memoirs that capture not just a scene but an age, and something timeless about the human condition. Push play.


Praise For Porcelain: A Memoir…
"A lovingly composed new memoir that tracks his journey from living in an abandoned factory in Connecticut to playing the hottest clubs in New York and Europe. …Porcelain reads like an intimate meditation on the various contradictions Moby has resolved over the course of his 50 years: his Christian faith vs. his hedonistic streak; his hunger for stardom vs. his retiring nature; his respect for ambition vs. his deep belief in luck. The book is also a tender ode to a vanished New York City."—Los Angeles Times
 
 "As much a portrait of downtown Manhattan in the late '80s and '90s as it is an iconoclastic artist's coming-of-age story, this raucous, candid memoir will fascinate the electronic musician's many fans."—People

"Porcelain vividly evokes a certain place and time—specifically, New York in the '90s. It simultaneously presents a portrait of its author that's withering in the extreme. At the same time, it offers a perfect freeze-frame of downtown New York in the Dinkins to early Giuliani years, when far more of the cherished stench of '70s and '80s city lingered than some may remember."—New York Observer

"Riveting."—Rolling Stone

"Rock memoirs rarely live up to expectations, but… Porcelain is an exception. It ranks with Kim Gordon's Girl in a Band and a handful of others in recent years as a particularly incisive look at not just a life in music, but at the cultural and social circumstances that helped shape it. It is by turns self-deprecating, hilarious and moving."—Chicago Tribune

"Moby's Porcelain is a buoyant coming-of-age story set in the filthy, dangerous New York City of the 1990s that the musician and DJ adored. Funny, bighearted and raw."—San Francisco Chronicle

"Entertainingly gritty… A distinctive addition to the recent spate of well-written memoirs by contemporary musicians, a list that would include the likes of Elvis Costello, Patti Smith, and Carrie Brownstein."—Kirkus Reviews

"A love letter to chaotic 1990s New York…Moby's prose is honest, self-deprecating, and full of mordant wit, and when music is playing, it shines with exhilarating emotion." —Publishers Weekly, starred

"Ten years of Moby's life, mostly in the decrepit, dangerous, much-loved New York City of the 1990s, a life comically overcrowded,  filthy, alcohol-fuelled, vegan, unbelievably noisy, full of spit and semen and some sort of Christianity; and often, suddenly, moving. The writing is terrific, enlivened by a bewildered deadpan humor that makes crazy sense of it all. His ancestor Herman Melville would, I think, be simultaneously revolted and proud." —Salman Rushdie

"Full disclosure: Moby is a friend of mine, yet I had no idea that he was such a brilliant writer and storyteller. Porcelain, to me, is a classic and beautifully told bildungsroman—a young man comes to the city to find himself. And Moby tells this tale of his youth—his search for meaning and music—with gorgeous clarity, comedy, and compassion. Porcelain also serves as a history of downtown New York of a certain time, a New York that doesn't really exist anymore, but I was very happy to reencounter it here through Moby's particular and fascinating lens." —Jonathan Ames, author of Wake Up, Sir!

"This is one of the funniest and most accessible books you'll ever read about an erstwhile Christian/alcoholic vegan electronic music maker. Throughout the adventures and misadventures, Danish music festivals and Barbadan disasters, Moby manages to stay wide-eyed, grateful and amazed, which itself is a real gift to the reader: we feel welcome in—or just as out of place as he feels—in the world of rock and raves and clubs. He remakes the music world into the form it should be: nonexclusive, unpretentious, less about division and stratification, and more about radical inclusion. Music shouldn't exist any other way." —Dave Eggers
 
"Raw, honest, cruel and funny, Moby's beautifully-written memoir is a pure act of bravery. He allows us to ride on his shoulder as he chases a dream through New York nightlife and the European club scene, his self-deprecating humor and unguarded nature lulling us into believing the ride will be breezy and the landing soft. Only when he starts plummeting to earth do we realize that we've left his shoulder and climbed into his head, where self-deprecation reveals itself as self-loathing that is chasing self-destruction. It's a dark place with jagged edges—not the spot to ride out this kind of fall, and Moby hides not one shard of it from us. But, in perhaps in an even greater act of bravery, he also never hides behind cynicism, or distances himself from the hope, and even innocence, of his dreams. I wish my writing could be even half as honest." —Paul Haggis
 
"Honest, funny, and sometimes raw, Porcelain is an intimate look at a life in motion. It proves that Moby writes like he plays music–with passion and precision and heart." —Susan Orlean
Penguin Press, 9781594206429, 416pp.
Publication Date: May 17, 2016
About the Author
Moby is a singer-songwriter, musician, DJ, and photographer. His records have sold 20 million records worldwide. AllMusic called him "one of the most important dance music figures of the early '90s." He lives in Los Angeles.
Coverage from NPR
or
Not Currently Available for Direct Purchase