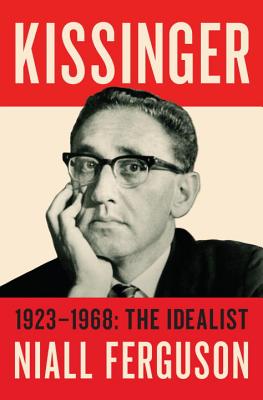 Kissinger
1923-1968: The Idealist
Hardcover

* Individual store prices may vary.
Other Editions of This Title:
Paperback (9/27/2016)
Description
The definitive biography of Henry Kissinger, based on unprecedented access to his private papers

No American statesman has been as revered or as reviled as Henry Kissinger. Once hailed as "Super K"—the "indispensable man" whose advice has been sought by every president from Kennedy to Obama—he has also been hounded by conspiracy theorists, scouring his every "telcon" for evidence of Machiavellian malfeasance. Yet as Niall Ferguson shows in this magisterial two-volume biography, drawing not only on Kissinger's hitherto closed private papers but also on documents from more than a hundred archives around the world, the idea of Kissinger as the ruthless arch-realist is based on a profound misunderstanding.

The first half of Kissinger's life is usually skimmed over as a quintessential tale of American ascent: the Jewish refugee from Hitler's Germany who made it to the White House. But in this first of two volumes, Ferguson shows that what Kissinger achieved before his appointment as Richard Nixon's national security adviser was astonishing in its own right. Toiling as a teenager in a New York factory, he studied indefatigably at night. He was drafted into the U.S. infantry and saw action at the Battle of the Bulge—as well as the liberation of a concentration camp—but ended his army career interrogating Nazis. It was at Harvard that Kissinger found his vocation. Having immersed himself in the philosophy of Kant and the diplomacy of Metternich, he shot to celebrity by arguing for "limited nuclear war." Nelson Rockefeller hired him. Kennedy called him to Camelot. Yet Kissinger's rise was anything but irresistible. Dogged by press gaffes and disappointed by "Rocky," Kissinger seemed stuck—until a trip to Vietnam changed everything.
 
The Idealist is the story of one of the most important strategic thinkers America has ever produced. It is also a political Bildungsroman, explaining how "Dr. Strangelove" ended up as consigliere to a politician he had always abhorred. Like Ferguson's classic two-volume history of the House of Rothschild, Kissinger sheds dazzling new light on an entire era. The essential account of an extraordinary life, it recasts the Cold War world.
Praise For Kissinger: 1923-1968: The Idealist…
"Magisterial….Like Mr. Kissinger or loathe him, this is a work of engrossing scholarship." – The Economist
 
 
 "Mr. Ferguson offers a remarkably rich discussion of Mr. Kissinger's strategic thought and of how it took shape over time… The book… is well worth reading as a corrective to harsher historical judgments of Mr. Kissinger." —Wall Street Journal
 
"If Kissinger's official biographer cannot be accused of falling for his subject's justifiably famed charm, he certainly gives the reader enough evidence to conclude that Henry Kissinger is one of the greatest Americans in the history of the Republic, someone who has been repulsively traduced over several decades and who deserved to have  defense of this comprehensiveness published years ago….Niall Ferguson already has many important, scholarly and controversial books to his credit.  But if the second volume of "Kissinger" is anywhere near as comprehensive, well written and riveting as the first, this will be his masterpiece." —Andrew Roberts, The New York Times Book Review


Combine careful and extensive scholarship, clear writing, and a magnificent subject and you get Niall Ferguson on Kissinger, a genuinely educational read."-George P. Schultz, 60th U.S. Secretary of State

"When an accomplished historian writes about one of the world's great diplomats, the results are sure to be a masterpiece -- and that is exactly how to describe Niall Ferguson's epic on Henry Kissinger."-James A. Baker, III, 61st U.S. Secretary of State


"This is a terrific biography, and a must read for understanding the evolution of one of the most important and compelling architects of American foreign policy of our age."-Condoleezza Rice, Former Secretary of State and Denning Professor in Global Business and the Economy at the Stanford Graduate School of Business


"With all that's been written about Kissinger over so many years, you might think that there'd be little new to say. Think again. Niall Ferguson's Kissinger: The Idealist shifts the trajectory of Kissinger studies fundamentally. Always thorough, often surprising, at times deeply moving, this is an extraordinary biography of the most significant scholar-statesman-strategist of our time, by one of our most accomplished historians. Not to be missed."-John Lewis Gaddis, Yale University 


"Ferguson's biography will be a classic. This is a story of an influential, complex, and shrewd historical figure set in the context of the drama of America and the world in the mid-20th Century. Ferguson's research is fresh and revealing, his writing is pleasure to read, and his insights are sharp and thought-provoking."-Robert B. Zoellick, U.S. Deputy Secretary of State, Former President of the World Bank, and U.S. Trade Representative 


"Fresh and imaginative, this carefully researched biography reads like a novel. Under Niall Ferguson's skilled pen, Kissinger the public colossus becomes Henry the boy and man. A wonderful read!"-Joseph S. Nye, Jr., Harvard University Distinguished Service Professor and author of Is the American Century Over? 
Penguin Press, 9781594206535, 1008pp.
Publication Date: September 29, 2015
About the Author
Niall Ferguson is one of the world's most renowned historians. He is the author of Paper and Iron, The House of Rothschild, The Pity of War, The Cash Nexus, Empire, Colossus, The War of the World, The Ascent of Money, High Financier, Civilization, The Great Degeneration, Kissinger, 1923-1968: The Idealist, and The Square and the Tower. He is Senior Fellow at the Hoover Institution, Stanford University, and a Visiting Professor at Tsinghua University, Beijing. His many awards include the Benjamin Franklin Prize for Public Service (2010), the Hayek Prize for Lifetime Achievement (2012) and the Ludwig Erhard Prize for Economic Journalism (2013).
or
Not Currently Available for Direct Purchase