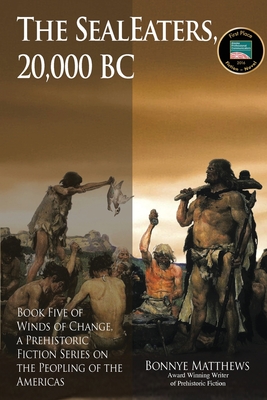 The SealEaters (Paperback)
Book Five of Winds of Change, a Prehistoric Fiction Series on the Peopling of the Americas
Publication Consultants, 9781594336003, 354pp.
Publication Date: January 15, 2016
* Individual store prices may vary.
Description
The SealEaters, 20,000 BC is the last of the planned books in the Winds of Change Series on the Peopling of the Americas.  The time period is the onset of the last Ice Age which ends the Time of Peace and ushers in the Time of War on earth.  The Time of War continues today.  The novel is a survival story of the Solutreans in southern France/northern Spain.  due to advancing ice sheets, seals from the north have beached on their shores and the SealEaters have come to depend on them for their major food source.  The SealEaters face advancing ice from the north, warring groups beyond the mountains to the east and south.  In search of a new land, a small number of SealEaters travel the arc formed by the ice sheets, eating seals along the way across the Atlantic Ocean to the east coast of what is now North America, a coast very different from what we know today.  They survey the land and groups of people living there, trying to find a new living place.  There are differences among the Solutreans and the people they meet in the new land when compared to the People in the first four books.  The SealEaters' group cohesiveness has disintegrated  when compared to the People of the preceding books.  The SealEaters, 20,000 BC tells the tale of this effort to find a new land.

or
Not Currently Available for Direct Purchase