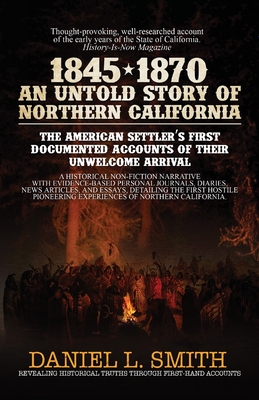 1845-1870 An Untold Story of Northern California
Paperback

* Individual store prices may vary.
Description
1845-1870 An Untold Story of Northern California is a revisionist historical non-fiction narrative of the American settling of Northern California, and their difficult experiences with local native conflicts that arose. These hostility's have been eyeballed and extensively written about through the eyes of the indigenous locals. Modern knowledge on the true experiences of the pioneers settling of this specific area of 19th century Northern California, today, is seemingly swept under the rug. This literature serves as a window for the reader to understand the mindsets and culture of the American settlers as they homesteaded the Northern California region from 1845 to 1870. This literature includes massive amounts of information regarding unheard-of regional hostilities and depredations against the American settlers during this time-frame. 1845-1870 An Untold Story of Northern California also exposes and ties-in certain cultural. religious, and legal functions that solidified the history of what truly happened during Northern California's unstable history A must-have for students, teachers, and history enthusiasts.
Praise For 1845-1870 An Untold Story of Northern California…
"Thought-provoking, well-researched account of the early years of the State of California." - History-Is-Now Magazine (historyisnowmagazine.com)
Publication Consultants, 9781594338533, 136pp.
Publication Date: November 1, 2019
About the Author
Daniel Lee Smith is an Author, Freelance Writer, & Historical Researcher. He has lived all over the United States, and has traveled North America extensively. ​Mr. Smith is currently earning his Masters degree in History at Southern New Hampshire University. He also has a B.A. in History and an A.S. in Criminal Justice. He is an Honorably Discharged U.S. Coast Guard Veteran, and holds 10 years' experience in Corporate and Retail Loss Prevention & Theft Investigations.
Mr. Smith has been issued multiple service awards, as well as being recognized for volunteering in the rebuilding of New Orleans after Hurricane Katrina in 2005. He is happily married to wife Myriah, with a loving family. The Smith's are a Calvary Chapel family and reside in Eureka, California.

or
Not Currently Available for Direct Purchase