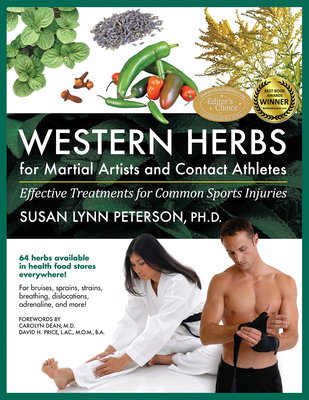 Western Herbs for Martial Artists and Contact Athletes
Effective Treatments for Common Sports Injuries
Paperback

* Individual store prices may vary.
Description
Herbs for bruises, sprains, strains, dislocations, breathing, adrenaline, and more
Healing with herbs has long been a tradition in the martial arts. As ever more martial artists train in the West, interest in Western herbs grows. This book investigates sixty-four herbs that are readily available in North America and Europe. For each herb it discusses the evidence for its effectiveness, the evidence for its safety, and how specifically to use it to enhance martial arts and contact sports training. Even the beginner will be able to choose an herb to meet a specific training need, purchase a good quality portion of that herb, prepare it, and use it safely.
YMAA Publication Center, 9781594391972, 374pp.
Publication Date: September 1, 2010
About the Author
Susan Lynn Peterson Ph.D. holds a 5th degree black belt in Shuri-ryu karate, author of five books, including two martial arts, and an award winning theology text. She is a contributing writer to martial arts magazines and health & fitness websites. Peterson has spent many years and thousands of hours investigating the way herbs have been used in various cultures to treat injuries. Susan teaches karate and operates her communications business in Tucson Arizona.