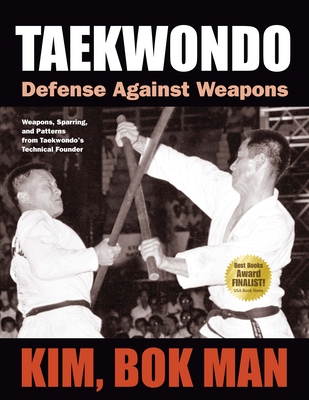 Taekwondo (Paperback)
Defense Against Weapons
YMAA Publication Center, 9781594392276, 417pp.
Publication Date: November 1, 2011
* Individual store prices may vary.
Description
Grandmaster Kim, Bok Man is one of the most recognized authorities of taekwondo in the world. He worked tirelessly with General Choi Hong Hi as a founder of taekwondo curricula used today by the many international taekwondo organizations.
Originally published in 1979, this book provides defense techniques taught to military, law enforcement officials, and black belts. Beginners will have a chance to see the application of their training in actual weapon defenses.
Advanced students will learn techniques and fundamental training that has been 'field' tested since the inception of the art in the 1950s.
Chapters include:
History and the theory of power
Defense against weapons: knife, baton, pole, sword, bayonet, and pistol
Sparring: releases, grabs, throwing, falling, free-sparring
Patterns: Silla pattern 1, Silla pattern 2, Silla knife pattern, and Silla pole pattern
Training: stretching, calisthenics, action principles, hand and foot techniques, using a heavy bag
Body parts for attack and defense, stances, vital points for striking
This book catalogs the essence of the fighting art of taekwondo as it was originally intended.
About the Author
Master Kim, Bok Man, 10th dan, started his martial arts training in 1941. Grandmaster Kim, along with General Choi Hong Hi, worked tirelessly to develop the basic structure upon which present-day taekwondo is founded. Grandmaster Kim is responsible for the establishment of numerous taekwondo associations worldwide, including SE Asia, Europe, and the USA. Grandmaster Kim, Bok Man teaches and resides near Roseland, New Jersey.