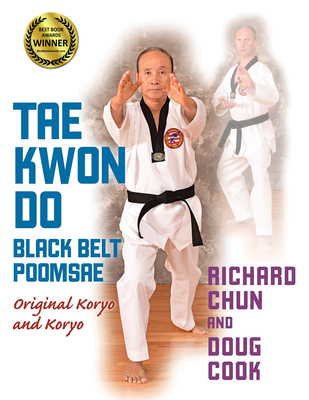 Tae Kwon Do Black Belt Poomsae (Paperback)
Original Koryo and Koryo
YMAA Publication Center, 9781594392641, 192pp.
Publication Date: June 1, 2013
Other Editions of This Title:
Hardcover (4/8/2014)
* Individual store prices may vary.
Description
USA Best Book Award WINNER - 2014 Eric Hoffer Award FINALIST - 2014 According to the World Taekwondo Federation, there are over 90,000,000 taekwondo practitioners worldwide. Every level 1 black belt student is required to learn Poomsae Koryo. Yet few are familiar with the ancestral form known as the 'Original Koryo'. Prearranged forms known as poomsae in taekwondo, are a primary method of transmitting martial arts skills from teacher to student. As sport preference supplanted fighting preference in taekwondo's reason for existence, the Original Koryo was modified in kind to today's well-known Koryo. Written specifically for level 1 and level 2 black belt students, this book is a scholarly attempt to capture, transmit and preserve as an inheritance, the historical treasures and technical elements inherent in Original Koryo and Koryo, as well as the applications less obvious or even secretly encoded in these forms. This knowledge will benefit those seeking more than triumph in the ring or aerobic fulfillment from their taekwondo training. In summary, students will find in this book: - History and philosophy- Technical elements for learning the basics- Detailed instruction for learning Koryo- Detailed instruction for learning Original Koryo Over two hundred photographs, line of motion charts, stepping patterns, and martial applications are provided throughout this in-depth instructional book.
About the Author
Grandmaster Richard Chun, Ph.D. is Chairman and Executive Director of the United States Taekwondo Association. A 9th degree black belt, past head coach of the USA Taekwondo Team, senior referee for 1988 Olympics, and inducted into the Black Belt Hall of Fame (1979) and the Taekwondo Hall of Fame (2004). Richard Chun resides in Tenefly, New Jersey.Doug Cook, 6th degree black belt, is the author of three books, hundreds of magazine articles; is an award winning staff writer for Taekwondo Times Magazine, and a six time gold medalist in the NY State Taekwondo Governor's Cup. Doug owns and operates the Chosun Taekwondo Academy in Warwick, New York.