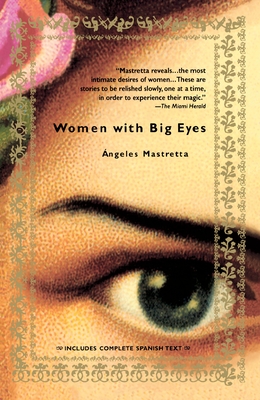 Women with Big Eyes (Paperback)
Riverhead Books, 9781594480409, 384pp.
Publication Date: November 2, 2004
* Individual store prices may vary.
Description
The award winning author of Tear This Heart Out writes a compilation of deeply personal stories imbued with the human spirit, driven by different powerful women connected by desire.

Each story in this "remarkable collection" (Kirkus Reviews) reveals a different woman, yet all are linked by a single thread: the strength of desire. Vibrant, sly, wise, earthy, and full of life, these are stories that mesmerize.
About the Author
Ángeles Mastretta was born in Puebla, Mexico, in October 1949.  She began her writing career as a journalist for such publications as Siete, a magazine published by the Ministry of Public Education, and the afternoon paper Ovaciones.  In 1974 she was awarded a scholarship at the Mexican Writers' Center, where she honed her skills among the writers Juan Rulfo, Salvador Elizondo, and Francisco Monterde.  In 1975, La pájara pinta (Colorful Bird), a collection of Mastretta's poetry, was published. The success of Tear This Heart Out (Riverhead Books, 1997) gave Mastretta the freedom to focus full time on writing fiction, yet the inspiration for Women with Big Eyes is autobiographical, conceived when her infant daughter was gravely ill.  Hoping to convince the child that she was a necessary link in an unbroken chain of extraordinary women, Mastretta sat by her bedside telling stories, harvesting her family tree and her imagination to create a cast of magical, witty and colorful women, caught in pivotal moments of their life.  Realizing the power of these stories, she subsequently wrote them down so that they would not be lost, and Women with Big Eyes was born.
or
Not Currently Available for Direct Purchase