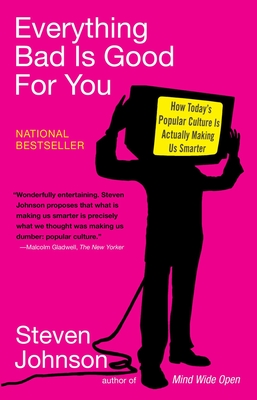 Everything Bad is Good for You
How Today's Popular Culture Is Actually Making Us Smarter
Paperback

* Individual store prices may vary.
Other Editions of This Title:
Digital Audiobook (5/1/2006)
Description
From the New York Times bestselling author of How We Got To Now and Farsighted
Forget everything you've ever read about the age of dumbed-down, instant-gratification culture. In this provocative, unfailingly intelligent, thoroughly researched, and surprisingly convincing big idea book, Steven Johnson draws from fields as diverse as neuroscience, economics, and media theory to argue that the pop culture we soak in every day—from
Lord of the Rings
to
Grand Theft Auto
to
The Simpsons
—has been growing more sophisticated with each passing year, and, far from rotting our brains, is actually posing new cognitive challenges that are actually making our minds measurably sharper. After reading
Everything Bad is Good for You
, you will never regard the glow of the video game or television screen the same way again.
With a new afterword by the author.


Praise For Everything Bad is Good for You: How Today's Popular Culture Is Actually Making Us Smarter…
"Revelatory...Daring...Finally, an intellectual who doesn't think we're headed down the toilet!" –
Washington Post Book World
"Persuasive...The old dogs won't be able to rest as easily once they've read Everything Bad is Good for You, Steven Johnson's elegant polemic.... It's almost impossible not to agree with him."—Walter Kirn, The New York Times Book Review
"A thought-provoking argument that today's allegedly vacuous media are, well, thought provoking...A brisk, witty read, well versed in the history of literature and bolstered with research...Johnson, it turns out, still knows the value of reading a book. And this one is indispensable." —Time
"There is a pleasing eclecticism to [Johnson's] thinking. He is as happy analyzing Finding Nemo as he is dissecting the intricacies of a piece of software ... Johnson wants to understand popular culture…in the very practical sense of wondering what watching something like The Dukes of Hazzard does to the way our minds work." —Malcolm Gladwell, The New Yorker
"The author Newsweek called one of the most influential people in cyberspace...is back. The beauty of Johnson's latest work — beyond its engaging, accessible prose — is that anyone with even a glancing familiarity with pop culture will come to the book ready to challenge his premise. Everything Bad Is Good for You anticipates and refutes nearly every likely claim, building a convincing case that media have become more complex and thus make our minds work harder." —Cleveland Plain Dealer
"Through a string of airtight, academic and very entertaining essays, Johnson maintains that prime-time TV is more intellectually engaging than ever." —Time Out New York
"Sophisticated...nimble...strangely satisfying." —Newsday
"Johnson's challenge to the oft-repeated lament that mass culture is dumbing down is as enlightening as it is necessary." –BookForum
"Johnson may be the first mainstream writer to bring neuroscientific inquiry to 'The Apprentice'...It's scientific and literary rigor, couch-potato style." –Chicago Tribune
"Johnson paints a convincing and literate portrait, and he shows himself to be a master of many disciplines, which deepens the well of his credibility." –San Francisco Chronicle
"Engaging...Intriguing...Breezy and funny... Johnson is a forceful writer, and he makes a good case; his book is an elegant work of argumentation." —Salon.com
Riverhead Books, 9781594481949, 288pp.
Publication Date: May 2, 2006
About the Author
Steven Johnson is the bestselling author of eleven books, including Where Good Ideas Come From, Wonderland, and The Ghost Map. He's the host and co-creator of the Emmy-winning PBS/BBC series How We Got To Now, and the host of the podcast American Innovations. He lives in Brooklyn and Marin County, California with his wife and three sons.