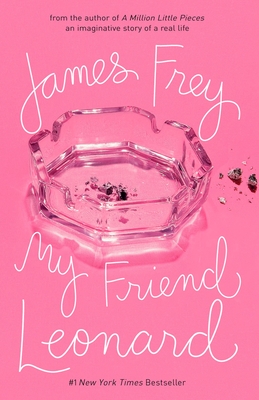 My Friend Leonard
Paperback

* Individual store prices may vary.
Other Editions of This Title:
Digital Audiobook (10/20/2005)
Hardcover (6/16/2005)
Compact Disc (12/6/2005)
Description
Perhaps the most unconventional and literally breathtaking father-son story you'll ever read, My Friend Leonard pulls you immediately and deeply into a relationship as unusual as it is inspiring.

The father figure is Leonard, the high-living, recovering coke addict "West Coast Director of a large Italian-American finance firm" (read: mobster) who helped to keep James Frey clean in A Million Little Pieces. The son is, of course, James, damaged perhaps beyond repair by years of crack and alcohol addiction-and by more than a few cruel tricks of fate.

James embarks on his post-rehab existence in Chicago emotionally devastated, broke, and afraid to get close to other people. But then Leonard comes back into his life, and everything changes. Leonard offers his "son" lucrative—if illegal and slightly dangerous—employment. He teaches James to enjoy life, sober, for the first time. He instructs him in the art of "living boldly," pushes him to pursue his passion for writing, and provides a watchful and supportive veil of protection under which James can get his life together. Both Leonard's and James's careers flourish…but then Leonard vanishes. When the reasons behind his mysterious absence are revealed, the book opens up in unexpected emotional ways.

My Friend Leonard showcases a brilliant and energetic young writer rising to important new challenges—displaying surprising warmth, humor, and maturity—without losing his intensity. This book proves that one of the most provocative literary voices of his generation is also one of the most emphatically human.
Praise For My Friend Leonard…
"As smart as it is heartfelt, this tribute to friendship is a far sunnier book than Frey's debut.... Frey's cool, shrewd eye for detail ties it all together, whether he's describing the inside of a jail, a Super Bowl party, or the plaintive rootlessness of life in Los Angeles." —Malcolm Jones,
Newsweek
"he engrossing story of a bizarre friendship between the author and a dangerous mobster." —People
"Frey's appeal lies in his ability to tell his down and dirty, hair-raising story in sparse, hypnotic prose--in this sense he's already a master stylist, of kind. No subject , no height or depth of human experience is too extreme for him to come around on with deadeye grace and force of his beautiful, sad, potent, irresistible prose." —Elle
"Has a ferocity and a narrative drive that won't surprise Frey's fans, but is full of unexpected heart that might." —Details
"Suffused with anger and regret, written by a man who has straddled the line between life and death and has taken his time figuring out which side he wants to jump to. He spares no gory details." —Poets & Writers Magazine (cover story)
"Brave and bold... This is not a document but a rendering, just as Van Gogh's self-portrait distorts his face to capture the riot of emotions behind the eyes... Frey describes how he put feelings back into his life, and the effect is vivid, splashy, mesmerizing. Indeed, he has put the Technicolor back into the memoir." —Atlanta Journal-Constitution
"Examines [Frey's] relationship with the title figure, a Las Vegas mobster who helps him through rehab, jail and the terrifying terrain of sobriety…a tender story of male friendship." —Chicago Tribune
"My Friend Leonard is just as compelling as the first book, with the same electrifying narrative energy, stylistic daring and atmosphere of emotional risk…Frey is exceptionally good at conveying the emotional truths behind the events he relates. His portrait of his friendship with Leonard is deeply resonant and offers a fuller human portrait of a gangster than you're likely to find anywhere else." —Bookpage
"[A] great story by a talented writer." —Wisconsin State Journal
"[A] must-read." —Sacramento Bee
"
What makes the book as difficult and challenging as its predecessor is Frey's ability to meet his new losses head-on. What makes it more inspiring is his determination to see things through, without the drugs as a crutch, to their unfortunate, heartbreaking end...Frey succeeds in making Leonard cut fast and close to the core." —Time Out New York
"Frey achieves another stylistic coup... Frey's style throughout is loose, untraditional, but perfectly crafted... This book packs a full emotional wallop... Frey's extraordinary relationship with Leonard is alive, a flesh-and-blood bond." —Publishers Weekly (starred review)
"A fine, grim tale full of smarting immediacy… A small fortune could be made by bottling this story and selling it as an antidote to self-pity. Frey will have to settle for the small fortune it will make in big sales." —Kirkus (starred review)
"A raw, often visceral, reading experience. With Frey's emotions so close to the surface, it's impossible not to care about Frey's struggles to reintegrate into society and prosper. Another powerful read from a talented, dynamic author." —Booklist (starred, boxed review)
Riverhead Books, 9781594481956, 416pp.
Publication Date: May 30, 2006
About the Author
James Frey is the author of the memoir
A Million Little Pieces
.
Author photo by Annelore Van Herjiwen
or
Not Currently Available for Direct Purchase