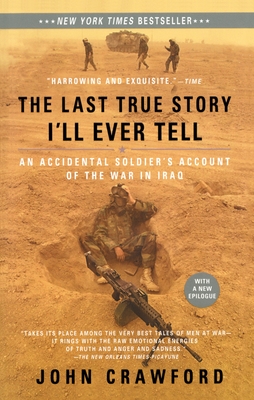 The Last True Story I'll Ever Tell: An Accidental Soldier's Account of the War in Iraq (Paperback)
An Accidental Soldier's Account of the War in Iraq
Riverhead Books, 9781594482014, 220pp.
Publication Date: April 4, 2006
Description
In the tradition of Michael Herr's
Dispatches
, a National Guardsman's account of the war in Iraq. John Crawford joined the Florida National Guard to pay for his college tuition, willingly exchanging one weekend a month and two weeks a year for a free education. But in Autumn 2002, one semester short of graduating and newly married--in fact, on his honeymoon--he was called to active duty and sent to the front lines in Iraq.
Crawford and his unit spent months upon months patrolling the streets of Baghdad, occupying a hostile city. During the breaks between patrols, Crawford began recording what he and his fellow soldiers witnessed and experienced. Those stories became The Last True Story I'll Ever Tell--a haunting and powerful, compellingly honest book that imparts the on-the-ground reality of waging the war in Iraq, and marks as the introduction of a mighty literary voice forged in the most intense of circumstances.
About the Author
John Crawford was newly married and two credits away from completing a B.A. in anthropology at Florida State University when he was sent to Iraq. He thought he was finished with his soldiering days after completing a stint with the Army's famed 101st Airborne Division, and his National Guard service was little more than an afterthought. Crawford and his National Guard unit crossed into Iraq on the first day of the invasion. Baghdad fell more quickly than anyone had planned, and while most of the soldiers involved with the invasion were sent home, Crawford's National Guard unit stayed to patrol the city for more than a year. Crawford now lives in Florida, where he is completing his degree and writing. He no longer has any affiliation with the Army.
Advertisement