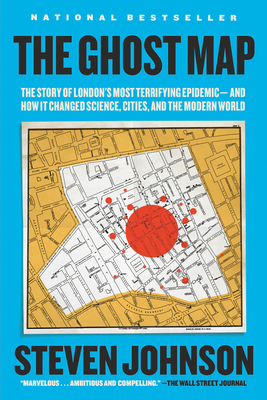 The Ghost Map (Paperback)
The Story of London's Most Terrifying Epidemic--and How It Changed Science, Cities, and the Modern World
Riverhead Books, 9781594482694, 328pp.
Publication Date: October 2, 2007
* Individual store prices may vary.
Description
From the New York Times bestselling author of How We Got To Now and Farsighted, a National Bestseller, a New York Times Notable Book, and an Entertainment Weekly Best Book of the Year

From Steven Johnson, the dynamic thinker routinely compared to James Gleick, Dava Sobel, and Malcolm Gladwell, The Ghost Map is a riveting page-turner about a real-life historical hero, Dr. John Snow. It's the summer of 1854, and London is just emerging as one of the first modern cities in the world. But lacking the infrastructure -- garbage removal, clean water, sewers -- necessary to support its rapidly expanding population, the city has become the perfect breeding ground for a terrifying disease no one knows how to cure. As the cholera outbreak takes hold, a physician and a local curate are spurred to action-and ultimately solve the most pressing medical riddle of their time.

In a triumph of multidisciplinary thinking, Johnson illuminates the intertwined histories and interconnectedness of the spread of disease, contagion theory, the rise of cities, and the nature of scientific inquiry, offering both a riveting history and a powerful explanation of how it has shaped the world we live in.
About the Author
Steven Johnson is the author of eight bestsellers, including How We Got To Now, Where Good Ideas Come From, The Invention of Air, The Ghost Map, and Everything Bad Is Good for You. Most recently, he is the is the author of Wonderland. He is the founder of a variety of influential websites—including outside.in—and writes for Time, Wired, The New York Times, and The Wall Street Journal. He lives in Marin County, California, with his wife and three sons.
Praise For The Ghost Map: The Story of London's Most Terrifying Epidemic--and How It Changed Science, Cities, and the Modern World…
"Fascinating." —The New York Times Book Review

"Thrilling." —GQ

"Vivid." —The New Yorker

"Thought-provoking." —Entertainment Weekly

"By turns a medical thriller, detective story, and paean to city life, Johnson's account of the outbreak and its modern implications is a true page-turner." —The Washington Post

"Marvelous... as was Dava Sobel's Longitude. Yet The Ghost Map is a far more ambitious and compelling work... Mr. Johnson is never less than lively and beguiling." —The Wall Street Journal

"Steven Johnson tells the tale with verve, spicing his narrative with scenes of Dickensian squalor and the vibrant street life surrounding that squalor. But in Johnson's hands, The Ghost Map morphs into something more than mere history." —The San Diego Union-Tribune

"Johnson adds a new and welcome element—old-fashioned storytelling flair... to his fractal, multifaceted method of unraveling the scientific mysteries of everyday life." —Los Angeles Times Book Review

"Steven Johnson gives us history at its best: colorful, connected and compelling. At the core is a medical mystery, or what today would be called an epidemiological detective story... A masterpiece of historical writing." —The Seattle Times

"This is more than a great detective story. It's the triumph of reason and evidence over superstition and theory, and Johnson tells it in loving detail." —Chicago Tribune