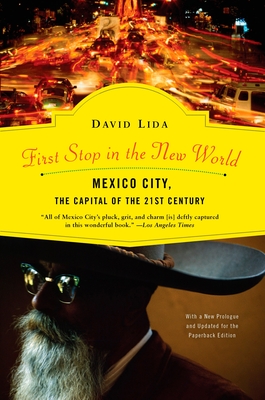 First Stop in the New World (Paperback)
Mexico City, the Capital of the 21st Century
Riverhead Books, 9781594483783, 384pp.
Publication Date: June 2, 2009
Other Editions of This Title:
Hardcover (6/12/2008)
* Individual store prices may vary.
Description
The definitive book on Mexico City: a vibrant, seductive, and paradoxical metropolis-the second-biggest city in the world, and a vision of our urban future.

First Stop in the New World is a street-level panorama of Mexico City, the largest metropolis in the western hemisphere and the cultural capital of the Spanish-speaking world. Journalist David Lida expertly captures the kaleidoscopic nature of life in a city defined by pleasure and danger, ecstatic joy and appalling tragedy-hanging in limbo between the developed and underdeveloped worlds. With this literary-journalist account, he establishes himself as the ultimate chronicler of this bustling megalopolis at a key moment in its-and our-history.
About the Author
David Lida has lived in Mexico City for more than fifteen years and works as a journalist in Spanish and English. In Mexico, he wrote and edited for DF, Mexico City's equivalent of The New Yorker. In the United States, his work has appeared in the New York Times, Los Angeles Times, Culture+Travel, The Forward, Interview, Gourmet, and others.
Praise For First Stop in the New World: Mexico City, the Capital of the 21st Century…
"Clear-eyed, agenda-free journalism, grounded in old-fashioned street reporting. As Joseph Mitchell captured life on the margins of midcentury New York, Orhan Pamuk the melancholia of 20th century Istanbul, and Martha Gellhorn civilian suffering in Civil War Spain, Lida masterfully details the plight of a struggling and repressed city. You'll want to read First Stop in the New World for the unvarnished off- the-grid tour Lida provides; for the singers and hustlers and artists you'll meet; and for the insight you'll develop into an ancient, booming but seriously ailing metropolis." --Mary DaAmbrosio, San Francisco Chronicle 

"Streetwise and up-to-date a] a charmingly idiosyncratic, yet remarkably comprehensive portrait of one of the planet's most misinterpreted urban spaces." -- Reed Johnson, Los Angeles Times

"A bumper crop of travelogues and anthologies about Mexico have been appeared in the last few years. David Lidaas low-life tour of Mexico City, its sex clubs as well as its food stalls, not only belongs on this list, it shoots to the top. To test the quality of a travel book, it helps to ask: Would you like to share a meal or a drink with the writer? On the evidence of his book, which reveals him to be an expansive soul with big eyes and an even bigger heart, Mr. Lida should expect calls from a lot of newly arrived strangers, including me." -- Richard B. Woodward, The New York Times 

A fast-paced account of daily life in a city that defies descriptiona] Lida finds far more to marvel over and enjoy than to fret about." --Jeffrey A. Trachtenberg, Wall Street Journal

"Mexico City is a sprawling, throbbing stew of 20 millionpeople, but David Lida, in his new book, cuts through the chaos with an array of verbal snapshots that aim to paint the city's soul." --Chicago Tribune 

"A gritty, nostalgic ode to the city a] a fundamentally human collection of stories and reflections, a reminder that any city is about its people, their constant clash and coexistence." --Theresa Bradley, Associated Press

"A wonderful trip through Mexico City, from its last cabaret to 'puerco profundo' tacos to 'Ooorale!,' a magazine that makes Star look downright prudish." --New York Magazine 

"The city of Mexico, for any outsider, is fascinating, complex, exciting and strange. It is as though a loud and sexy party were going on in the room next door. This book offers an essential key to that room. From now on, anyone who goes to Mexico City without David Lidaas book is mad." --Colm Tóibín, author of The Master and Mothers and Sons