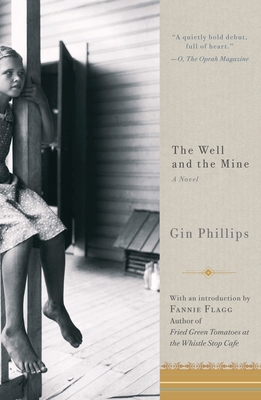 The Well and the Mine
A Novel
Paperback

* Individual store prices may vary.
Other Editions of This Title:
Digital Audiobook (4/20/2009)
Description
A novel of warmth and true feeling, The Well and the Mine explores the value of community, charity, family, and hope that we can give each other during a time of hardship. Look out for Phillips's new novel, Fierce Kingdom. 

In a small Alabama coal-mining town during the summer of 1931, nine-year-old Tess Moore sits on her back porch and watches a woman toss a baby into her family's well without a word. This shocking act of violence sets in motion a chain of events that forces Tess and her older sister Virgie to look beyond their own door and learn the value of kindness and lending a helping hand. As Tess and Virgie try to solve the mystery of the well, an accident puts their seven-year-old brother's life in danger, forcing the Moore family to come to a new understanding of the power of love and compassion.
Penguin Books, 9781594484490, 304pp.
Publication Date: April 8, 2009
About the Author
Gin Phillips lives in Birmingham, Alabama. The Well and the Mine is her first novel.
Book Videos
Virgie recollects, "Papa said it was an abomination what that woman did. That God would judge her" (p. 25). However, she refrains from judging and imagines the circumstances that might have driven the Well Woman to the deed. Where does Virgie's compassion stem from?
Why doesn't Sheriff Taylor inform the Moores that the baby was already dead as soon as he receives the inquest results?
If the woman and the baby had been black, do you feel that the investigation would have proceeded differently?
When Virgie and Tess check on Lola Lowe's new baby, Lola immediately knows why they are there, and their schoolmate Ellen is clearly embarrassed to have them see her home. Did their attempts to solve the mystery do more harm than good? How pure were their motives?
After the stock market crash, Jesse Bridgeman, the banker, kills himself. Why do you think a person who—even after losing most of his money—still had more than most of the townspeople would commit suicide?
"Beans and onion. Squash and tomato. It was the different tastes together, the ones that it didn't make no sense at all to stick on the same form, that your tongue really remembered" (p. 146). Are there any other examples in the novel when Phillips uses food as a metaphor? What do these metaphors tell us about the world she creates?
Would Tess and Jack have learned the lesson their father hoped to impart by taking them to pick cotton if they hadn't encountered and become friends with the Talbert children?
Why doesn't Albert sue the brick company after their truck driver hits Jack? Such a decision would be unfathomable today. What do you think has changed about our society? Is the change for better or worse?
What do you think about Jonah's explanation of why he won't have dinner at the Moores? Would you, like Albert, have capitulated? How did Jack's accident affect Albert's position
Jonah and Albert feel they can never be real friends because of their race. Have you ever had to disavow or stifle a friendship because of external social pressures?
Albert chooses to protect his family over fully expressing his friendship for Jonah. Do you think he made the right choice? What other choices do the characters in the book make that can be read as both good and bad?
Did Virgie and Tess do the right thing in keeping the Well Woman's identity a secret? How might their lives have turned out differently if she hadn't chosen their well?
or
Not Currently Available for Direct Purchase