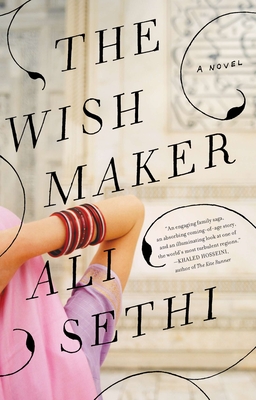 The Wish Maker
Paperback

* Individual store prices may vary.
Other Editions of This Title:
Digital Audiobook (6/10/2009)
Hardcover (6/11/2009)
Compact Disc (6/11/2009)
Hardcover (9/1/2009)
Description
A brilliant, enthralling debut novel about a fatherless boy growing up in a family of outspoken women in contemporary Pakistan, The Wish Maker is also a tale of sacrifice, betrayal, and indestructible friendship. Zaki Shirazi and his female cousin Samar Api were raised to consider themselves "part of the same litter." In a household run by Zaki's crusading political journalist mother and iron-willed grandmother, it was impossible to imagine a future that could hold anything different for each of them. But when adolescence approaches, the cousins' fates diverge, and Zaki is forced to question the meaning of family, selfhood, and commitment to those he loves most.

Chronicling world-changing events that have never been so intimately observed in fiction, and brimming with unmistakable warmth and humor, The Wish Maker is the powerful account of a family and an era, a story that shows how, even in the most rapidly shifting circumstances, there are bonds that survive the tugs of convention, time, and history.
Riverhead Books, 9781594484636, 464pp.
Publication Date: June 1, 2010
About the Author
Ali Sethi grew up in Pakistan in a family of dissenting journalists and publishers. A recent Harvard graduate, he has contributed to The New York Times and The Nation among other publications. He currently lives in Lahore.
Zaki Sharazi grows up surrounded by women. How do they influence him, individually and collectively? What role does Pakistan's burgeoning women's rights movement play in his upbringing and in the construction of his world view?
When a classmate taunts Zaki about not having a father, Zaki's mother tells him to shrug it off and draws a comparison to Benazir Bhutto. "She was so young when her father died. But she learned. You have to learn. It isn't easy for anyone" (p. 61). What do you think of this comparison? To what extent is Zaki defined by the loss of his father?
On a visit to the home of his maternal grandparents, Zaki overhears his mother saying, of him, "He's not the obstacle in my path," and misunderstands the word "obstacle" to be a mixture of obvious and bicycle. What obstacles are in his mother's path? What barriers does Zaki face? How do Zaki and his mother handle these challenges?
On page 141, Samar Api makes a wish: "She cupped her hands, brought them to her mouth and whispered the wish, which was chosen without deliberation, without hesitation, then blew it away and watched as it went up into the night." What was her wish? How did Samar Api modify the wish over the course of time? How did the wish manifest itself?
After Samar Api is caught getting out of Tara Tanvir's van in the parking lot, Barkat, the chauffeur, speaks to her from the perspective of "an elder." What is significant about this? What role do the servants play in the story? How does their presence move the story forward?
"Daadi said nuisances were necessary, and only accumulated with age, starting with marriage itself, the mother-in-law and the sisters-in-law, and the children too with their demands, and then daughters-in-law, until one was left with oneself and found that that was the biggest nuisance of all" (p. 218). What part does solitude play in The Wish Maker? How does Zaki experience aloneness? How do other characters grapple with it?
When Samar Api wants Zaki to accompany her on a secret mission to see a palm reader in a dangerous part of Lahore, she tells Zaki that girls only go for guys who take risks. To what extent does Samar Api's statement come true?
What risks does Zaki take—with Samar Api, with his cousins, and with his own life? What is he willing to sacrifice for others and for himself? What is Samar willing to put on the line?
When he is on the cusp of adolescence, Zaki and his mother travel to Spain. What does he learn during this trip? How does the trip change his outlook?
Zaki and Samar Api are reunited right before Samar Api's marriage. What are their respective wishes then? What does each one most want to convey to the other? When do you think Samar and Zaki will meet again?
Ali Sethi has a unique perspective—raised in Pakistan, educated at Harvard, and the author of a debut novel before the age of 30. What questions do you have for the author, about Pakistan, his time in the United States, his story?
or
Not Currently Available for Direct Purchase