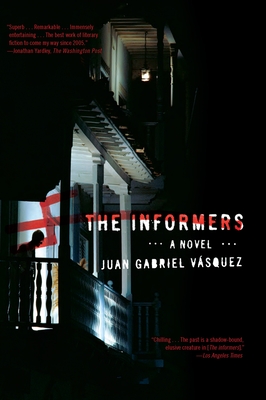 The Informers
Paperback

* Individual store prices may vary.
Description
The first novel from a global literary superstar and author of The Sound of Things Falling.

"Juan Gabriel Vásquez's The Informers is a thrilling new discovery." —Colm Tóibín

"One of the most original new voices of Latin American literature." -- Mario Vargas Llosa, winner of the Nobel Prize for Literature

When Gabriel Santoro's book is scathingly reviewed by his own father, a famous Bogotá rhetorician, Gabriel is devastated. Cataloguing the life of longtime family friend Sara Guterman, a Jewish German immigrant who escaped to Colombia during the 1930s, Gabriel's book seemed an innocent attempt to preserve a piece of his country's rapidly vanishing past. But as Gabriel pours over his research looking for clues to his father's anger, he discovers a sinister secret locked in the pages. After his father's death, and with the help of Sara Guterman and his father's girlfriend, Angelina, Gabriel peels back layer after shocking layer of family history-from the streets of 1940s Bogotá to a stranger's doorstep in 1990s Medellín-to reveal a hidden portrait of their past-dark, complex, and inescapable.
Praise For The Informers…
Praise for The Informers

"[A] remarkable novel. It deals with big universal themes... It is the best work of literary fiction to come my way since 2005…and into the bargain it is immensely entertaining, with twists and turns of plot that yield great satisfaction." —Jonathan Yardley, The Washington Post

"One hallmark of a gifted novelist is the ability to see the potential for compelling fiction in an incident, anecdote or scrap of history, no matter how dry or seemingly obscure, that others have overlooked. By that standard and several others, the career of Juan Gabriel Vásquez…is off to a notable start.…[A] straight-ahead, old-fashioned narrative… Two years ago Mr. Vásquez was included on a list of the most 'important' Latin American writers under 40, nominated by more than 2,000 authors, literary agents, librarians, editors and critics. The Informers alone justifies their choice, given its challenging subject and psychological depth, but clearly there are bigger and even more intriguing things on the way." — Larry Rohter, The New York Times

"Chilling…The past is a shadow-bound, elusive creature in [The Informers]… When pursued it may flee, or, if cornered, it may unleash terrible truths." —Los Angeles Times

"To read The Informers is to enjoy the shock of new talent… [Vásquez's] novel is subtle, surprising and deeply pleasurable, with razors secreted among its pages." —The Cleveland Plain Dealer

"Compelling…The book combines a reflection on the delicate bonds of family, a journey through one of the few untold stories of World War II and even a look at the sometimes parasitic nature of the media… What sets The Informers, apart from other historical novels is Vasquez's questioning of his own role as muckraker and writer." —San Francisco Chronicle
 
"Dramatic and surprising…" —Harper's Magazine

"Unlike anything written by his Latin American contemporaries. If there is any prevailing influence in this chilling work, it is in the late German writer, W.G. Sebald…The Informers deserves to be read…[O]ne of this year's outstanding books." —The Financial Times

"Masterful…Vásquez has much in common with Roberto Bolaño…. But unlike Bolaño's stolid, serviceable prose, Vásquez's style is musical, occasionally even lush, and its poeticism remains unmuddled in McLean's translation." —Bookforum

"From the opening paragraph of The Informers, I felt myself under the spell of a masterful writer. Juan Gabriel Vásquez has many gifts—intelligence, wit, energy, a deep vein of feeling—but he uses them so naturally that soon enough one forgets one's amazement at his talents, and then the strange, beautiful sorcery of his tale takes hold." —Nicole Krauss

"Juan Gabriel Vásquez is one of the most original new voices of Latin American literature. His first novel, The Informers, a very powerful story about the shadowy years immediately following World War II, is testimony to the richness of his imagination as well as the subtlety and elegance of his prose." —Mario Vargas Llosa

"What Vásquez offers us, with great narrative skill, is that grey area of human actions and awareness where our capacity to make mistakes, betray, and conceal creates a chain reaction which condemns us to a world without satisfaction. Friends and enemies, wives and lovers, parents and children mix and mingle angrily, silently, blindly, while the novelist uses irony and ellipsis to unmask his characters' "self-protective strategies" and goes with them – not discovering them, simply accompanying them – as they come to understand that an unsatisfactory life can also be the life they inherit." —Carlos Fuentes

"For anyone who has read the entire works of Gabriel García Márquez and is in search of a new Colombian novelist, then Juan Gabriel Vásquez's The Informers is a thrilling new discovery." —Colm Tóibín

"A fine and frightening study of how the past preys upon the present, and an absorbing revelation of a little-known wing of the theatre of the Nazi war." —John Banville
Riverhead Books, 9781594484674, 368pp.
Publication Date: July 6, 2010
About the Author
Juan Gabriel Vásquez's previous books include the Dublin Literary Award winner and national bestseller, The Sound of Things Falling, as well as the International Booker finalist The Shape of the Ruins, the award-winning novels The Informers, The Secret History of Costaguana, and the story collections Songs for the Flames and Lovers on All Saints' Day. Vásquez's novels have been published in twenty-five languages worldwide. After sixteen years in France, Belgium, and Spain, he now lives in Bogotá.

Anne McLean translates Latin American and Spanish novels, short stories, memoirs, and other writings. She has twice won both the Independent Foreign Fiction Prize and the Premio Valle Inclán, and received the Dublin Literary Award with Juan Gabriel Vásquez for his novel The Sound of Things Falling. She lives in Toronto.
or
Not Currently Available for Direct Purchase