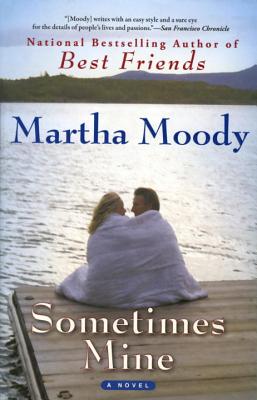 Sometimes Mine (Paperback)
Riverhead Books, 9781594484681, 336pp.
Publication Date: May 4, 2010
* Individual store prices may vary.
Description
From the nationally bestselling author of the novel Best Friends, an emotionally affecting story of midlife romance and learning to value the people in your life.

Genie Toledo is a spitfire who too young married the wrong guy, had a daughter, quickly divorced, and now, in her forties, has filled the emotional gap by throwing herself into her work and holding friends and family at arm's length—even her college-age daughter. The only person to penetrate her thick shell is Mick Crabbe, with whom she's had a decade-long affair. He's a charming guy—famous even, a well-known college basketball coach—but the fact that they live in different states and see each other only once a week, and that Mick is committed not only to his wife and kids, but also to his basketball team and all those fans, suits Genie just fine. She can take care of herself. She doesn't need him.

That is, until Mick becomes fatally ill and the nature of their relationship is forced to change. Genie sets her heart free for the first time and is ultimately altered by the experience. As she becomes intimately involved in Mick's care, and makes herself known to his family, Genie finally understands the importance of making connections with others, and earns, even from the outside world, the extremely moving validation of her significance in Mick's life.

Narrated with the warmth, humor, and compassion that readers have come to expect from Martha Moody, Sometimes Mine is an emotionally engaging story of learning to appreciate the value of the people in your life, and the realization that sometimes the most meaningful relationships are those that go unrecognized.
About the Author
Martha Moody is the author of the national bestseller Best Friends and the novel The Office of Desire. A practicing physician, she lives in Ohio with her family.
Sometimes Mine is full of moral questions, and Mick and Genie's affair looms as the novel's most significant moral issue. What are your feelings about their affair? As the book progresses, both characters provide justifications for the affair; do these reasons seem sufficient to you? What do you think of Mick describing their relationship on more than one occasion as "platonic friends" (p. 84, see also p. 97 and p. 115)? Would you define their relationship as a "friendship"?
Genie feels a contented marriage requires "enormous resources of forbearance and time and the bizarre ability to simultaneously change and stay the same" and goes on to call a successful marriage "an astonishing feat" (p. 36). Do you agree with her views?
Mick tells Genie often, "'You heal me, doc,'" and Genie replies, "'You teach me, coach'" (p. 47). Beyond these somewhat simplified statements, what do you think their relationship fulfills and provides for each of them?
Explore Genie's relationships with and feelings about the men in the book: her ex-husband; Tessa's husband; Tessa's son, Giles; Claudia's husband, Toby; Mick; her medical practice partners, Jeremy and Howard; even her male patients. Are there any visible patterns?
Genie notes early on in the book that she's relieved that Mick hasn't met her daughter, Claudia, nor her best friend, Tessa, because "it frightened me to think of what they'd give away" (p. 22). What do you suppose it is that they might reveal that makes Genie anxious?
Discuss Genie and Claudia's relationship and how it slowly evolves over the course of the novel. How were Mick's and Genie's parenting styles similar when their children were young? Do new similarities exist in Mick's and Genie's interactions with their grown children? Just as Claudia begins to show interest in Toby, Genie warns her, "It's almost…a betrayal for you to plan your life around a man" (p. 64). Discuss the irony in this advice.
Both Genie and Mick are deeply dedicated to their careers. How is our perception of Genie as a character informed by her profession as a cardiologist? Discuss how Mick's being a college basketball coach defines much of his identity. Is basketball indeed "his mistress" (p. 176), as Karn notes?
Mick says of a referee of one of his games, "'he's working too much…He doesn't see things'" (p. 137); what do you think Mick and Genie miss due to working too much?


Do you think it is right of Mick to ask Genie to examine his daughter Jessica when he learns she's having chest pains? Genie discovers that Jessica is indeed quite ill, and performs angioplasty and inserts a stent into Jessica—realizing while she's performing the procedure that she's putting Jessica's life in danger. Why do you think Genie goes through with the procedure anyway? Over the course of Jessica's follow-up office visits with Genie, do the details Jessica provides about her immediate family life offer insights into some of Mick's behavior with Genie?
Discuss Genie and Karn's interactions—from before Karn knows about the affair, to her confrontation of Genie, to her long soliloquy-like phone calls to Genie once Mick has cancer, to Karn's surprising decision to involve Genie publicly in Mick's funeral, treating Genie essentially as an equally-bereaved family member. What do you think of Mick allowing Karn to surprise Genie at the hotel, without first warning Genie himself that Karn had found out about the affair?
The novel's first-person narrative obviously focuses the action through Genie's eyes. Would you have liked to glimpse certain scenes through Mick's eyes? Tessa's? Claudia's? Karn's? Of which scenes would you have liked to have had a more omniscient view?
After years of gifts of the drugstore-impulse-buy variety, Mick buys Genie a gleaming blue Jaguar. What might this car come to symbolize for Karn, and for Genie? Do you think Mick saw it as a symbol, or just simply as a gift? What's the symbolism to be found in Genie giving Claudia an expensive ring with the same rare stone found in a ring that Karn had wanted Mick to buy for Karn, but which he did not?
Do you think Genie made the right choice kicking Mick out of her house? When Mick's cancer is more developed, he asks Genie if she would let him stay if he were to come to her at this point, and then dismisses his own question with "'Don't answer me…I don't want to know'" (p. 255). Do you think she would have allowed him to stay that second time around? Do you think if Mick hadn't gotten ill, he would have eventually left Karn to live with Genie in the idealized future Mick and Genie had discussed fairly regularly?
or
Not Currently Available for Direct Purchase