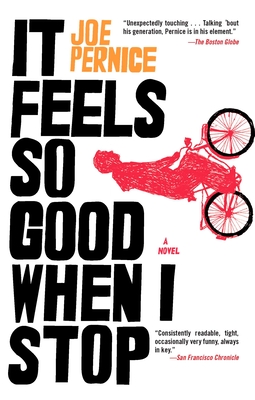 It Feels So Good When I Stop (Paperback)
Riverhead Books, 9781594484698, 273pp.
Publication Date: August 3, 2010
* Individual store prices may vary.
or
Not Currently Available for Direct Purchase
Description
Its more than just the debut novel from the acclaimed singer and songwriter-it's "the best messed up love song you'll ever read." (Dan Palladino and Amy Sherman-Palladino, creators of "The Gilmore Girls")
Our hero is a talented but floundering musician with no job, no apartment, no wife (anymore), and a six-pack of beer. Stuck between responsibility and freedom, and apathy and success, he's seeking sanctuary at his sister's home in Cape Cod, agreeing to look after his two-year old nephew. Together the unlikely pair attracts the attention of a lovely young woman with a broken past all her own and the ability to shock our hero awake-or shake him to his core.
About the Author
Joe Pernice began his recording career in the mid-1990 s with the Scud Mountain Boys, in Northampton, Massachusetts. They released two records before signing to Seattle's Sub Pop Records in 1996 and releasing "Massachusetts," along with "The Early Year," a compilation of the two pre-Sub Pop recordings. In 1997, he disbanded the Scuds Mountan Boys to form The Pernice Brothers, and released their debut album "Overcome By Happiness." While with the Sub Pop label Pernice also recorded under his own name, issuing the album "Big Tobacco " in 1999, and as Chappaquiddick Skyline, who issued their sole self-titled album in 2000.Later that year Pernice left Sub Pop Records and he and his longtime manager Joyce Linehan established Ashmont Records, based in Boston, where they have released several Pernice Brothers records: "The World Won t End " (2001), "Yours, Mine and Ours " (2003), "Nobody's Watching/Nobody's Listening " live album and DVD (2004), "Discover a Lovelier You " (2005) and "Live a Little " (2006). Joe Pernice's music has been featured on television shows "Six Feet Under " and "The Gilmore Girls, " where Joe also made 45-second appearance as a troubadour-wannabe in a 2006 episode, and in the movies "Fever Pitch, On Broadway " and "Slaughterhouse Rule." Additionally, his songs have been featured in commercials for Sears, Southern Comfort and Sherwin-Williams.Pernice grew up in the Boston area, and attended UMass Amherst, where he received an MFA in Creative Writing. He currently lives in Toronto."
Advertisement