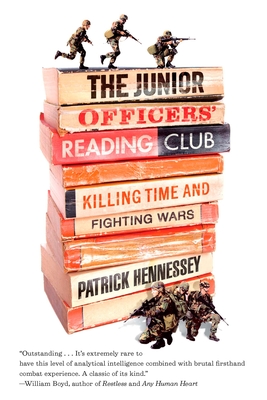 The Junior Officers' Reading Club (Paperback)
Killing Time and Fighting Wars
Riverhead Books, 9781594484797, 336pp.
Publication Date: September 7, 2010
* Individual store prices may vary.
Description
Hailed as a classic of war writing in the U.K.,
The Junior Officers' Reading Club
is a revelatory first-hand account of a young enlistee's profound coming of age. Attempting to stave off the tedium and pressures of army life in the Iraqi desert by losing themselves in the dusty paperbacks on the transit-camp bookshelves, Hennessey and a handful of his pals from military academy form the Junior Officers' Reading Club. By the time he reaches Afghanistan and the rest of the club are scattered across the Middle East, they are no longer cheerfully overconfident young recruits, hungering for action and glory. Hennessey captures how boys grow into men amid the frenetic, sometimes exhilarating violence, frequent boredom, and almost overwhelming responsibilities that frame a soldier's experience and the way we fight today.
Watch a Video
About the Author
Patrick Hennessey is a barrister and author who served in the British army from 2005 to 2009. Additionally, Hennessey worked as a special foreign correspondent for The Times (London) as well as the host of the BBC Two documentary Kipling's Indian Adventures. His published works include The Junior Officers' Reading Club: Killing Time and Fighting Wars and Kandak: Fighting with Afghans. 
Book Videos
Hennessey frequently mentions experiencing boredom—both before and after he joins the military. Do you think that the men and women who are drawn to soldiering have a higher or lower tolerance for boredom? Do you think this affects their performance on the battlefield?
Hennessey writes, "American books include The Day of the Locust and Brett Easton Ellis's Rules of Attraction and Glamorama…We have these to remind us of the greed and the label cultures we defenders of the West are fighting to uphold" (p. 129). Does Hennessey believe that he is fighting a just war? Should a soldier who is willing to die and kill for his country believe in the truth of his cause?
References to war movies as well as books and music permeate Hennessey's memoir. Does popular culture have too much influence over the way that war is perceived and waged? Is this a recent development?
Hennessey shares that he found other soldiers' homemade "mini epics…more vivid, more real and more motivating than all the reportage and training and lectures in the world" (p. 95). How do you think their existence affects, if at all, the general public's perceptions of the war?
If you were going to war, what books would you want to have with you?
Has the Internet alleviated or exacerbated the loneliness of war?
Is it reasonable for the British and American armies to expect trust from the Afghan National Army troops?
What is your take on the "hearts and minds" (p. 167) approach to war? How would you feel if soldiers from a foreign country were engaging in battle in your homeland?
Besides Hennessey's personal dislike of some of the embedded journalists, he feels that "they hadn't earned the right to broadcast our [whining]" (p. 181). Do you agree with his assessment, or does the public have a right to know what is happening behind the scenes of a war?
What do you make of the complete absence of female soldiers in Hennessey's narrative?
After feeling alienated from friends and family during his first R&R back home, Hennessey is happy to be back amongst comrades. Then, "the thought hit me: what if I'll only ever be able to have real and honest conversations with [fellow soldiers] in the future? What if an invisible curtain has come down between me and all the people and things I thought I held close?" (p. 236). Are Hennessey's fears justified? Does the government provide adequate support to returning soldiers?
How does The Junior Officers' Reading Club compare to other war memoirs that you've read?
Were you surprised by Hennessey's decision to resign from the army after the start of what promised to be an illustrious career? What would you have done in a similar situation?
Coverage from NPR
or
Not Currently Available for Direct Purchase