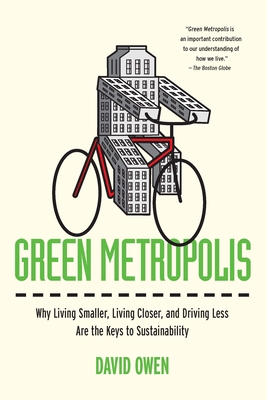 Green Metropolis
Why Living Smaller, Living Closer, and Driving Less Are the Keys to Sustainability
Paperback

* Individual store prices may vary.
Other Editions of This Title:
Digital Audiobook (11/22/2009)
MP3 CD (11/23/2009)
Compact Disc (11/23/2009)
Hardcover (9/17/2009)
Compact Disc (11/1/2009)
Compact Disc (11/1/2009)
MP3 CD (11/1/2009)
Description
Look out for David Owen's next book, Where the Water Goes.

A challenging, controversial, and highly readable look at our lives, our world, and our future.

Most Americans think of crowded cities as ecological nightmares, as wastelands of concrete and garbage and diesel fumes and traffic jams. Yet residents of compact urban centers, Owen shows, individually consume less oil, electricity, and water than other Americans. They live in smaller spaces, discard less trash, and, most important of all, spend far less time in automobiles. Residents of Manhattan—the most densely populated place in North America—rank first in public-transit use and last in percapita greenhouse-gas production, and they consume gasoline at a rate that the country as a whole hasn't matched since the mid-1920s, when the most widely owned car in the United States was the Ford Model T. They are also among the only people in the United States for whom walking is still an important means of daily transportation.

These achievements are not accidents. Spreading people thinly across the countryside may make them feel green, but it doesn't reduce the damage they do to the environment. In fact, it increases the damage, while also making the problems they cause harder to see and to address. Owen contends that the environmental problem we face, at the current stage of our assault on the world's nonrenewable resources, is not how to make teeming cities more like the pristine countryside. The problem is how to make other settled places more like Manhattan, whose residents presently come closer than any other Americans to meeting environmental goals that all of us, eventually, will have to come to terms with.
Praise For Green Metropolis: Why Living Smaller, Living Closer, and Driving Less Are the Keys to Sustainability…
"[Green Metropolis] challenges many cherished assumptions about easy-on-the-earth country living... Pugnacious and contrarian, the book has a lot of fun at the expense of sentimental pastoralists, high-minded environmentalists and rich people trying to buy their way into higher green consciousness with expensive 'eco-friendly' add-ons (photovoltaic panels on their suburban McMansions, say)." —New York Times

"Green Metropolis is important not for the answers it yields but the questions it raises—questions that should be part of the ongoing dialogue about the health of our planet." —Christian Science Monitor

"Green Metropolis is an important contribution to our understanding of how we live." —Boston Globe

"A marvelously clear-eyed analysis of the growing energy/environmental crisis." —Hartford Courant

"David Owen always delights with his elegant insights and his challenges to conventional thinking. In this book, he does so again by puncturing the myth of ecological Arcadia and reminding us why living in cities is the best way to be green. It's a triumph of clear thinking and writing." —Walter Isaacson, author of Steve Jobs and Einstein: His Life and Universe

"David Owen pumps some minty fresh air into the haze of green marketing. In his provocative new book, he turns conventional wisdom on its head and takes a clear-eyed look at what 'green' might truly mean in a nation of 300 million (and counting) in the 21st century." —San Francisco Chronicle

Riverhead Books, 9781594484841, 368pp.
Publication Date: November 2, 2010
About the Author
David Owen is a staff writer for The New Yorker and the author more than a dozen books. He lives in northwest Connecticut with his wife, the writer Ann Hodgman.