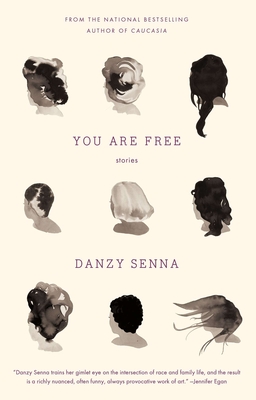 You Are Free (Paperback)
Stories
Riverhead Books, 9781594485077, 240pp.
Publication Date: May 3, 2011
* Individual store prices may vary.
Description
From the bestselling author of Caucasia and New People, riveting, unexpected stories about identity under the influence of appearances, attachments, and longing.

Each of these eight remarkable stories by Danzy Senna tightrope-walks tantalizingly, sometimes frighteningly, between defined states: life with and without mates and children, the familiar if constraining reference points provided by race, class, and gender. Tensions arise between a biracial couple when their son is admitted to the private school where they'd applied on a lark. A new mother hosts an old friend, still single, and discovers how each of them pities-and envies- the other. A young woman responds to an adoptee in search of her birth mother, knowing it is not she.
About the Author
Danzy Senna's first novel, the bestselling Caucasia, won the Stephen Crane Award for Best New Fiction and the American Library Association's Alex Award, was a finalist for the International IMPAC Dublin Literary Award, and has been translated into nearly a dozen languages. A recipient of the Whiting Writers Award, Senna is also the author of the memoir Where Did You Sleep Last Night?, and the novels Symptomatic andNew People. She lives in Los Angeles with her husband, the novelist Percival Everett, and their sons.
Praise For You Are Free: Stories…
"Senna skillfully exposes the cracks in her characters' domestic lives… Though [her] stories address race, class and gender, they never devolve into simple case studies. Rather, her collection offers nuanced portraits of characters confronting anxieties and prejudices that leave them not as free as they would like to be." – The New York Times Book Review

"Shocking…Senna reveals things about people that we rarely see in day-to-day life…Severing readers from their entrenched moralities usually takes a lot longer (at least a novel), but Senna does it in a few carefully chosen details." -- The Los Angeles Times

"Unsettling…[Senna] fearlessly but subtly dramatizes a very American discomfort with such issues as race, class, and gender."- Vogue

"Senna's perceptive stories…show how nothing is black-and-white."- Vanity Fair

"These…crisply written stories take place in a middle-class world we thought we knew, while revealing the strangeness, distress, and sorrow under its blank surfaces." – The Village Voice

"Daring…and lyrical." -- Essence

 "Deft, revealing stories [from] a writer for our time… …A fresh, insightful look into being young, smart and biracial in postmillennial America." --- Kirkus (starred)

"Compelling…Senna's fluid, assured tales address true-to-life questions and navigate universal conundrums."- Booklist

 "Superb." -- BookPage

 "Senna trains her gimlet eye on the intersection of race and family life, and the result is a richly nuanced, often funny, always provocative work of art."- Jennifer Egan

"Senna's probing and marvelous stories delve into the deepest layers of the human heart and psyche, all while showing us a multi-colored, multi-flavored, and most importantly multi-layered world to which we all--lovers, mothers, nomads, strangers--could easily belong." - Edwidge Danticat

"Dispatches from a glorious and terrifying dimension: motherhood. Senna has written about shifting identities before, but this time it's the divide between being childless and bearing children that makes her imagination crackle…It's one hell of a book."- Victor LaValle

"Danzy Senna's stories are beautiful examples of deceptive simplicity, which of course isn't simplicity at all. The tales are seductive, lucid dispatches from contemporary life, but the undercurrents are electric and strange, and go on working changes on you after the book is closed." - Jonathan Lethem

"Searingly smart and profoundly satisfying ... These women and men are palpable and so well wrought that one loses the sense that one is reading a book." - Richard Bausch
Coverage from NPR