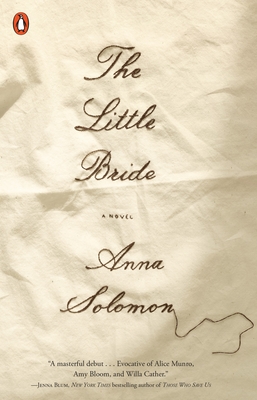 The Little Bride (Paperback)
A Novel
Penguin Books, 9781594485350, 336pp.
Publication Date: September 6, 2011
* Individual store prices may vary.
Description
From the award-winning author of Leaving Lucy Pear, an unflinching, lushly imagined love story set against the backdrop of the epic frontier

Anna Solomon's new novel Leaving Lucy Pear is available now from Viking Books

When 16-year-old Minna Losk journeys from Odessa to America as a mail-order bride, she dreams of a young, wealthy husband, a handsome townhouse, and freedom from physical labor and pogroms. But her husband Max turns out to be twice her age, rigidly Orthodox, and living in a one-room sod hut in South Dakota with his two teenage sons.

The country is desolate, the work treacherous. And most troubling, Minna finds herself increasingly attracted to her older stepson. As a brutal winter closes in, the family's limits are tested, and Minna, drawing on strengths she barely knows she has, is forced to confront her despair, as well as her desire.

A Boston Globe Best Seller

"Evocative of Alice Munro, Amy Bloom, and Willa Cather, but fueled by Anna Solomon's singular imagination . . . a masterful debut . . . embroidered with sage, beautiful writing on every page . . . marks the start of a long, fine, and important career." —Jenna Blum, author of Those Who Save Us

"Minna is a terrifically complex heroine: a little snobby, a little selfish and wholly sympathetic." —The New York Times
 
"Like...Jonathan Safran Foer and Dara Horn. [A] wondrously strange story of Jewish immigration." —Miami Herald
 
"This mythic rendition of the American immigrant narrative...finds the wondrous in the ordinary and vividly depicts the complex collisions between the Old World and the New." —More
About the Author
Anna Solomon is the author of Leaving Lucy Pear and a two-time winner of the Pushcart Prize. Her short fiction and essays have appeared in publications including The New York Times Magazine, One Story, Ploughshares, Slate, andMORE. Coeditor with Eleanor Henderson of Labor Day: True Birth Stories by Today's Best Women Writers, Solomon previously worked as a journalist for National Public Radio. She was born and raised in Gloucester, Massachusetts, and lives in Brooklyn, New York, with her husband and two children.
Praise For The Little Bride: A Novel…
"An epic immigrant tale set on the Dakota prairie. . . . In this mythic rendition of the American immigrant narrative, Solomon's quirky prose finds the wondrous in the ordinary and vividly depicts the complex collisions between the old and new world." —More

"In her emotionally honest debut novel, The Little Bride, Anna Solomon draws on an 1880s U.S. homesteading movement called Am Olam. Jewish newcomers were encouraged to settle out west as pioneers. The result wasn't some cheerful 'little shtetl on the prairie,' as Solomon's heroine discovers. Impoverished Minna Losk is a 16-year-old Jewish mail- order bride from Odessa and one of the more realistic pioneers depicted in recent historical fiction. Suffering hasn't hewn her into a plucky stereotype. Instead, she is someone the reader instantly empathizes with. She wants love, and ends up with a husband twice her age. She craves comfort, and ends up in a South Dakota one-room sod hut. A fascinating if sometimes bleak page turner." —USA Today

"An engrossing slice of history. . . . The Little Bride offers a precious glimpse of the wondrously strange story of Jewish immigration evoked by Anna Solomon in her debut novel. Like other talented young Jewish-American novelists Jonathan Safran Foer and Dara Horn, Solomon fruitfully imagines faraway times and climes in The Little Bride—Europe's Odessa and America's Dakota Territory in the late 19th century, specifically—and creates a winning 16-year-old heroine in Minna Losk. . . . [A] moving debut." —The Miami Herald

"Minna is a terrifically complex heroine: a little snobby, a little selfish and wholly sympathetic." —The New York Times

"This is a very intensely imagined book, an elegantly written pocket of forgotten history." —Audrey Niffenegger, author of the New York Times–bestselling The Time Traveler's Wife and Her Fearful Symmetry

"Evocative of Alice Munro, Amy Bloom, and Willa Cather, but fueled by Anna Solomon's singular imagination, The Little Bride is a masterful debut.  This tale of a Jewish mail-order bride's homestead experience on the Great Plains is embroidered with sage, beautiful writing on every page and marks the start of a long, fine, and important career." —Jenna Blum, author of Those Who Save Us

"The Little Bride is a love story. An immigrant's story. But most important: a story of hope and courage in the face of overwhelming odds. Anna Solomon has written a heart-wrenchingly good novel, with vivid characters and an epic frontier landscape that will haunt you long after you've turned the final page." —Hannah Tinti, author of The Good Thief

"Anna Solomon has created a singular heroine whose story of dashed dreams and eventual triumph is a wise and timeless wonder. Intense and gorgeous, The Little Bride gives us an unparalleled snapshot of the West." —Jennifer Gilmore, author of Golden Country and Something Red

"A lush, gorgeous first novel. Immerse yourself in its world." —Irina Reyn, author of What Happened to Anna K.

"An affecting tale of 19th century Jewish settlers who find their America not on the noisy streets of the Lower East Side, but on the boundless, desolate Dakota Plains. A stirring love story and an unsettling, original portrait of the New World." —Sana Krasikov, author of One More Year
Book Videos
or
Not Currently Available for Direct Purchase