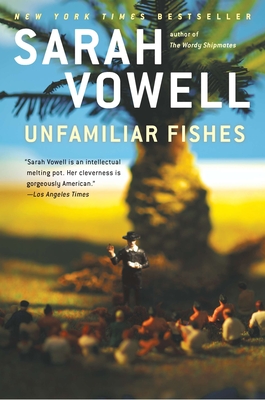 Unfamiliar Fishes
Paperback

* Individual store prices may vary.
Other Editions of This Title:
Digital Audiobook (3/21/2011)
CD-Audio (3/22/2011)
Description
From the author of Lafayette in the Somewhat United States comes an examination of Hawaii, the place where Manifest Destiny got a sunburn. 

Of all the countries the United States invaded or colonized in 1898, Sarah Vowell considers the story of the Americanization of Hawaii to be the most intriguing. From the arrival of the New England missionaries in 1820, who came to Christianize the local heathens, to the coup d'état led by the missionaries' sons in 1893, overthrowing the Hawaiian queen, the events leading up to American annexation feature a cast of beguiling, if often appalling or tragic, characters. Whalers who fire cannons at the Bible-thumpers denying them their god-given right to whores; an incestuous princess pulled between her new god and her brother-husband; sugar barons, con men, Theodore Roosevelt, and the last Hawaiian queen, a songwriter whose sentimental ode "Aloha 'Oe" serenaded the first Hawaiian-born president of the United States during his 2009 inaugural parade.
With her trademark wry insights and reporting, Vowell sets out to discover the odd, emblematic, and exceptional history of the fiftieth state. In examining the place where Manifest Destiny got a sunburn, she finds America again, warts and all.
Praise For Unfamiliar Fishes…
"Sarah Vowell is an intellectual melting pot. Her cleverness is gorgeously American…" – Los Angeles Times

"Its scintillating cast includes dour missionaries, genital-worshiping heathens, Teddy Roosevelt, incestuous royalty, a nutty Mormon, a much-too-­merry monarch, President Obama, sugar barons, an imprisoned queen and Vowell herself, in a kind of 50th-state variety show. It's a fun book…[a] playful, provocative, stand-up approach to history."—The New York Times Book Review

"As entertaining and personable as it is informative."—Washington Post

"Sarah Vowell is for my money, the best essayist/radio commentator/sit-down comic and pointy headed history geek in the business."—Seattle Times
Riverhead Books, 9781594485640, 256pp.
Publication Date: March 6, 2012
About the Author
Sarah Vowell is the bestselling author of Lafayette in the Somewhat United States, Unfamiliar Fishes, The Wordy Shipmates, Assassination Vacation, and The Partly Cloudy Patriot.