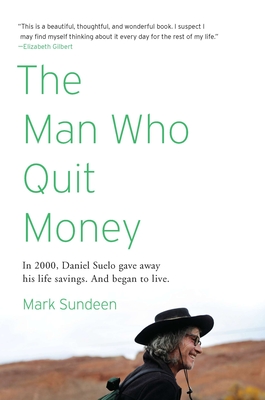 The Man Who Quit Money
Paperback

* Individual store prices may vary.
Other Editions of This Title:
Digital Audiobook (5/20/2012)
MP3 CD (5/21/2012)
Compact Disc (5/21/2012)
Compact Disc (5/21/2012)
Description
Grand Prize Winner of the 2015 Green Book Festival 

Mark Sundeen's new book, The Unsettlers, is coming in January 2017 from Riverhead Books

In 2000, Daniel Suelo left his life savings-all thirty dollars of it-in a phone booth. He has lived without money-and with a newfound sense of freedom and security-ever since. The Man Who Quit Money is an account of how one man learned to live, sanely and happily, without earning, receiving, or spending a single cent. Suelo doesn't pay taxes, or accept food stamps or welfare. He lives in caves in the Utah canyonlands, forages wild foods and gourmet discards. He no longer even carries an I.D. Yet he manages to amply fulfill not only the basic human needs-for shelter, food, and warmth-but, to an enviable degree, the universal desires for companionship, purpose, and spiritual engagement. In retracing the surprising path and guiding philosophy that led Suelo into this way of life, Sundeen raises provocative and riveting questions about the decisions we all make, by default or by design, about how we live-and how we might live better.
Praise For The Man Who Quit Money…
"This is a beautiful, thoughtful and wonderful book. I suspect I may find myself thinking about it every day for the rest of my life." - Elizabeth Gilbert
"Mark Sundeen's astonishing and unsettling book goes directly to the largest questions about how we live and what we have lost in a culture obsessed with money. Sundeen tells the story of a gentle and generous man who sought the good life by deciding to live without it. What's most unsettling and astonishing is that he appears to have succeeded." - William Greider
"Maybe it's just this odd, precarious moment we live in, but Daniel Suelo's story seems to offer some broader clues for all of us. Mark Sundeen's account will raise subversive and interesting questions in any open mind." - Bill McKibben 
"Suelo isn't a conflicted zealot, or even a principled aesthete. He's a contented man who chooses to wander the Earth and do good. He's also someone you'd want to have a beer with and hear about his life, as full of fortune and enlightenment as it is disappointment and darkness… At its core,
The Man Who Quit Money
is the story of a man who decided to live outside of society, and is happier for it." –
Men's Journal 
 "Sundeen deftly portrays [Suelo] as a likeable, oddly sage guy… who finds happiness in radical simplicity [and] personifies a critique that will resonate with anyone who has ever felt remorse on the treadmill of getting and spending." –
Outside Magazine 
"Captivating… Suelo emerges as a remarkable and complex character… Sundeen brings his subject vividly to life [and] makes a case for Suelo's relevance to our time." –The Seattle Times 
 
"Exquisitely timed… The Man Who Quit Money is a slim, quick read that belies the weightiness underneath. The very quality that makes us see a "man walking in America" (Suelo's words) and be simultaneously attracted and repelled is exposed here in beautiful detail." –The Missoula Independent

"In America, renunciation breaks the rules, but, as everyone evicted from Zuccotti Park or bludgeoned at Berkeley or just steamed in-between knows, the rules require breaking. Sundeen… sets out to understand the process and logic behind a money-free lifestyle while tracing the spiritual, psychological, physical, and philosophical quest that led this particular man to throw over our society's arguably counterfeit-yet-prevailing faith in money, or, more precisely, in debt." –The Rumpus 
 
"A fascinating subject… both resonant as a character study and infinitely thought-provoking in its challenge to all our preconceptions about modern life—and about the small and large hypocrisies people of all philosophies and religious paths assume they need to accept." –The Salt Lake City Weekly 
 
"Thoughtful and engrossing biography that also explores society's fixation with financial and material rewards...Although few readers will even consider emulating Suelo's scavenger lifestyle, his example will at least provoke some serious soul-searching about our collective addiction to cash." –Booklist 
Riverhead Books, 9781594485695, 272pp.
Publication Date: March 6, 2012
About the Author
Mark Sundeen is an award-winning writer whose nonfiction has appeared in The New York Times Magazine, Outside, National Geographic Adventure, and The Believer. He is the author of Car Camping (HarperCollins, 2000) and The Making of Toro (Simon & Schuster, 2003), and co-author of North by Northwestern (St. Martin's, 2010), which was a New York Times and Wall Street Journal bestseller. He has taught fiction and nonfiction in the MFA programs at the University of New Mexico and Western Connecticut State University. He lives in Montana and Utah.