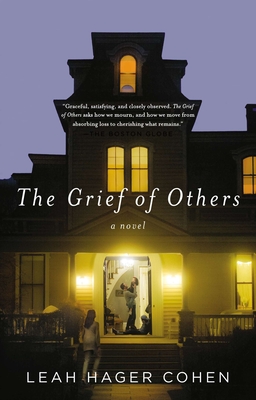 The Grief of Others
Paperback

* Individual store prices may vary.
Other Editions of This Title:
Compact Disc (9/30/2011)
MP3 CD (9/30/2011)
Hardcover (9/15/2011)
Paperback (3/1/2012)
Hardcover, Large Print (3/7/2012)
MP3 CD (9/30/2011)
Compact Disc (9/30/2011)
Compact Disc (9/30/2011)
Description
The subtly powerful novel adapted into the 2015 feature film, The Grief of Others asks: is keeping a secret from a spouse always an act of infidelity? And what cost does such a secret exact on a family?
The Ryries have suffered a loss: the death of a baby just fifty-seven hours after his birth. Without words to express their grief, the parents, John and Ricky, try to return to their previous lives. Struggling to regain a semblance of normalcy for themselves and for their two older children, they find themselves pretending not only that little has changed, but that their marriage, their family, have always been intact, that the loss of a child had no lasting impact. Yet in the aftermath, long-suppressed uncertainties about their relationship come roiling to the surface. A dreadful secret emerges with reverberations that reach far into their past and threaten their future.
The couple's children, ten-year-old Biscuit and thirteen-year-old Paul, responding to the unnamed tensions around them, begin to act out in exquisitely—perhaps courageously—idiosyncratic ways. But as the four family members scatter into private, isolating grief, an unexpected visitor arrives, and they all find themselves growing more alert to the sadness and burdens of others—to the grief that is part of every human life but that also carries within it the power to draw us together.

Moving, psychologically acute, and gorgeously written, The Grief of Others asks how we balance personal autonomy with the intimacy of relationships, how we balance private decisions with the obligations of belonging to a family, and how we take measure of our own sorrows in a world rife with suffering. This novel shows how one family, by finally allowing itself to experience the shared quality of grief, is able to rekindle tenderness and hope and are able to overcome their grief.
Praise For The Grief of Others…
"Cohen creates gorgeous, uncommon descriptions that sound like grace notes on her pages. . . . There's pain in reading this book, but there's another thread running through it, too, gleaming with all the vibrancy of Cohen's prose: hope."—
The Washington Post
"Leah Hager Cohen is one of our foremost chroniclers of the mundane complexities, nuanced tragedies and unexpected tendernesses of human connection. . . . For all its deep-seated sorrows, this is a hopeful book, a series of striking vignettes illuminating the humanity of these fully realized characters."—
The New York Times Book Review
"In this subtle portrait of family life she shows the maddening arithmetic of marriage, the useless attempts to balance the equation. As Ricky and John's kids start to come unglued themselves, we see how the grief of others is contagious. . . . Ms. Cohen's painstaking excavation pays off, especially as Ricky and John decide to rebuild."—
The New York Times
"Part of the novel's pathos lies in its ability to offer its characters a level of perceptive acuity and sympathetic attention they cannot offer one another ... The book's brilliance lies in moments like this one, these shards of devastating insight. Cohen's empathy is sure-footed and seemingly boundless; her writing gifts its characters with glints of ordinary human radiance. It is the possibility of this glinting that ultimately becomes Cohen's most powerful gift to us, her readers, as well."—
San Francisco Chronicle
"The death of a newborn triggers the slow collapse of the Ryrie clan in Hager Cohen's richly layered new novel. . . . Affecting."—
More
"With this incredibly moving commentary, Cohen has secured a place in the lineup of today's great writers."—
Bookpage
"Cohen's (
House Lights
) stunning writing and ruthless, beautiful magnification of soul-crushing sorrow that threatens the Ryries' day-to- day family life mesmerizes, wounds, and possibly even heals her readers. Her courageous novel (she knows of what she writes) is to be savored."—
Library Journal
"With gorgeous prose, Cohen skillfully takes us from past to present and back again as she explores the ramifications of family loss, grief and longing."—
Kirkus
"The Grief of Others is an engrossing and revealing look at a family sinking beneath the weight of a terrible secret. Leah Hager Cohen writes about difficult subjects with unfailing compassion and insight."—Tom Perrotta, New York Times–bestselling author of Little Children
"Leah Hager Cohen's new novel is a perceptive, absorbing drama about the complex bonds of the modern American family and the treacherous paradox of the way we live now. Somehow, the more open and flexible we try to become as spouses and parents, the more emotional risks we take—and the more secrets we keep. I love how deeply Cohen delves into the hearts of all her characters, bringing them fully alive, from their most heroic strivings to their darkest flaws."—Julia Glass, author of The Widower's Tale

"How does a family transcend its own pain?  How do the secrets we keep shape our lives and the lives of those we love?  In this gracefully written, elegantly structured novel, Leah Hagar Cohen has created an indelible cast of characters whose story is at once wrenching and redemptive.  This is a beautiful book."—Dani Shapiro, author of Family History
"The Grief of Others is a gorgeous, absorbing, intricately told tale of one family on the brink of collapse, as well as an intimate exploration of art and its place in our lives.  Leah Hager Cohen expertly juggles six characters and all their needs, yearning, wounds, and secrets with tremendous skill and—even more importantly—deep and tender compassion. She is a masterful writer on every level."—Lily King, author of Father of the Rain
"The Grief of Others is delicate, haunting, and lovely, and very difficult to leave on the shelf."—Susanna Daniel, author of Stiltsville
"A wise and compassionate novel that looks frankly at the ways members of a family can wound and betray each other, even when trying to do just the opposite.  Leah Hager Cohen is particularly brave in her portrait of Ricky and John's marriage, faltering after a traumatic loss.  Readers will be tempted to villify Ricky, but she's much too complex for that.  Despite the lies, subterfuges and silences these characters inflict on each other, there are no villains here, just a family trying to carry on in a world that feels increasingly unreliable, and at times unhinged."—Suzanne Berne, author of The Ghost at the Table
Riverhead Books, 9781594486128, 400pp.
Publication Date: September 4, 2012
About the Author
Leah Hager Cohen is the author of the novel Heat Lightning and of three acclaimed works of non-fiction, Train Go Sorry; Glass, Paper, Beans; and The Stuff of Dreams. She lives with her three children near Boston.
The book's prologue opens with the physical description of a beautiful newborn baby and his mother's intimate emotional connection to him, despite what she knows of his fate. What does the author achieve with this opening? Did it make you more invested in the plight of the mother, or the loss of the baby? Did it affect your feelings about the mother later in the book, when you gained a fuller understanding of what led up to this point?
Eventually, it is revealed that Ricky kept something deeply important from her husband. What do you think of her decision? Is it understandable? What are her motivations? How do you think you would have acted in that situation?
When her husband learns the truth about what Ricky has kept from him, he equates it with infidelity. She says, "Please. I kept a secret. I thought it was the right thing. It wasn't right, but I thought it was. It was hard on me. I didn't cheat on you. It's not like an affair." And he responds, "It's exactly like an affair…. It's worse than when you had the affair." What do you think? How does Ricky's deceit compare to having an affair? Are they comparable?
In addition to the nuclear Ryrie family, the book also focuses on Jessica, John's daughter from a previous relationship, and Gordie, a neighbor dealing with the loss of his father. Why do you think these two characters were included? What perspectives do they add for the reader? How do interactions with them affect the Ryries?
The story is also told from the perspectives of the children, Biscuit and Paul. What does this offer to the book as a whole? How do Biscuit and Paul's experiences of this time period differ from those of their parents? How do the children's responses differ from one another? How much of this has to do with their respective ages, do you think, and how much is about their personalities? Do you think the children would have suffered less if the parents had behaved differently?
John and Ricky try very hard to be good parents. Why don't they notice how much their children are suffering? What opens their eyes finally? How do they try to correct their behavior?
Think about times when you yourself have grieved. Which Ryrie did you behave the most like? How did you move past that time of loss?
Part of why the Ryrie family is suffering so deeply is because the loss of baby Simon was so soon after his birth. The author herself says that her inspiration for this book came from her own miscarriage. Think about types of losses that people are encouraged to keep to themselves or "get over." How does that grief get expressed? Would it be healthier if there were more public acknowledgment of that grief? How can we make a place for that in our lives?
In addition to the main narrative, there are substantial flashbacks in the novel, including the one to the lake vacation. Why do you think the author chose to tell these parts of the story? What perspective do they add? How do they change how you feel at the end?
The Grief of Others opens with the death of baby Simon, but many of the problems facing the Ryrie family existed before his birth. What were they? How were those more every-day issues affected by the sudden traumatic events? Do you think John and Ricky's marriage would be in a similar place, ultimately, if they had not experienced the loss of the baby and all that followed? Why or why not?
Think about grief itself. We often try to stigmatize it as a dark emotion that should not be indulged. How is grief good for a person? For a family? What is the benefit of sharing?
or
Not Currently Available for Direct Purchase