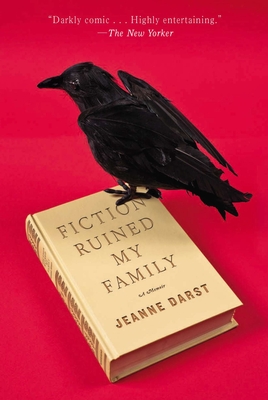 Fiction Ruined My Family
Paperback

* Individual store prices may vary.
Other Editions of This Title:
Digital Audiobook (9/28/2011)
Description
"Beautifully paced . . . heartbreaking and hilarious."—USA Today 

Augusten Burroughs meets Mary Karr: a deeply funny and wickedly entertaining family memoir.

The youngest of four daughters in an old, celebrated St. Louis family-- of prominent journalists and politicians on one side, debutantes and equestrians on the other-- Jeanne Darst grew up hearing stories of past grandeur. And the message she internalized as a young girl was clear: While things might be a bit tight for us right now, it's only temporary. Soon her father would sell the Great American Novel and reclaim the family's former glory.

The Darsts move from St. Louis to New York, and Jeanne's father writes one novel, then another, which don't find publishers. This, combined with her mother's burgeoning alcoholism, lead to financial disaster and divorce. And as Jeanne becomes an adult, she is horrified to discover that she is not only a drinker like her mother, but a writer like her father. At first, and for years, she embraces both activities— and until she can stop putting drinking and writing ahead of everything else, it's a questionable choice.

Ultimately, Darst sets out to discover whether a person can have the writing without the ruin, whether it's possible to be both sober and creative, ambitious and happy, a professional author and a parent. Filled with brilliantly flawed, idiosyncratic characters and punctuated by Darst's irreverent eye for absurdity, Fiction Ruined My Family is a lovingly told, wickedly funny portrait of an unconventional life.
Praise For Fiction Ruined My Family…
"Beautifully paced . . . heartbreaking and hilarious."—
USA Today
"
Fiction Ruined My Family
 reads like a script for performance art, a rapid stand-up routine, careless and wisecracky, signaling moments for the audience to respond to a punch line by clapping. The tinkle of glasses subsides; the performer makes a grimace, takes a bow, goes on. Yet genuine pain is explored - for the dangerous ambitions of fame and achievement and the really dangerous distractions of carelessness with loved ones."—
The San Francisco Chronicle
"[A] winningly snarky memoir."—
The New York Times
"The girl's got flair."—
Entertainment Weekly
"Jeanne Darst's memoir about growing up in a hard-drinking family with big literary dreams is hilarious, heartbreaking, and inspiring."—
Marie Claire
"In her memoir 
Fiction Ruined My Family
, Jeanne Darst plunges into the story of her delusional family with wicked wit and fearlessness."—
Redbook
"High fives to Jeanne Darst for 
Fiction Ruined My Family
, her tale of surviving an alkie blue-blood mom, a hard-drinking failed-writer dad, and her own inebriated performer/playwright/crummy-job dysfunction to write this seriously comic tell-all about her entanglements, with family, friend, and-of course-her bodacious self."—
Elle
"Fiction Ruined My Family had me laughing out loud, which I almost never do, with one jaw-dropping scene after another. On nearly every page there's some sentence that's so perfect, in an old-school Oscar Wilde/Dorothy Parker sort of way, that it made everything I've ever written or said seem like dull, drunken mumbling." – Ira Glass, host of This American Life
"Jeanne Darst's memoir unfolds like a Eugene O'Neill play, with all the boozing and the weeping and the exclamatory self-pity. Only it's also very funny, and it has a happy ending (more or less). Snap this book up."—Tad Friend, author of Cheerful Money
"As Tolstoy might have said if he'd survived the 1970s, happy families are all alike but every narcissistic parent is narcissistic in his or her own way. Jeanne Darst tells a story not only of family neuroses, artistic delusions and thwarted dreams but also of the nuances of social class, the tension between domesticity and bohemenianism, and the tragicomedy that comes from faking it but never quite making it. All my favorite themes!  I also laughed out loud more times than I can count."—Meghan Daum, author of My Misspent Youth and Life Would Be Perfect If I Lived In That House
"Jeanne Darst is funnier than a blotto WASP in a Lily Pulitzer wheelchair."—Wendy Burden, author of Dead End Gene Pool 
"In the tradition of the Mitford sisters' chronicles (but minus Hitler), Fiction Ruined My Family  is both a very funny tragedy and a very sad comedy."—Patricia Marx, author of Him Her Him Again and the End of Him
"Dazzlingly funny, gut wrenching and infested with writing that will absolutely floor you. Fiction Ruined My Family has ruined me—how will I ever be able to use those adjectives again and mean them as much as I do now?"—Sloane Crosley, author of How Did You Get This Number
"Jeanne Darst manages to evoke humor and despair in a single sentence. I found myself rooting so hard for her. Fiction Ruined My Family is a great testament to surviving and overcoming wacky parents. A wonderful book." – Julie Klam, author of You Had Me at Woof
Riverhead Books, 9781594486173, 320pp.
Publication Date: November 6, 2012
About the Author
Jeanne Darst is a writer/performer who has written for The New York Times and The New York Times Magazine, and performed her solo plays in bars, barns, and living rooms across the country. An excerpt from this book on aired on This American Life. She lives in Los Angeles.
or
Not Currently Available for Direct Purchase