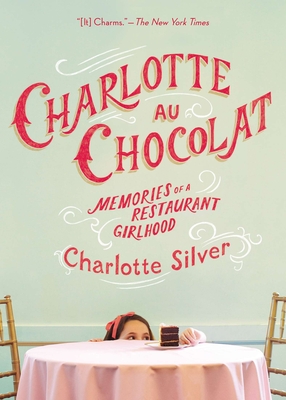 Charlotte Au Chocolat: Memories of a Restaurant Girlhood (Paperback)
Memories of a Restaurant Girlhood
Riverhead Books, 9781594486500, 258pp.
Publication Date: February 5, 2013
* Individual store prices may vary.
or
Not Currently Available for Direct Purchase
About the Author
Charlotte Silver grew up in Cambridge, Massachusetts, before attending Bennington College in Vermont. She studied writing at the Bread Loaf Writers' Conference and has been published in "The New York Times." She lives in New York and Boston.
Charlotte spends her childhood in a world of adults. How does this affect her? In what ways is Charlotte like an adult even as a child? In what ways does she act her age?
Charlotte loves Upstairs at the Pudding and admires her mother's career, but there is no doubt that her mother spends more time at work than at home. How do you think her focus on the restaurant affects her relationship with Charlotte?
Charlotte's mother says that the world "is divided into front room people and kitchen people." What do these two types represent? Charlotte's mother seems to transition seamlessly between the two worlds; where does Charlotte fall?
When Charlotte first visits her father in his artist's studio, she does not want to spend the night on the stained futon, where mice could get to her. But after dinner, she changes her mind. Why? What did you think of her decision?
How do the two major fires in the restaurant serve as turning points in Charlotte's life?
Do you think that Charlotte's mother was a good parent to her? How do you think Charlotte would answer that question? What lessons did Charlotte learn growing up in the restaurant?
Discuss the ways in which the author's writing style echoes the sensuousness or opulence of her mother's restaurant. In what ways does the writer make you feel as if you are in that physical space with her?
At the beginning of the book Charlotte is napping under the bar of the restaurant; at the end she is drinking cocktails and leaving for college. Consider how the perspective and voice of the narrator progress with the story. How does time change the way she views her mother, her father, herself?
Did the book change your perspective on how restaurants work? Will it change the way you experience dining out?
The Harvard Square of Charlotte's youth is essentially gone, the small businesses closed and replaced by chain stores. The restaurant in which she grew up, too, has been forced to relocate. How does this mirror the arc of Charlotte's own life? Do you think what happens to Cambridge and the restaurant is a happy, sad, or inevitable story?
Advertisement