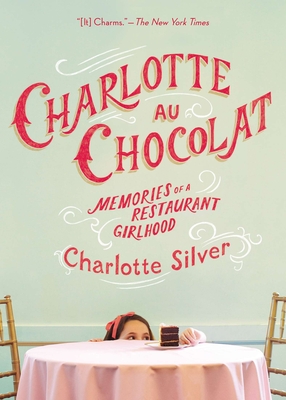 Charlotte Au Chocolat (Paperback)
Memories of a Restaurant Girlhood
Riverhead Books, 9781594486500, 272pp.
Publication Date: February 5, 2013
Other Editions of This Title:
Hardcover (2/16/2012)
* Individual store prices may vary.
Description
Like Eloise growing up in the Plaza Hotel, Charlotte Silver grew up in her mother's restaurant. Located in Harvard Square, Upstairs at the Pudding was a confection of pink linen tablecloths and twinkling chandeliers, a decadent backdrop for childhood. Over dinners of foie gras and Dover sole, always served with a Shirley Temple, Charlotte kept company with a rotating cast of eccentric staff members. Her one constant was her glamorous, indomitable mother, nicknamed "Patton in Pumps," a wasp-waisted woman in cocktail dress and stilettos who shouldered the burden of raising a family and running a kitchen. But when the restaurant—forever teetering on the brink of financial collapse—looks as if it may finally be closing, Charlotte comes to realize the sacrifices her mother has made to keep the family and restaurant afloat and gains a new appreciation of the world her mother has built.
About the Author
Charlotte Silver grew up in Cambridge, Massachusetts, before attending Bennington College in Vermont. She studied writing at the Bread Loaf Writers' Conference and has been published in The New York Times. She lives in New York and Boston.
Praise For Charlotte Au Chocolat: Memories of a Restaurant Girlhood…
"Charlotte au Chocolat charms."—The New York Times Book Review "Every paragraph here is a confection of wit, color, texture, and taste, all overlaid with a dusting of melancholy for a lost restaurant, a lost time, a childhood that set Charlotte Silver apart and inspired her to write this utterly captivating memoir."—The Huffington Post "Silver illustrates the details of her upbringing with luminous clarity . . . these poignant moments are as exact as poetry."—The Boston Globe "Bright and vivacious."—USA Today

"Child of artist-restauranteurs, Silver recalls a girlhood filled with pink linens, candied violets, and constant threat of financial ruin. But it's her ode to her quirky, dazzling mom that makes the dish."—Good Housekeeping
Charlotte spends her childhood in a world of adults. How does this affect her? In what ways is Charlotte like an adult even as a child? In what ways does she act her age?
Charlotte loves Upstairs at the Pudding and admires her mother's career, but there is no doubt that her mother spends more time at work than at home. How do you think her focus on the restaurant affects her relationship with Charlotte?
Charlotte's mother says that the world "is divided into front room people and kitchen people." What do these two types represent? Charlotte's mother seems to transition seamlessly between the two worlds; where does Charlotte fall?
When Charlotte first visits her father in his artist's studio, she does not want to spend the night on the stained futon, where mice could get to her. But after dinner, she changes her mind. Why? What did you think of her decision?
How do the two major fires in the restaurant serve as turning points in Charlotte's life?
Do you think that Charlotte's mother was a good parent to her? How do you think Charlotte would answer that question? What lessons did Charlotte learn growing up in the restaurant?
Discuss the ways in which the author's writing style echoes the sensuousness or opulence of her mother's restaurant. In what ways does the writer make you feel as if you are in that physical space with her?
At the beginning of the book Charlotte is napping under the bar of the restaurant; at the end she is drinking cocktails and leaving for college. Consider how the perspective and voice of the narrator progress with the story. How does time change the way she views her mother, her father, herself?
Did the book change your perspective on how restaurants work? Will it change the way you experience dining out?
The Harvard Square of Charlotte's youth is essentially gone, the small businesses closed and replaced by chain stores. The restaurant in which she grew up, too, has been forced to relocate. How does this mirror the arc of Charlotte's own life? Do you think what happens to Cambridge and the restaurant is a happy, sad, or inevitable story?
or
Not Currently Available for Direct Purchase