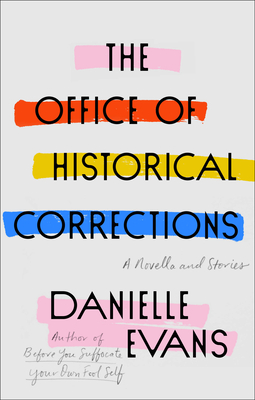 The Office of Historical Corrections
A Novella and Stories
Hardcover

* Individual store prices may vary.
Other Editions of This Title:
Digital Audiobook (11/9/2020)
Paperback (11/9/2021)
November 2020 Indie Next List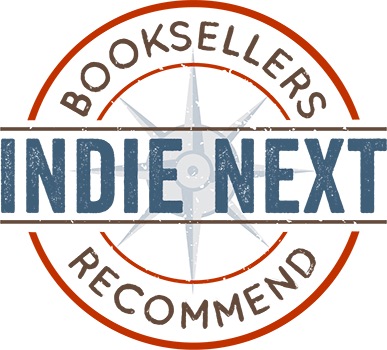 "I have been holding my breath for Danielle Evans' next book of short stories since
Before You Suffocate Your Own Fool Self
, and
The Office of Historical Corrections
was worth the wait. She delivers the same great storytelling, insight, and sharp cultural commentary. Her touch on themes usually associated with older people, such as redemption, reconciliation, and propitiation, moved me. I read the whole collection in two days."
— Miesha Headen, Loganberry Books, Shaker Heights, OH
View the List
Description
WINNER OF THE 2021 JOYCE CAROL OATES PRIZE

NAMED A BEST BOOK OF 2020 BY O MAGAZINE, THE NEW YORKER, THE WASHINGTON POST, REAL SIMPLE, THE GUARDIAN, AND MORE 

FINALIST FOR: THE STORY PRIZE, THE L.A. TIMES BOOK PRIZE, THE ASPEN WORDS LITERARY PRIZE, THE CHAUTAUQUA PRIZE

"Sublime short stories of race, grief, and belonging . . . an extraordinary new collection . . ." —The New Yorker
 
"Evans's new stories present rich plots reflecting on race relations, grief, and love . . ." —The New York Times Book Review, Editor's Choice

"Danielle Evans demonstrates, once again, that she is the finest short story writer working today." —Roxane Gay, The New York Times–bestselling author of Difficult Women and Bad Feminist

The award-winning author of Before You Suffocate Your Own Fool Self brings her signature voice and insight to the subjects of race, grief, apology, and American history.

Danielle Evans is widely acclaimed for her blisteringly smart voice and X-ray insights into complex human relationships. With The Office of Historical Corrections, Evans zooms in on particular moments and relationships in her characters' lives in a way that allows them to speak to larger issues of race, culture, and history. She introduces us to Black and multiracial characters who are experiencing the universal confusions of lust and love, and getting walloped by grief—all while exploring how history haunts us, personally and collectively. Ultimately, she provokes us to think about the truths of American history—about who gets to tell them, and the cost of setting the record straight.

In "Boys Go to Jupiter," a white college student tries to reinvent herself after a photo of her in a Confederate-flag bikini goes viral. In "Richard of York Gave Battle in Vain," a photojournalist is forced to confront her own losses while attending an old friend's unexpectedly dramatic wedding. And in the eye-opening title novella, a black scholar from Washington, DC, is drawn into a complex historical mystery that spans generations and puts her job, her love life, and her oldest friendship at risk.
Praise For The Office of Historical Corrections: A Novella and Stories…
Praise for The Office of Historical Corrections:

"No other fiction I've read this year wears its profundity so lightly." —The New Yorker

"Evans's stories and their sensitivity to issues around race and power feel particularly resonant in 2020." —The New York Times
 
"The title novella manages to combine George Orwell's bureaucratic chill from 1984 with Toni Morrison's elegant judgments from Beloved." —The Washington Post

"Perceptively touch[es] on current controversies like cancel culture and the disputes over historical monuments. But these are, first and foremost, character-driven stories, and the arguments play out most forcefully in the minds of the young black women searching for some livable balance between guilt and forgiveness. . . . Ms. Evans is also funny in a droll, puncturing way, as inclined to mine trauma for mordant humor as for sentimentality." —The Wall Street Journal

"Evans's propulsive narratives read as though they're getting away with something, building what feel like novelistic plots onto the short story's modest real estate. No surprise, then, that this collection concludes with its title novella, about a Black professor who quits her job to work for the city government, correcting factual mistakes in the public record. The story marries Melvillian mundanity with melodramatic suspense. I could have kept reading for pages." —The New York Times Book Review

"[Evans is] a master of the form, and her new collection is a sharply observed and perfectly aligned universe. With wry observation and an ear for the inner and outer monologue, Evans vividly creates microclimates that examine the ponderous nature of grief, the infinitesimal line between micro- and macroaggressions, and the fog of relationships. An essential read." —Elle

"Evans is a writer with a gift for the sudden knife in the ribs. . . . I hurtled through these stories and ended each one gasping back tears." —The Huffington Post

"These stories offer the lose yourself depth of a novel in intense, digestible portions. Evans is blessed with perfect pitch when it comes to dialogue—both in terms of what is spoken and what goes unsaid." —Tayari Jones in The Guardian (London)

"[A] collection for the moment. Evans skillfully interprets cancel culture, fake news, and political cults in order to craft a unique critique of the country's underlying racism. The success of the collection stems from balancing the gloom of racism with Evans wry commentary. The snarky narrative voice cuts deeply. These stories are now even more necessary." —Chicago Review of Books

"Danielle Evans' dynamite new collection proves a study in the form. Slices of life, each piece in Corrections captures its own mood, hums to distinct rhythms, and locates unique spaces for empathy and pain and catharsis. They're also delectably readable, propulsive accounts of loss and fear and redemption that twist with O. Henry–level glee. . . . The titular novella [is] a masterpiece of tension and mystery." —Entertainment Weekly

"These scorching stories . . . take a headlong plunge into the murky waters of identity, race, and love." —O, The Oprah Magazine

"A new collection so smart and self-assured it's certain to thrust her into the top tier of American short story writers. . . . The hands-down masterpiece of the collection is the title novella. . . . a deftly plotted mystery that  . . . thrillingly leaves the big reveal to the very end . . . Reading these stories is like that amusement park ride—afterward, you feel a sense of lightness and exhilaration." —USA Today

"Danielle Evans' unrelenting wit and compassion are on dazzling display." —Star Tribune

"Every story in The Office of Historical Collections is on point. . . . but the ancestral thriller novella that spawned its title is completely transformative." —Vulture

"Evans calmly and expertly navigates the limits and possibilities of short stories. . . . [The novella] combines uncommon storytelling with rare wisdom. . . . worth the wait." —Los Angeles Times

" The Office of Historical Corrections,' a novella, is presented here along with other stories that chronicle how history—racial and cultural—continue to reverberate through daily life. Danielle Evans continues to write provocative fiction about people of color, raising questions about who gets to dictate our national narrative." —Chicago Tribune

"One of the year's most timely releases. Examining second chances and no-win situations, Evans' new book brings plenty of pondering to your nightstand this fall." —Bustle

"Danielle Evans's newest book further solidifies her well-earned reputation as one of the most incisive, resonant writers working today. . . . Evans will really blow your mind, leaving you to put the pieces back together." —Refinery 29
 
"The title story, a novella . . . is the most astonishing thing I've read this fall." —BuzzFeed, "21 Best New Books this Fall"

"In seven sly, haunting stories, Evans reflects our madcap world back at us, delivering a dazzling dissection of our twisted attitudes about race, culture, history, and truth. . . . Incisive, nuanced, and deliciously complex, each of these stories proves that Evans is a bravura talent." —Esquire

"Evans is back with another collection of short stories that prove she is one of the most powerful voices in the genre. . . . Prepare for this provocative novella to stay with you long after you reach the final page." —E! News
 
"Danielle Evans's characters are so messy, compelling, and deeply human that you won't be able to turn away." —Harper's Bazaar
 
"A piercing look at race and culture, revealing how we all must reckon with our personal and shared histories." —Real Simple
 
"Evans tackles her characters' fragility, fear, and bravery with breathtaking nuance and storytelling smarts." —Apartment Therapy

"Evans doesn't hold back in her timely, engrossing, and powerful new collection of short stories about race, history, grief, and culture. It's one of the best short story collections of the year." —HelloGiggles

"The stories are bite-sized, but you might devour this in one gulp." —Good Housekeeping

"The Office of Historical Corrections is a collection of stories and a novella, all dealing with complex issues of race and Black womanhood. But the standout is the titular novella, which imagines a government department that is mandated to correct historical inaccuracies." —Alma

"Danielle Evans demonstrates, once again, that she is the finest short story writer working today. These stories are sly and prescient, a nuanced reflection of the world we are living in, one where the rules are changing, and truth is mutable and resentments about nearly everything have breached the surface of what is socially acceptable. These stories are wickedly smart and haunting in what they say about the human condition. . . . Her language is nimble, her sentences immensely pleasurable to read, and in every single story there is a breathtaking surprise, an unexpected turn, a moment that will leave you speechless, and wanting more." —Roxane Gay, The New York Times–bestselling author of Difficult Women and Bad Feminist

"Danielle Evans is a stone-cold genius, in possession of both a merciless eye and a merciful heart. And she keeps getting better." —Rebecca Makkai, National Book Award finalist for The Great Believers

"A dazzling collection. Contemporary life in Danielle Evans's stories has a kind of incandescent and dangerous energy: even in moments of somberness or isolation, her characters crackle with heat, light, and self-awareness." —Kelly Link, author of Get In Trouble

"To say that Danielle Evans is one of the best writers of her generation ignores the simple fact that she is one of America's best writers, period. And to limit her to her own generation overlooks the keen eye Evans has placed on the continuum of American history and all its attendant complications of race, gender, class, popular culture, and representation. Evans wields these issues like a sly, acerbic blade, and she uses it to cut to the quick." —Wiley Cash, The New York Times–bestselling author of The Last Ballad

"Danielle Evans writes stories that make the world stop. Her work is so good that when you sit down with it, everything else ceases to exist. The stories in The Office of Historical Corrections move and breathe. The book is a beating heart. Magnificent." —Kristen Arnett, The New York Times–bestselling author of Mostly Dead Things

"[P]romises more of Evans' wisdom and finely honed ability to tell distinct, compelling tales that also say something about larger issues." —BookPage

"Evans solidifies her reputation as one of the most thought-provoking contemporary storytellers. . . [she] crafts her stories with a surgeon's precision. Each detail meticulously builds on the last, leading to satisfying, unforeseeable plot twists. The language is colorful and drenched with emotion. Readers won't be able to look away from the page as Evans captivates them in a world all her own." —Booklist, (starred review)

"The eponymous novella that closes the book is a stunner. . . . storytelling [is] gripping on every level. Necessary narratives, brilliantly crafted." —Kirkus Reviews (starred review)
 
"Danielle Evans brings her usual wit and keen eye to her latest. . . . While every story offers a discrete narrative, recurring themes of pain, loss, fear, and failed relationships give the collection a sense of unity. The title novella is the crowning jewel. . . . this is a timely, entertaining collection from a talented writer who isn't afraid to take chances." —Publishers Weekly
Riverhead Books, 9781594487330, 288pp.
Publication Date: November 10, 2020
About the Author
Danielle Evans is the author of the story collection Before You Suffocate Your Own Fool Self, winner of the 2021 Joyce Carol Oates Prize, the PEN America PEN/Robert W. Bingham prize, the Hurston/Wright Legacy Award, and the Paterson Prize, and a National Book Foundation 5 under 35 honoree. Her stories have appeared in many magazines and anthologies, including The Best American Short Stories. She teaches in The Writing Seminars at Johns Hopkins University.
or
Not Currently Available for Direct Purchase