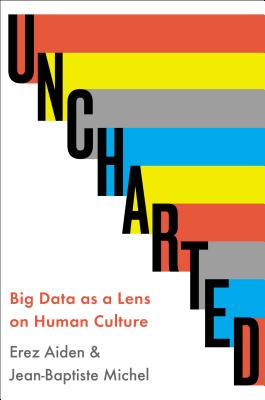 Uncharted
Big Data as a Lens on Human Culture
Hardcover

* Individual store prices may vary.
Other Editions of This Title:
Paperback (12/2/2014)
Description
"One of the most exciting developments from the world of ideas in decades, presented with panache by two frighteningly brilliant, endearingly unpretentious, and endlessly creative young scientists." - Steven Pinker, author of "The Better Angels of Our Nature"
Our society has gone from writing snippets of information by hand to generating a vast flood of 1s and 0s that record almost every aspect of our lives: who we know, what we do, where we go, what we buy, and who we love. This year, the world will generate 5 zettabytes of data. (That's a five with twenty-one zeros after it.) Big data is revolutionizing the sciences, transforming the humanities, and renegotiating the boundary between industry and the ivory tower.
What is emerging is a new way of understanding our world, our past, and possibly, our future. In "Uncharted," Erez Aiden and Jean-Baptiste Michel tell the story of how they tapped into this sea of information to create a new kind of telescope: a tool that, instead of uncovering the motions of distant stars, charts trends in human history across the centuries. By teaming up with Google, they were able to analyze the text of millions of books. The result was a new field of research and a scientific tool, the Google Ngram Viewer, so groundbreaking that its public release made the front page of "The New York Times," "The Wall Street Journal," and "The Boston Globe," and so addictive that "Mother Jones" called it "the greatest timewaster in the history of the internet."
Using this scope, Aiden and Michel--and millions of users worldwide--are beginning to see answers to a dizzying array of once intractable questions. How quickly does technology spread? Do we talk less about God today? When did people start "having sex" instead of "making love"? At what age do the most famous people become famous? How fast does grammar change? Which writers had their works most effectively censored by the Nazis? When did the spelling "donut" start replacing the venerable "doughnut"? Can we predict the future of human history? Who is better known--Bill Clinton or the rutabaga?
All over the world, new scopes are popping up, using big data to quantify the human experience at the grandest scales possible. Yet dangers lurk in this ocean of 1s and 0s--threats to privacy and the specter of ubiquitous government surveillance. Aiden and Michel take readers on a voyage through these uncharted waters.
Riverhead Books a Member of Penguin Group (US, 9781594487453, 280pp.
Publication Date: December 26, 2013
About the Author
Erez Aiden received his Ph.D. from Harvard and MIT in 2010. After several years at Harvard's Society of Fellows and at Google as visiting faculty, he became Assistant Professor at the Baylor College of Medicine and Rice University, where he directs the Center for Genome Architecture. In 2009, he was named one of "MIT Technology Review"'s TR35, the world's top thirty-five innovators under age thirty-five. In 2012, he received the Presidential Early Career Award for Scientists and Engineers - the highest honor given by the U.S. government to young scientists - for inventing, with colleagues, a technology that probes how genomes fold in 3-D. He lives in Houston with his wife and family.

Jean-Baptiste Michel is a French and Mauritian entrepreneur and scientist. He is the founder of the data science company Quantified Labs, an associate scientist at Harvard University, and former visiting faculty at Google. He is a graduate of Ecole Polytechnique, and received his Ph.D. from Harvard in 2010. In 2012, he was named a TED Fellow and one of Forbes's "30 Under 30." He lives in Brooklyn with his wife.

For the last decade, JB and Erez have been using big data to study human culture. Their work has appeared as cover stories of "Nature," "Science" and the "New York Times," and their talks have been viewed over a million times at TED.com.
or
Not Currently Available for Direct Purchase