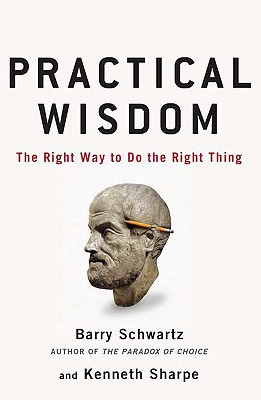 Practical Wisdom (Hardcover)
Riverhead Hardcover, 9781594487835, 336pp.
Publication Date: December 30, 2010
* Individual store prices may vary.
or
Not Currently Available for Direct Purchase
Description
A reasoned yet urgent call to embrace and protect the essential, practical human quality that has been drummed out of our lives: wisdom.
It's in our nature to want to succeed. It's also human nature to want to do right. But we've lost how to balance the two. How do we get it back?
"Practical Wisdom" can help. "Practical wisdom" is the essential human quality that combines the fruits of our individual experiences with our empathy and intellect-an aim that Aristotle identified millennia ago. It's learning "the right way to do the right thing in a particular circumstance, with a particular person, at a particular time." But we have forgotten how to do this. In Practical Wisdom, Barry Schwartz and Kenneth Sharpe illuminate how to get back in touch with our wisdom: how to identify it, cultivate it, and enact it, and how to make ourselves healthier, wealthier, and wiser.
About the Author
Barry Schwartz is the author of the acclaimed bestseller "The Paradox of Choice." A frequent lecturer at conferences (TED, Gel, etc) around the world, he is the Dorwin Cartwright Professor of Social Theory and Social Action at Swarthmore College, specializing in Psychology and Economics.

Kenneth Sharpe is the William R. Kenan, Jr. Professor of Political Science at Swarthmore College where he teaches political philosophy, ethics, and political economy. His most recent book is "Drug War Politics: The Price of Denial."
Advertisement