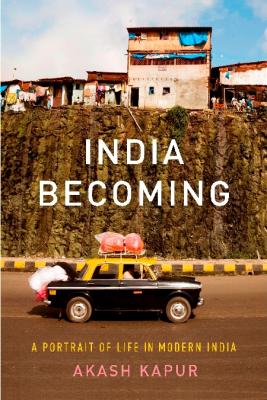 India Becoming
Hardcover

* Individual store prices may vary.
Other Editions of This Title:
Paperback (3/5/2013)
Description
A "New Republic" Editors' and Writers' Pick 2012
A "New Yorker" Contributors' Pick 2012
A portrait of incredible change and economic development, of social and national transformation told through individual lives
The son of an Indian father and an American mother, Akash Kapur spent his formative years in India and his early adulthood in the United States. In 2003, he returned to his birth country for good, eager to be part of its exciting growth and modernization. What he found was a nation even more transformed than he had imagined, where the changes were fundamentally altering Indian society, for better and sometimes for worse.
To further understand these changes, he sought out the Indians experiencing them firsthand. The result is a rich tapestry of lives being altered by economic development, and a fascinating insider's look at many of the most important forces shaping our world today. Much has been written about the rise of Asia and a rebalancing of the global economy, but rarely does one encounter these big stories with the level of nuance and detail that Kapur gives us in India Becoming.
Among the characters we meet are a broker of cows who must adapt his trade to a modernizing economy; a female call center employee whose relatives worry about her values in the city; a feudal landowner who must accept that he will not pass his way of life down to his children; and a career woman who wishes she could "outsource" having a baby.
Through these stories and many others, Kapur provides a fuller understanding of the complexity and often contradictory nature of modern India. India Becoming is particularly noteworthy for its emphasis on rural India-a region often neglected in writing about the country, though 70 percent of the population still lives there. In scenes reminiscent of R. K. Narayan's classic works on the Indian countryside, Kapur builds intimate portraits of farmers, fishermen, and entire villages whose ancient ways of life are crumbling, giving way to an uncertain future that is at once frightening and full of promise. Kapur himself grew up in rural India; his descriptions of change and modernization are infused with a profound-at times deeply poignant- firsthand understanding of the loss that must accompany all development and progress.
"India Becoming" is essential reading for anyone interested in our changing world and the newly emerging global order. It is a riveting narrative that puts the personal into a broad, relevant and revelational context.
Praise For India Becoming…
"[A] lucid, balanced new book . . . Kapur is determinedly fair-minded, neither an apologist nor a scold, and he is a wonderfully empathetic listener."—The New York Times Book Review

"Kapur's strength is in letting his characters display the ambiguity that many feel about the ongoing change. … Kapur offers a corrective to a simplistic "new, happy narrative" of a rising India."—The Economist

"There are many virtues of Akash Kapur's beautifully sketched portrait of modern India….The book inhabits parts of India we do not explore often enough, the India of the south and of the transforming countryside. Mostly, it takes us into the minds and hearts of Indians seeking to adapt to a society changing at disconcerting speed…. The book reads like a novel…Kapur's skill is to get people talking and to weave their stories into a necessarily messy debate about India's future."—The Financial Times

"Impressively lucid and searching . . . In his clarity, sympathy and impeccably sculpted prose, Kapur often summons the spirit of V.S. Naipaul." —Pico Iyer, Time

"Kapur himself, with one leg in the East and one in the West, is an excellent ambassador to explain the dynamic of change in India, what the nation is becoming. Any reader who would like to understand the country better would do well to give him a read."—Daily Beast

"Kapur has a fluency that outsiders—even those of us with a genetic tie—lack"—The New Republic


"This is a remarkably absorbing account of an India in transition - full of challenges and contradictions, but also of expectations, hope, and ultimately optimism."-Amartya Sen

"A wonderful writer: a courageously clear-eyed observer, an astute listener, a masterful portraitist, and a gripping storyteller. Kapur's voice is as sure and as intimate as his subject is chaotic and immense, and he proves himself the perfect guide to the enthralling promise and the terrifying menace of a society in the throes of colossal, epochal, all-encompassing change."-Philip Gourevitch, author of We Wish to Inform You That Tomorrow We  Will Be Killed With Your Families

"Marvelous . . . Kapur shows how the old rural cycle of the south Indian village depicted and romanticized by R. K. Narayan is fracturing and breaking apart to reveal a very new, more unstable world where the old certainties are disappearing and everything is up for grabs. Sharp-eyed, insightful, skillfully sketched and beautifully written, India Becoming is the remarkable debut of a distinctive new talent."-William Dalrymple, author of Nine Lives: In Search of the Sacred in Modern India

"Akash Kapur lives in and writes out of an India that few writers venture into. Curious, suspicious of received wisdom, and intellectually resourceful, [Kapur is] one of the most reliable observers of the New India."-Pankaj Mishra, author of Temptations of the West: How to Be Modern in India, Pakistan, Tibet, and Beyond

"Through a series of deft character sketches, Akash Kapur captures the contradictions of life in modern India-between city and country, technology and aesthetics, development and the environment, greed and selflessness, individual fulfillment and community obligation. His writing is fresh and vivid; his perspective empathetic and appealingly non-judgmental."-Ramachandra Guha, author of India after Gandhi

"Beautifully written . . . Akash Kapur celebrates the gains and mourns the losses, conveying a complex story through the ups and downs of the lives of some fascinating individual women and men."-Kwame Anthony Appiah, author of Cosmopolitanism: Ethics in a World of Strangers

"India today is in the midst of profound change and Akash Kapur captures the impact of that change on the lives of ordinary Indians with a narrative that avoids all clichés, platitudes, and simplifications."-Gurcharan Das, author of India Unbound

"A fascinating look at the transformation of India, with broader lessons on the upside and downside of progress."—Booklist (starred)

"[A] Lively, anecdotal look at the people who have been vastly changed by the entrepreneurial explosion in India. . . . An honest, conflicted glimpse of a country."—Kirkus
Riverhead Hardcover, 9781594488191, 304pp.
Publication Date: March 15, 2012
About the Author
Akash Kapur is the former "Letter from India" columnist for the "International Herald Tribune" and the online edition of "The New York Times." He has also written for "The Atlantic, The Economist, Granta, The New Yorker," and "The New York Times." He holds a B.A. in social anthropology from Harvard, and a doctorate in law from Oxford University, which he attended as a Rhodes scholar. He lives outside Pondicherry, in southern India.
Coverage from NPR
or
Not Currently Available for Direct Purchase