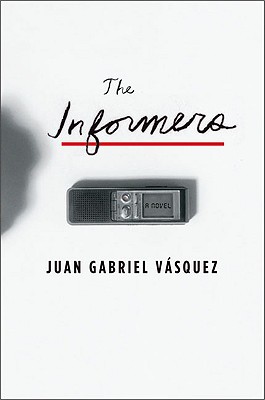 The Informers (Hardcover)
Riverhead Hardcover, 9781594488788, 368pp.
Publication Date: July 30, 2009
Other Editions of This Title:
Paperback (7/6/2010)
* Individual store prices may vary.
Description
A virtuosic novel about family, history, memory, and betrayal from the brightest new Latin American literary talent working today.
When Gabriel Santoro's biography is scathingly reviewed by his own father, a public intellectual and famous Bogota rhetorician, Gabriel could not imagine what had pierced his icy exterior to provoke such a painful reaction. A volume that catalogues the life of Sara Guterman, a longtime family friend and Jewish immigrant, since her arrival in Colombia in the 1930s, "A Life in Exile" seemed a slim, innocent exercise in recording modern history. But as a devastated Gabriel delves, yet again, into Sara's story, searching for clues to his father's anger, he cannot yet see the sinister secret buried in his research that could destroy his father's exalted reputation and redefine his own.
After his father's mysterious death in a car accident a few years later, Gabriel sets out anew to navigate half a century of half-truths and hidden meanings. With the help of Sara Guterman and his father's young girlfriend, Angelina, layer after shocking layer of Gabriel's world falls away and a complex portrait of his father emerges from the ruins. From the streets of 1940s Bogota to a stranger's doorstep in 1990s Medellin, he unravels the web of doubt, betrayal, and guilt at the core of his father's life and he wades into a dark, longsilenced period of Colombian history after World War II.
With a taut, riveting narrative and achingly beautiful prose, Juan Gabriel Vasquez delivers an expansive, powerful exploration of the sins of our fathers, of war's devastating psychological costs, and of the inescapability of the past. A novel that has earned Vasquez comparisons to Sebald, Borges, Roth, and Marquez, "The Informers" heralds the arrival of a major literary talent.
About the Author
Juan Gabriel Vasquez is a critically acclaimed Colombian writer, translator, and award-winning author of a collection of stories "Los amantes de Todos los Santos," as well as the novels "Historia secreta de Costaguana" and "The Informers," which has been translated into seven languages. He has translated works by Victor Hugo, E.M Foster and John Hersey, among others, his essay El arte de la distorsion won the Premio Nacional Simon Bolivar, and he is a regular columnist for "El Espectador," the newspaper of dissent in Bogota. Educated in Colombia, and in Paris at the Sorbonne, he now lives and teaches in Barcelona, Spain with his wife and twin daughters."
Praise For The Informers…
"Two years ago Mr. Vßsquez was included on a list of the most 'important' Latin American writers under 40, nominated by more than 2,000 authors, literary agents, librarians, editors and critics. The Informers alone justifies their choice, given its challenging subject and psychological depth, but clearly there are bigger and even more intriguing things on the way."
-New York Times

"Superb...Nothing works out quite the way anyone expects, which is just one of the many strengths of this remarkable novel...It is the best work of literary fiction to come my way since 2005."
-Jonathan Yardley, The Washington Post

"Juan Gabriel Vßsquez is one of the most original new voices of Latin American literature. His first novel, The Informers, a very powerful story about the shadowy years immediately following World War II, is testimony to the richness of his imagination as well as the subtlety and elegance of his prose."
-Mario Vargas Llosa, author of The Bad Girl and The Feast of the Goat

"A fine and frightening study of how the past preys upon the present, and an absorbing revelation of a little-known wing of the theatre of the Nazi war."
-John Banville, Booker Prize- winning author of The Sea

"As if mature John le CarrT had wandered into the narrative labyrinths of Borges."
-The Independent
or
Not Currently Available for Direct Purchase