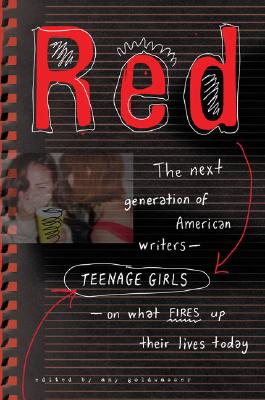 Red
The Next Generation of American Writers--Teenage Girls--On What Fires Up TheirLives Today
Hardcover

* Individual store prices may vary.
Description
A vivid portrait of what it means to be a teenage girl in America today, from 58 of the country's finest, most credentialed writers on the subject
If you're a teenage girl today, you live your life in words-in text and instant messages, on blogs and social network pages. It's how you conduct your friendships and present yourself to the world. Every day, you're creating a formidable body of personal written work.
This generation's unprecedented comfort level with the written word has led to a fearless new American literature. These collected essays, at last, offer a key to understanding the inscrutable teenage girl-one of the most mislabeled and underestimated members of society, argues editor and writer Amy Goldwasser, whose work has appeared in "Seventeen," "Vogue," "The New York Times," and "The New Yorker." And while psychologists and other experts have tried to explain the teen girl in recent years, no book since "Ophelia Speaks" has given her the opportunity to speak for herself-until now.
In this eye-opening collection, nearly sixty teenage girls from across the country speak out, writing about everything from post-Katrina New Orleans to Johnny Depp; from learning to rock climb to starting a rock band; from the loneliness of losing a best friend to the loathing or pride they feel about their bodies. Ranging in age from 13 to 19, and hailing from Park Avenue to rural Nevada, Georgia to Hawaii, the girls in RED-whose essays were selected from more than 800 contributions-represent a diverse spectrum of socioeconomic, political, racial, and religious backgrounds, creating a rich portrait of life as a teen girl in America today.
Revealing the complicated inner lives, humor, hopes, struggles, thrills, and obsessions of this generation, RED ultimately provides today's teen girl with much-needed community, perspective, and validation-and helps the rest of us to better understand her.

Praise For Red: The Next Generation of American Writers--Teenage Girls--On What Fires Up TheirLives Today…
"Each of these stories is a treasure. I couldn't say which is my favorite. It's like comparing children: one stuns you with her wit and then another breaks your heart with her sensitivity." —Jeannette Walls, author of the New York Times Bestseller The Glass Castle "It's high time people stopped writing, talking, and worrying about teenage girls and just let those girls speak for themselves. This book gives voice to many talented young essayists, who-either because of their suffering, their great wit, their sensitivity, their triumph, or some combination of all those things-richly deserve to be heard. My suspicion (my hope!) is to hear from them again and again, far into the future."—Elizabeth Gilbert, author of the New York Times bestseller Eat, Pray, Love "This book is amazing. Amy Goldwasser has gathered a perfect blend of raw and original voices. Honest, hysterical, heartbreaking, uplifting-these essays come straight from the true teenage soul."—Paul Feig, creator of the TV series Freaks and Geeks; author of Kick Me and Superstud "Red will speak to every teenage girl out there who thinks she's alone. Thank you to these brave and talented writers, and hooray for the rest of us, who will see our experiences in every chapter of this important book."—Sara Shandler, author of the New York Times bestseller Ophelia Speaks "The honesty and beauty of the heartbreaking, hilarious, and often harrowing stories collected in Red are enough to give you hope for the young women who wrote these marvelous pieces, and for literature, and for us all."—Francine Prose, author of the New York Times bestseller Reading Like a Writer "Unsparingly frank and perceptive, the essays in Red take on politics, pop culture, and body image-and, oh yeah, they're written by teenage girls. Long underestimated and undervalued by society, they emerge as literature and society's great hope."—Vanity Fair "I was stunned by the speed with which each of these stories pulled me in. . .funny, smart, dark, observant. If Red is any indication, then the kids are alright."—Salon "A must-have."—Teen Vogue "BOOK OF THE MONTH: Sometimes funny, sometimes emotionally searing-always heartbreakingly honest-this collection of essays by adolescent girls captures what it's like to be a teen today."—Family Circle "Brilliant-Highbrow: Surprisingly good essays by teenage girls."—New York Magazine's "Approval Matrix" "An energizing glimpse of adolescence today. . .one of the closest looks we have at this rising generation. These young women are not only amazingly un-self-conscious and honest but also startlingly aware-of themselves, of their impact, of the world."—Cookie "Spread the word: Rosario Dawson digs this collection of 58 essays written by teenage girls."—US Weekly's "Buzzzz-o-Meter" "A raw new look at modern adolescent girls. . .The tone is thankfully uncensored, and. . .there's not a patronizing dash of pink or a heart-dotted "i" in sight."—Radar.com "Fifty-eight teen girl writers are featured in this cool collection, with essays on topics like beauty and body, friends and family, school, love, jobs, and Johnny Depp. (Awesome.) Pick it up and get the chance to meet some amazing people."—YM.COM
Hudson Street Press, 9781594630408, 288pp.
Publication Date: November 8, 2007
About the Author
Amy Goldwasser has edited and written for publications including "Seventeen," "The New Yorker," "Vogue," "The New York Times," "Salon," "New York Magazine," and "Outside." She teaches editing in the Columbia Publishing Course and writing at the Lower Eastside Girls Club.
or
Not Currently Available for Direct Purchase