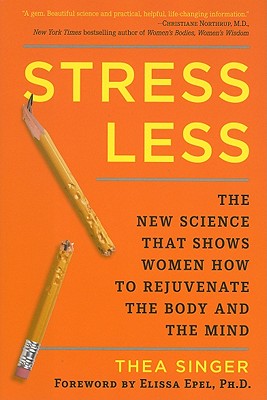 Stress Less
The New Science That Shows Women How to Rejuvenate the Bodyand the Mind
Hardcover

* Individual store prices may vary.
Description
A landmark book that reveals how stress accelerates aging and how women can reverse the damage.
Forty-two million American women-those between the ages of forty and sixty-experience the most stress of anyone in the world. And it shows, inside and out: from wrinkles and gray hair to the cells at the very core of our bodies.
In "Stress Less," prominent health and science journalist Thea Singer explores what the new science of stress can tell us about how to turn back the cellular clock. Drawing on cutting-edge information from a who's who of stress researchers, including Nobel Prize-winning biologist Elizabeth Blackburn, Singer explains how women's bodies react to stress, from shifts in mood to changes at a genetic level that affect how women look and feel, and even how long they live. But Singer also details how easy lifestyle changes can reduce the frequency and intensity of the body's reactions-thus minimizing the hazardous effects of stress and giving us the necessary tools to feel better, look younger, and live longer.
Praise For Stress Less: The New Science That Shows Women How to Rejuvenate the Bodyand the Mind…
ONE OF WALL STREET JOURNAL'S TOP 5 PICKS OF 2010 FOR WELLNESS READING

"We can modify our responses to stress, which benefits not only our well-being but even our genes. In Stress Less, Thea Singer shows us how. Do more, age less. Highly recommended."
-Dean Ornish, M.D. Founder & President, Preventive Medicine Research Institute and New York Times bestselling author of The Spectrum

"This book is a gem. Beautiful science and practical, helpful, life-changing information."
-Christiane Northrup, M.D., ob/gyn physician and author of the New York Times bestsellers: Women's Bodies, Women's Wisdom and The Wisdom of Menopause

"Stress Less is a wonderfully engaging compilation of all the most recent scientific findings about stress. Full of wise suggestions, fascinating studies, and impressive examples, it's a book that could change your life and your health. It's done both for me."
-Martha Beck, New York Times bestselling author of Finding Your Own North Star

"Stress Less is a very readable and practical guide to counteracting stress that should be read by men as well as women! The book is also full of up-to-date scientific information."
-Bruce McEwen, author of The End of Stress As We Know It

"With lyricism and wit, Thea Singer plumbs revolutionary science to reveal the latest ways to slow aging -- from the inside out. Stress Less will change the way you see the world, and yourself in it."
-Pamela Redmond Satran, author of How Not to Act Old

"Well-written and accessible, Stress Less gives readers insight into the many ways that people can control their own aging. Singer summarizes a wide array of empirical studies in an accessible yet scientifically accurate fashion which she spices up with her own personal reflections. Readers can take brief diagnostic tests to find out their own levels of stress and, just as importantly, can learn simple and specific ways to reduce the stress in their daily lives through such empirically validated methods as exercise, diet control, sleep management, and social support. Enjoyable, informative, and perhaps even life-saving, this book is a must-read for midlife women seeking to live longer and better."
-Susan Krauss Whitbourne, Professor of Psychology, University of Massachusetts Amherst and author, The Search for Fulfillment: Revolutionary New Research That Reveals the Secret to Long-Term Happiness

"Thea Singer has done a marvelous job researching, translating, and disseminating scientific knowledge on an extremely important, difficult, and debated topic: the new science of stress and aging. She has a great way of expressing complex concepts -- not just succinctly and to the point but also with humor and panache. What an instructive -- and enjoyable! -- read."
-Zofia Zukowska, M.D., Ph.D., Professor, Department of Physiology & Biophysics, Georgetown University Medical Center

"Stress Less is a contemporary, complete, and accurate summary of how the body deals with stress. Written with wit and humor, the book offers advice that applies to both women and men of all ages, and could well serve as a companion for introductory courses for future doctors and scientists."
-William Thomas Thach, Jr., M.D., Professor of Neurobiology in the Departments of Anatomy and Neurobiology, Neurology, and Physical Therapy, Washington University School of Medicine
Hudson Street Press, 9781594630606, 336pp.
Publication Date: September 23, 2010
About the Author
THEA SINGER has written about health and science for more than three decades. A contributor to "More, O the Oprah Magazine, Natural Health, Boston" and "The Nation," her byline has also appeared in newspapers such as "The Washington Post, The Boston Globe" and "The Boston Herald." She lives in Brookline, Massachusetts.
or
Not Currently Available for Direct Purchase