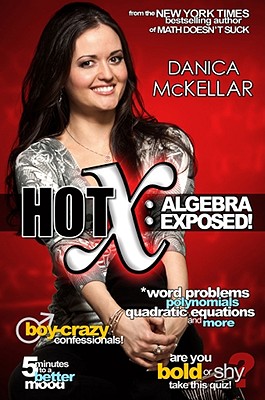 Hot X (Hardcover)
Algebra Exposed
Hudson Street Press, 9781594630705, 432pp.
Publication Date: August 3, 2010
* Individual store prices may vary.
or
Not Currently Available for Direct Purchase
Description
In her two bestselling books, "Math Doesn't Suck" and "Kiss My Math," actress and math genius Danica McKellar shattered the "math nerd" stereotype by showing girls how to ace middle school math-and actually feel cool while doing it
Sizzling with Danica's trademark sass and style, "Hot X: Algebra Exposed" tackles algebra: the most feared of all math classes and the most common roadblock to high school graduation. McKellar instantly puts her readers at ease, showing teenage girls-and anyone taking algebra-how to feel confident, get in the driver's seat, and master topics like square roots, polynomials, quadratic equations, word problems and more . . . without breaking a sweat (or a nail).
Danica provides illuminating, step-by-step math lessons combined with reader favorites like personality quizzes, popular doodles, real-life testimonials, and stories from her own life, so girls feel like she's sitting right next to them. As hundreds of thousands of girls already know, Danica's irreverent, light-hearted approach opens the door to higher grades and higher test scores. Now, with "Hot X: Algebra Exposed," the scary veil of algebra is finally lifted, making it understandable, relevant and maybe even a little (gasp ) fun for girls.
About the Author
Best known for her roles on "The Wonder Years" and "The West Wing," Danica McKellar is also an internationally recognized mathematician and advocate for math education. A summa cum laude graduate of UCLA with a degree in Mathematics, Danica has been honored in Britain s esteemed "Journal of Physics" and "The New York Times" for her work in mathematics, most notably for her role as co-author of a groundbreaking mathematical physics theorem, which bears her name (The Chayes-McKellar-Winn Theorem.) Her passion for promoting girls math education began in 2000, when she was invited to speak before Congress on the importance of women in math and science. Since then, Danica has made it a priority to find time in her busy acting schedule to promote math education, often appearing around the country as a speaker at national mathematics conferences."
Coverage from NPR
Advertisement