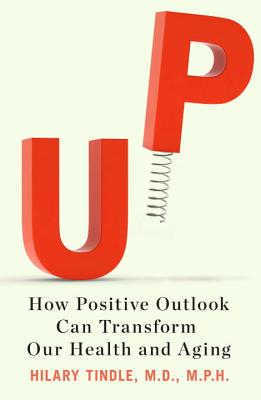 Up (Hardcover)
How Positive Outlook Can Transform Our Health and Aging
Hudson Street Press, 9781594631214, 288pp.
Publication Date: July 4, 2013
Other Editions of This Title:
Hardcover, Large Print (11/13/2013)
* Individual store prices may vary.
Description
Why looking up matters
A positive attitude is important, but until now we didn t know how important. In Up, a practicing physician and NIH-funded researcher draws on her research and experience to show that our outlook on life our unique patterns of thinking and feeling about ourselves, others, and the world may be the key to how well and how fast we age.
From wrinkles to cognitive decline, our outlook affects our health at every level. Using the framework of outlook GPS, Up illustrates how we can gauge our current attitude latitude and move to healthier ground. Tindle brings a fresh eye to attitudinal traits such as optimism, noting that it has many faces, including the face of her own struggling optimism. Using the 7 Steps of Attitudinal Change that she applies to her own patients, Tindle offers us a path toward healthy aging.
Prescriptive and accessible, Up puts forward a paradigm shift in how we age and treat disease, giving even the most struggling optimists a chance for hope. It will appeal to readers of "The Longevity Project" by Howard S. Friedman and Leslie R. Martin as well as "The Blue Zones" by Dan Buettner.
About the Author
Hilary Tindle, MD, MPH is an Assistant Professor of Medicine at the University of Pittsburgh School of Medicine. Educated at the Harvard Medical School and the University of Chicago, her research on attitudes and behavior has been continuously funded by the National Institutes of Health (NIH) for the past decade. Dr. Tindle has received numerous awards for her research and has published numerous scientific articles on mind body medicine, psychological attitudes, smoking, and heart disease, which have gained media attention from Parade, The Los Angeles Times, The Chicago Tribune and the BBC, among others. In addition to her roles as a researcher and a professor, she is also an active member of the American Heart Association, the Society for General Internal Medicine, the American Psychosomatic Society, and the Society for Research on Nicotine and Tobacco.
or
Not Currently Available for Direct Purchase