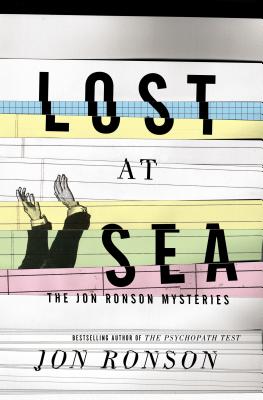 Lost at Sea
The Jon Ronson Mysteries
Hardcover

* Individual store prices may vary.
Other Editions of This Title:
Paperback (10/1/2013)
MP3 CD (7/19/2016)
MP3 CD (10/1/2012)
Compact Disc (10/1/2012)
Description
"The New York Times" bestselling author of "The Psychopath Test," Jon Ronson writes about the dark, uncanny sides of humanity with clarity and humor. "Lost at Sea "reveals how deep our collective craziness lies, even in the most mundane circumstances.
Ronson investigates the strange things we re willing to believe in, from lifelike robots programmed with our loved ones personalities to indigo children to hypersuccessful spiritual healers to the Insane Clown Posse's juggalo fans. He looks at ordinary lives that take on extraordinary perspectives, for instance a pop singer whose life's greatest passion is the coming alien invasion, and the scientist designated to greet those aliens when they arrive. Ronson throws himself into the stories in a tour de force piece, he splits himself into multiple Ronsons (Happy, Paul, and Titch, among others) to get to the bottom of credit card companies predatory tactics and the murky, fabulously wealthy companies behind those tactics. Amateur nuclear physicists, assisted-suicide practitioners, the town of North Pole, Alaska's Christmas-induced high school mass-murder plot: Ronson explores all these tales with a sense of higher purpose and universality, and suddenly, mid-read, they are stories not about the fringe of society or about people far removed from our own experience, but about all of us.
Incisive and hilarious, poignant and maddening, revealing and disturbing Ronson writes about our modern world, the foibles of contemporary culture, and the chaos that lies at the edge of our daily lives.
Riverhead Books, 9781594631375, 416pp.
Publication Date: October 30, 2012
About the Author
Jon Ronson s books include the "New York Times "bestseller "The Psychopath Test," and "Them: Adventures with Extremists "and "The Men Who Stare at Goats" both international bestsellers. "The Men Who Stare at Goats "was adapted as a major motion picture, released in 2009 and starring George Clooney. Ronson lives in London and New York City."
or
Not Currently Available for Direct Purchase