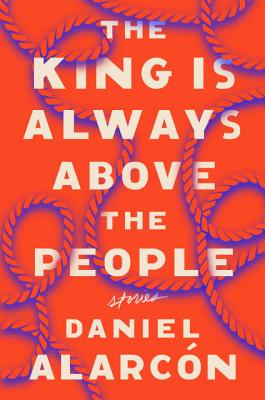 The King Is Always Above the People
Stories
Hardcover

* Individual store prices may vary.
Other Editions of This Title:
Digital Audiobook (10/30/2017)
Paperback (10/30/2018)
Description
LONGLISTED for the 2017 NATIONAL BOOK AWARD FOR FICTION

An urgent, essential collection of stories about immigration, broken dreams, Los Angeles gang members, Latin American families, and other tales of high stakes journeys, from the award-winning author of War by Candlelight and At Night We Walk in Circles.

Migration. Betrayal. Family secrets. Doomed love. Uncertain futures. In Daniel Alarcón's hands, these are transformed into deeply human stories with high stakes. In "The Thousands," people are on the move and forging new paths; hope and heartbreak abound. A man deals with the fallout of his blind relatives' mysterious deaths and his father's mental breakdown and incarceration in "The Bridge." A gang member discovers a way to forgiveness and redemption through the haze of violence and trauma in "The Ballad of Rocky Rontal." And in the tour de force novella, "The Auroras", a man severs himself from his old life and seeks to make a new one in a new city, only to find himself seduced and controlled by a powerful woman. Richly drawn, full of unforgettable characters, The King is Always Above the People reveals experiences both unsettling and unknown, and yet eerily familiar in this new world.
Praise For The King Is Always Above the People: Stories…
"These stories explore immigration, family loyalty and redemption. Alarcón throws his characters into high-stakes situations to draw out humanity where it seems little hope is left." —The Washington Post

"Alarcón is an empathic observer of the isolated human, whether isolated by emigration or ambition, blindness or loneliness, poverty or war. His stories have a reporter's mix of kindness and detachment, and perhaps as a result, his endings land like a punch in the gut. . . .He's a brilliant stylist, and there are plenty of moments in this collection where he's happy to flex. . . Alarcón writes about them with a grayscale beauty that few writers can achieve, or try to. His purpose isn't to approve or condemn, or to liberate. He's writing to show us other people's lives, and in every case, it's a pleasure to be shown." —NPR

"Showcases his talent as a master storyteller. In 10 vivid, captivating stories, Alarcón explores immigration, family relationships, secrets, betrayal, hope, love, heartbreak, forgiveness, and redemption." —Buzzfeed

"Smart, political and incredibly engaging... Alarcón introduces readers to countless unforgettable characters along the way." —Nylon (25 Books to Read this Fall)

"Vividly realized characters encounter family secrets, uncertain futures, ill-fated love and redemption." —Chicago Tribune

"Complicated stories, told with consummate skill." —BBC

"Polished and poetic." —Vanity Fair 

"Elegant." — San Francisco Chronicle

"Longlisted for the National Book Award this year, his new collection, The King Is Always Above the People, delivers on every level, from the intricate to the inventive, from the subtle to the sublime… Alarcón's first-person narrators…give the collection its velocity and vulnerability in the face of love, lust, fear and cruelty… In dazzling prose, then, The King Is Always Above the People mulls weighty philosophical questions, but through intimate personal dramas that Alarcón deftly teases out to surprise endings, a David Lynch-style menace and surrealism brewing beneath the surface of everyday lives. There's daring and defiance in these stories, a beauty that will make your soul soar, as Alarcón ascends steadily to the top tier of American writers." —Minneapolis Star-Tribune
 
"Spellbinding... Alarcon has a true gift for packing details and significance into short scenes. . . Every portrait is so memorable and sharply written that it lingers in your mind and tests your ability to confront the intense predicaments we all find ourselves in at one point or another." —Cup of Jo

"Alarcón employs a remarkable range of styles in the book…brilliant…Alarcón's poetic prose gives his work a dreamlike quality." —Newsday

"Dark and incisive." —Milwaukee Journal-Sentinel
 
"Alarcon is a truly impressive writer." —Boston Globe

"A brilliant meditation on personality and place, character and circumstance, and the decisions small and big (within and beyond) one's control that can shape a life. Alarcón moves from the personal to the collective, encompassing stories of migration, immigration, violence, loss, hope, love." —goop 

"Superb... Throughout the collection, Alarcón writes with a spellbinding voice and creates a striking cast of characters. Each narrative lands masterfully and memorably, showcasing Alarcón's immense talent." —Publishers Weekly (STARRED REVIEW)

"Dynamic novelist and journalist Alarcón delivers a collection of loosely affiliated short stories, each buzzing and alive…Alarcón's gift for generating real, tangible characters propels readers through his recognizable yet half-real worlds." —Booklist

"A smart and understated collection that puts some new twists on old-fashioned identity crises." —Kirkus


Praise for Daniel Alarcón

"His tales build with all the power of a Flannery O'Connor story: a gentle enough start, an innocent setting, and before long the reader is adrift in a drama that defies the imagination--with characters that live long after the book is closed." —The Washington Post

"Daniel Alarcón is a storyteller whose wisdom outpaces his youth, and whose talent is already ablaze." —ZZ Packer

"Daniel Alarcón writes about subterfuge, lies, and the arbitrary recreation of history with a masterful clarity." —Ann Patchett


Praise for At Night We Walk in Circles 

"Wise and engaging . . . [a] layered, gorgeously nuanced work."
—The New York Times Book Review

"Consistently compelling . . . Alarcón's smoothly polished prose [is] flecked with wit and surprisingly epigraphic phrases . . . with lines that knock the wind out of you."
—The Washington Post

"Outstanding . . . a work that creates a multilayered world and invites you to enter it."
—Hector Tobar, Los Angeles Times

"Masterful... A profound meditation on how identity is less a fixed substance within us than an ever-shifting performance in reaction to a perceived audience." —Anthony Marra, San Francisco Chronicle

"Masterful . . . a sterling novel . . . brave, thoughtful and astute . . . elegant in its construction, it feels perfectly suited to bring Alarcón's tremendous talent to a wider audience."
—The Miami Herald 

"Compelling . . . an intellectual puzzle."
—The Boston Globe 
Riverhead Books, 9781594631726, 256pp.
Publication Date: October 31, 2017
About the Author
Daniel Alarcón is the author of At Night We Walk in Circles, which was a finalist for the 2014 Pen-Faulkner Award, as well as the story collection War by Candlelight, the novel Lost City Radio, and the graphic novel City of Clowns. His writing has appeared in the New Yorker, the New York Times Magazine, Granta, n+1, and Harpers, and he was named one of the New Yorker's "20 Under 40." He is Executive Producer of "Radio Ambulante," distributed by NPR, and is an assistant professor of broadcast journalism at the Columbia University School of Journalism in New York.
Coverage from NPR
or
Not Currently Available for Direct Purchase