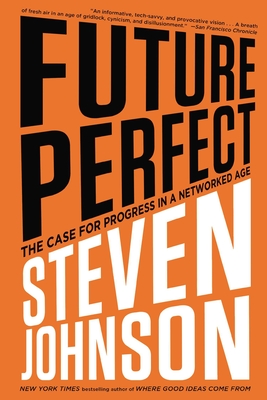 Future Perfect
The Case For Progress In A Networked Age
Paperback

* Individual store prices may vary.
Description
From the New York Times bestselling author of How We Got To Now and Farsighted

Combining the deft social analysis of Where Good Ideas Come From with the optimistic arguments of Everything Bad Is Good for You, bestselling author and one of the most inspiring visionaries of contemporary culture, Steven Johnson, maps the ways a connected world will be both different and better.
 
Steven Johnson proposes that a new model of political change is on the rise transforming everything from local government to classrooms to health care. It's a compelling new political worldview that breaks with traditional categories of liberal or conservative thinking. Johnson explores this innovative vision through a series of fascinating narratives: from the "Miracle on the Hudson" to the planning of the French railway system; from the battle against malnutrition in Vietnam to a mysterious outbreak of strange smells in downtown Manhattan; from underground music video artists to the invention of the Internet itself. At a time when the conventional wisdom holds that the political system is hopelessly gridlocked with old ideas, Future Perfect makes the timely and uplifting case that progress is still possible.
Praise For Future Perfect: The Case For Progress In A Networked Age…
"[A]n interesting book, if you want to be optimistic about the future, by Steven Johnson, a great science writer." – Bill Clinton, speaking at The Health Matters conference

"Future Perfect provides an informative, tech-savvy and provocative vision of a new and more democratic public philosophy. It's a breath of fresh air in an age of gridlock, cynicism and disillusionment." — San Francisco Chronicle

"Mr. Johnson envisions a new political movement that embraces the potential of peer networks to improve government, medicine, education and journalism, among much else. He distinguishes 'peer progressives' from both libertarians and liberals. The former have too much faith in markets and too little in government, he says, and the latter vice versa. Peer progressives, though, believe that good can be accomplished by all organizations, in any combination, if they harness the power of peer networks." — Wall Street Journal

"In clear and engaging prose, Johnson writes about this emerging movement . . . Future Perfect is a buoyant and hopeful book. Given the inability of our government to enact worthwhile change, and the near guarantee that Washington's gridlock will only worsen regardless of which party wins this November, we're going to need all the help we can get. Future Perfect reminds us we already have the treatment. We just need to use it." — Boston Globe

"Forceful argument for a new politics modeled on the structure of the Internet. A thought-provoking, hope-inspiring manifesto."—Kirkus Reviews
 
"A wide-ranging sketch of possibilities...frequently inspiring. Above all, it's exciting to reflect on the possibility that the many achievements of the Silicon Valley revolution might be compatible, rather than in tension, with a progressive focus on social justice and participatory democracy."—The Guardian (UK)
 
"Fascinating and compelling...Stimulating and challenging, Johnson's thought-provoking ideas steer us steadily into the future."—Publishers Weekly

 
Riverhead Books, 9781594631849, 272pp.
Publication Date: October 1, 2013
About the Author
Steven Johnson is the bestselling author of eleven books, including Where Good Ideas Come From, Wonderland, and The Ghost Map. He's the host and co-creator of the Emmy-winning PBS/BBC series How We Got To Now, and the host of the podcast American Innovations. He lives in Brooklyn and Marin County, California with his wife and three sons.
or
Not Currently Available for Direct Purchase