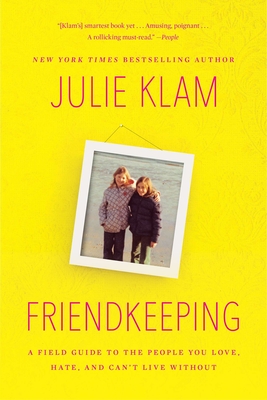 Friendkeeping
A Field Guide to the People You Love, Hate, and Can't Live Without
Paperback

* Individual store prices may vary.
Other Editions of This Title:
Hardcover (10/25/2012)
Hardcover, Large Print (4/10/2013)
Description
Look out for Julie's new book, The Almost Legendary Morris Sisters.

From New York Times bestselling memoirist Julie Klam, a funny and affecting look at friendship in an age of isolation.

Facebook says you have hundreds of friends. So why can you name only two? Friendship today is more confusing than ever, and yet having someone to lean on and confide in is increasingly more important. Enter bestselling author Julie Klam, an expert on friendship—online and off—if there ever was one.

With humor and warmth, Klam shares stories that get to the heart of modern friendships, drawing in particular on her relationships with her four closest friends. From the relative value of secrets to the comfort of a confidant, from exciting social media friends to the ones who come to your party or meet you for lunch or go with you to a horrible doctor's appointment, Klam explores every facet of modern friendship and peppers her stories with suggestions on how to make the most of it, and when to walk away. The result is a guide to making and keeping friendships that can stand the test of time.

Delivered in Klam's inimitable, disarmingly accessible, and uproariously funny voice, Friendkeeping is a tribute to the powerful bonds we have with our friends and the singular joy these relationships create in our lives.
Praise For Friendkeeping: A Field Guide to the People You Love, Hate, and Can't Live Without…
"[Klam's] smartest book yet…amusing, poignant…a rollicking must-read."
—
People
"The book you will want to give all your best friends, not as a nudge-nudge, hint-hint reminder of what it takes to be a good friend, but rather as a celebration of just how great friends can be. And if they (or you) pick up a few hints on how to be a good friend, so much the better for everyone. We all need reminding once in awhile that connection takes more than just showing up for drinks or a walk -- and Klam offers the reminders with her usual big heart, goofy humor, and open admissions."
—
The
Huffington Post
"[Klam is] taking seriously something, namely adult friendships, that often turns into the wallpaper of cultural life: something that's there, and that's lovely, and that ideally you don't have to think about, but not something that you would delve into deeply."
—NPR.org
"A smart read… with incisive one-liners and self-deprecating humor… Klam's warmth and wit is enough to keep this book light and engaging."
—
USA Today
"Klam addresses real relationships and the raw problems of human life... [and] shares her personal, honest, funny, and poignant friend experiences"
—
The Atlantic Wire
"A jolly, largehearted book…Julie Klam makes no claim to being a fancy expert. She has lived her expertise. Her own life is her source of knowledge… charming, nostalgic, informative."
—
The Washington Post
"These pages are strewn with nuggets of wisdom and witticism…[a] warm hearted book."
—
Dayton Daily News
"Klam's voice is often flat-out hilarious… [she] never fails to come up with terrific comic vignettes and sharp one-liners… highly entertaining."
—
Kirkus Reviews
"Klam is funny. Not cute or amusing, but laugh-out-loud, borderline too-much-information funny… With
Friendkeeping
, Klam proves that she is no one-trick pony."
—BookPage
"Julie Klam is one funny writer."
—David Rakoff, author of Don't Get Too Comfortable and Fraud
Riverhead Books, 9781594631863, 240pp.
Publication Date: October 1, 2013
About the Author
Julie Klam grew up in Bedford, New York. A New York Times bestselling author, she has written for O, The Oprah Magazine, Rolling Stone, Harper's Bazaar, Glamour, and The New York Times Magazine and for the VH1 television show Pop-Up Video, where she earned an Emmy nomination. She lives in New York City.
 
Have you ever kept a secret from a friend to save his/her feelings?
How have you been there for friends in need? Are there things that you regret doing or not doing?
Discuss your longest, most enduring friendships. What have you done to keep those bonds strong over the years? How have you strengthened them?
Have you ever had to walk away from a friendship?
What's the kindest thing a friend has ever done for you? The kindest thing you've done for a friend?
How has social media impacted your friendships? Do you find it easier to stay in touch with friends? More difficult? Have you made new friends through Twitter or Facebook?
Have you ever had a friend who dated someone you just didn't like? Or had a partner whom your friend didn't understand? How have you dealt with that frustration?
What advice would you give a child or someone younger than you about how to maintain and sustain friendships?
or
Not Currently Available for Direct Purchase